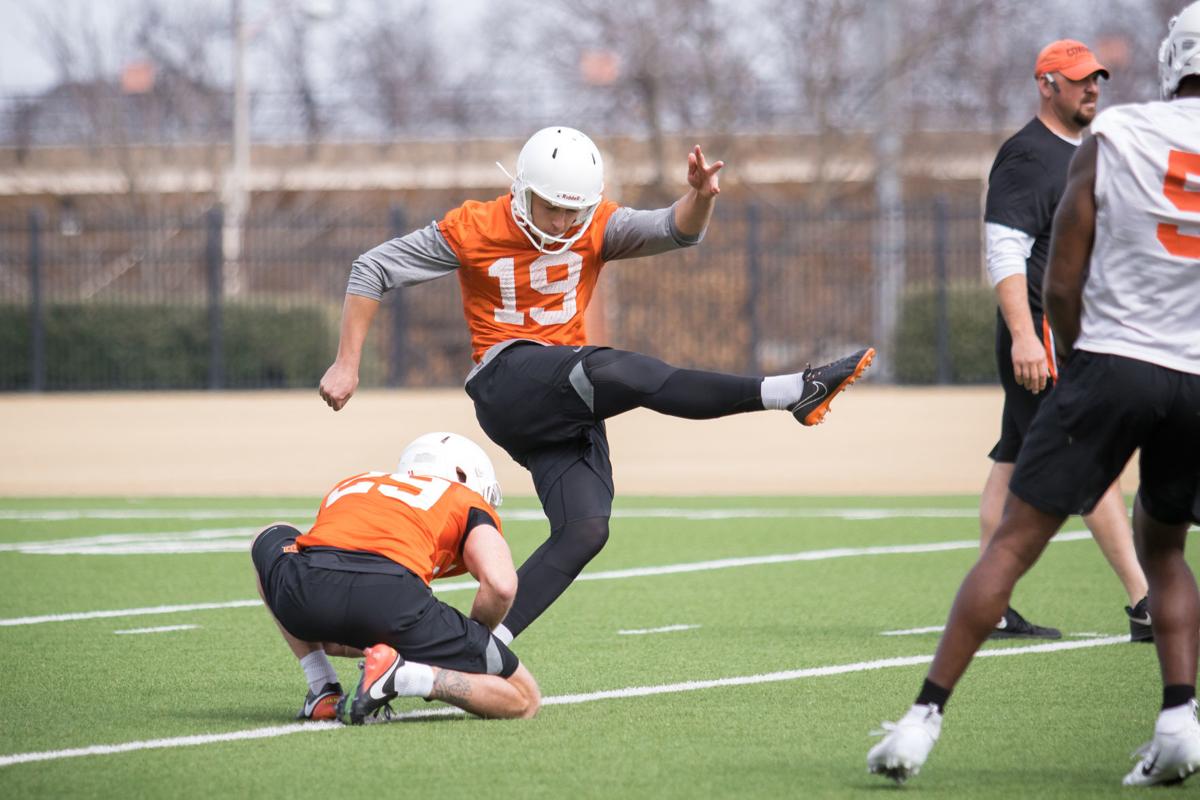 Replacing one of Oklahoma State's most reliable placekickers in school history isn't an easy job for a kicker who hadn't kicked a single field goal for the Cowboys before this season.
But redshirt sophomore Alex Hale is off to a good start.
Former placekicker Matt Ammendola is third on OSU's all-time list of field goals made (60), consecutive field goals made (16), fourth in field goals attempted (78) and sixth in field goal percentage (76.9). He finished his final year as a Cowboy last season.
Hale has some big shoes to fill, and making good on all five of his field-goal attempts in the first two games where the offense struggled to generate points had head coach Mike Gundy singing his praises during Monday's Zoom call with media.
"He's been really good in August," Gundy said. "I mean he's been really good. I don't know with kickers and punters. I don't have any idea what makes them tick or what they do but he doesn't say much. He's very calm. He's got good composure. He doesn't get rattled and they tell me his technique is good."
Hale's perfect kicking was pivotal in the first two games with the Cowboy having what offensive coordinator Kasey Dunn described as a "puppy at quarterback" in freshman Shane Illingworth at QB after starter Spencer Sanders suffered an ankle injury in the first quarter against Tulsa.
Oklahoma State's only touchdown against Tulsa was a 3-yard run by Chuba Hubbard early in the fourth quarter. Hale outscored the OSU offense with three field goals of 27 yards, 40 yards and 29 yards. Both teams were held to just one touchdown, but the difference in scoring came down to Hale's foot.
Hale also kicked 40-yard and 44-yard field goals in the 27-13 win against West Virginia.
"We're 2-0 because in the first two games our special teams has been very good," Gundy said. "Because we certainly haven't done enough on offense to win games, and our defense has played well. But our special teams has been the deciding factor in my opinion."
Gundy said the coaching staff made a few changes and spent more time stressing special teams play this year.
"I would like to take credit for it but again when you're talking about special teams and kicking and punting, it's hard to really decide what makes a difference," Gundy said. "If you don't amount a lot of time into it like Kansas State used to, then you just try to do the best you can. So we've made adjustments on special teams in our approach this year, and so far it's worked out well for us. I'm pleased with the results at this time."
Frank Bonner II
918-581-8387
Twitter: Frank_Bonner2
Be the first to know
Get local news delivered to your inbox!