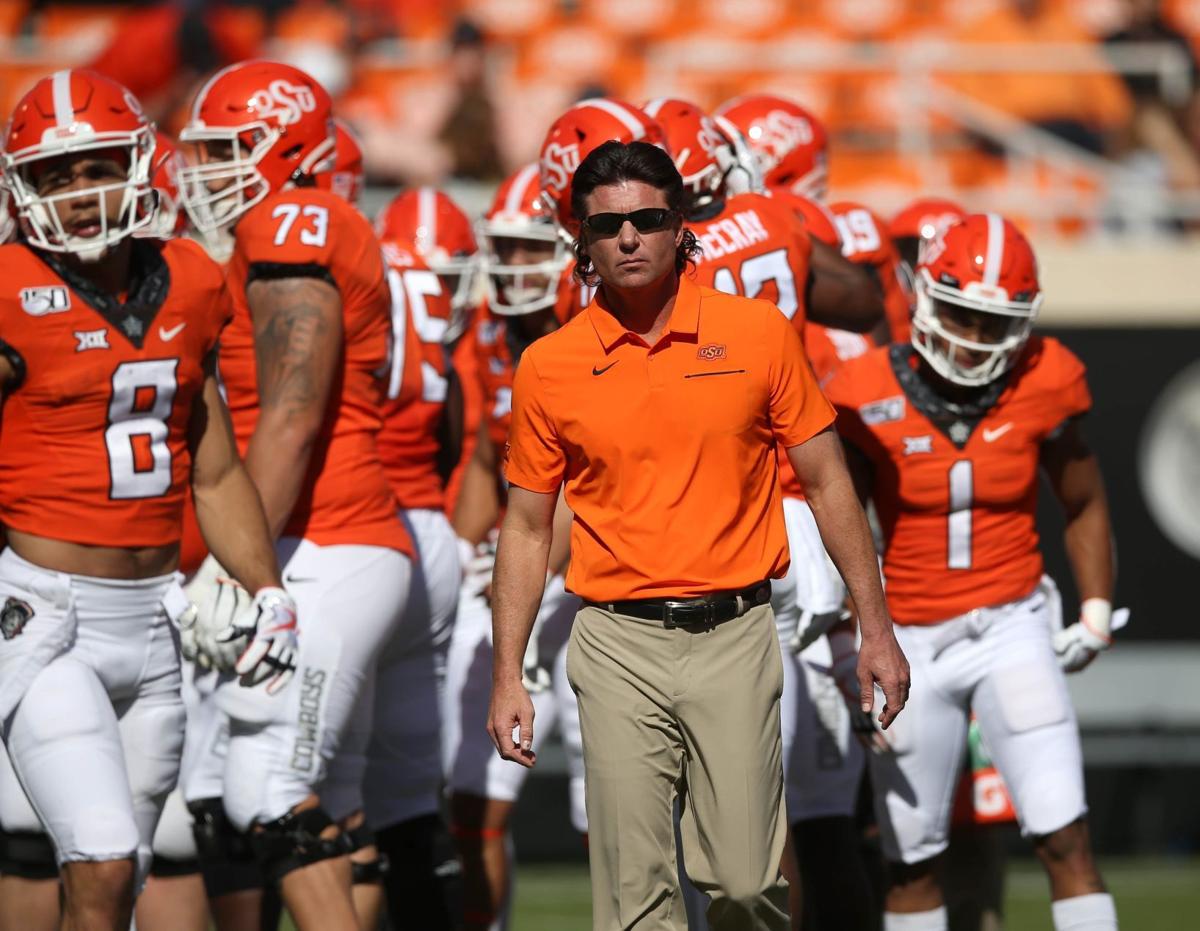 Seven Big 12 schools started their football seasons over the weekend, and Oklahoma State was supposed to be the eighth.
COVID-19 issues created complications for Tulsa's practice schedule and the game was postponed to 11 a.m. Saturday in Stillwater. The Cowboys had an extra week to prepare, but OSU coach Mike Gundy decided to give his players some extra time off.
"We've had so many practices that we gave them off on Friday and then we gave them off yesterday and today," Gundy said during a teleconference on Monday. "They're just tired of practicing, in my opinion, but the preparation in this sport and the physicality is so important that we have to continue to push through it."
The Cowboys had a few players with minor injuries that benefited from the extra week. The date change also granted Washington State transfer receiver Tay Martin an extra week to get acclimated to the OSU offense. Gundy expects Martin to get extensive snaps against Tulsa.
"We're dealt a hand and we try to make the best out of it," Gundy said. "It doesn't make any difference because there is a lot of uncertainty that we can't control at this point and so we tried to take advantage as much as possible as we could with the extra week. And then also give our players enough days off where they felt like they could recover from their body through the preseason and try to put them in the best position to win a game."
There is a lot of excitement surrounding this year's team, currently ranked No. 11 in the AP Top 25. Coordinator Jim Knowles has the defense believing it could be one of OSU's strengths this year and the offense is loaded with weapons. Players are itching to get out on the field and start the season.
When asked last week if he preferred the extra time to prepare, linebacker Calvin Bundage said he would have preferred to play. This has been an unusual college football preseason with several changes but Gundy said his players have had good attitudes through it all. Postponing the season opener is just another change his players had to adjust to.
"They've had so many changes over the last few months I don't think it affected them much at all," Gundy said of the postponement. "I know that they practiced really well last week. …All I go off of is practice and their enthusiasm in practice has been just fine."
Frank Bonner II
918-581-8387
Twitter: Frank_Bonner2
Be the first to know
Get local news delivered to your inbox!