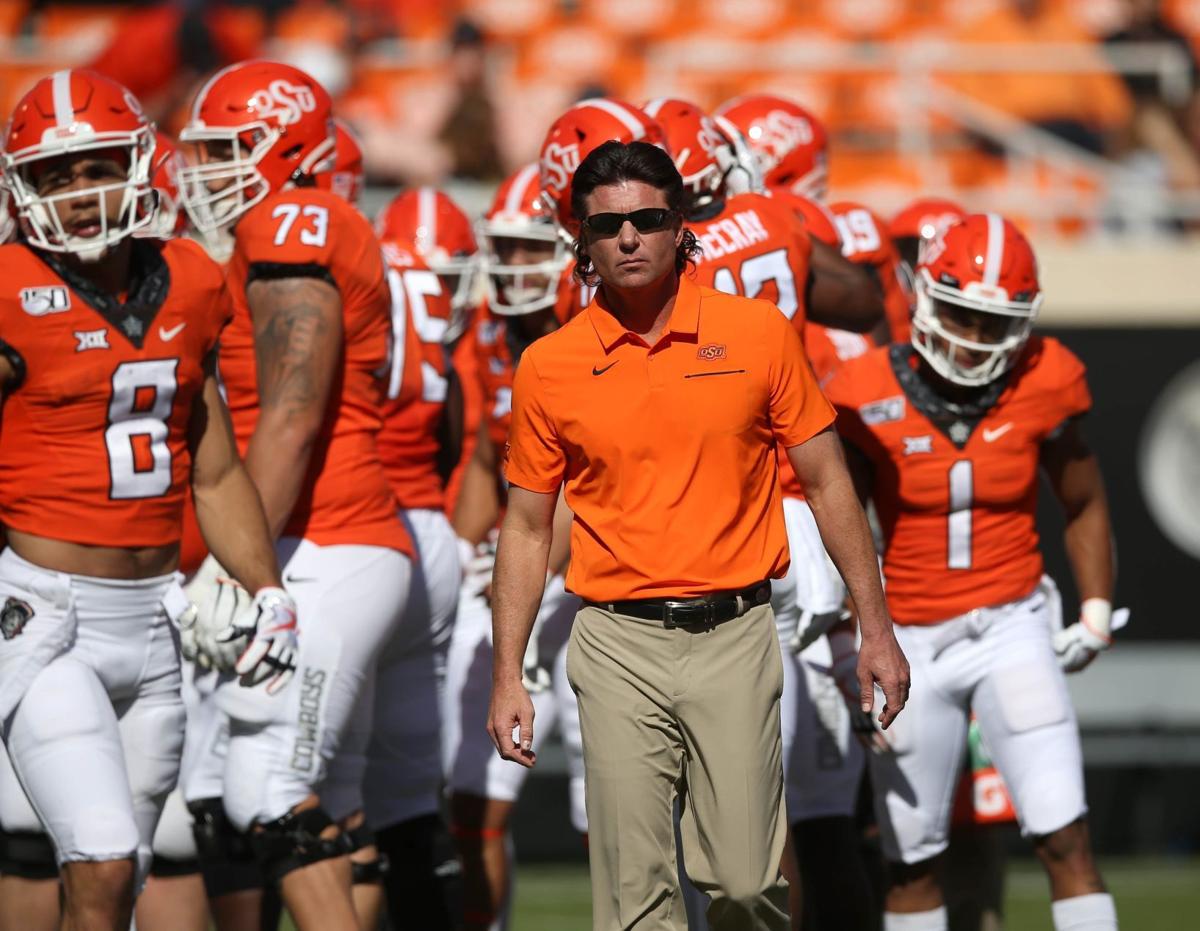 While Oklahoma State spent the weekend getting rest — and finding out more time off will be coming — and allowing more time for starting quarterback Spencer Sanders' recovery, the Cowboys benefited from a pair of top-10 losses.
The Texas A&M upset over Florida, and Miami's 25-point loss to No. 1 Clemson helped OSU move from No. 10 to No. 7 in the Associated Press poll. OSU continues to be in control of its fate. The Cowboys have their highest ranking since the 2017 season, and head coach Mike Gundy expects his players to remain focused and humble.
"If we stay focused and get quality practices, if simplicity plays a role, then whoever we have out there that's available for the week (will) practice and play the game and have fun," Gundy said. "But as soon as you start listening to people tell you that you're pretty good. We're a humble organization right now. If you forget that, that's the best way to get knocked off really quick. It's been that way forever."
The Cowboys are unbeaten, but are a half-game behind Iowa State and Kansas State in the Big 12 after both teams improved to 3-0 in conference play. Iowa State moved to No. 20 after a 31-15 win over Texas Tech. Kansas State cracked the top 25 at No. 22 after a 21-14 win over TCU.
Oklahoma and Texas both have two conference losses, and the next three games for OSU, Iowa State and K-State will be an important stretch in sorting out the conference standings.
The Cowboys were to play Baylor on Saturday before hosting Iowa State and Texas. But late Sunday, the Big 12 announced that OSU's game against the Bears would be postponed until Dec. 12. Baylor had announced last week it was temporarily shutting down football operations due to positive COVID-19 results. Iowa State has an off week this week before playing OSU, Kansas and Baylor. Kansas State will travel to Stillwater on Nov. 7 after playing Kansas and West Virginia.
No. 2 Alabama will host No. 3 Georgia on Saturday, which means one of those two teams will lose.
OSU could also see Sanders return to action the next time it plays. Gundy said last week that Sanders could have played against Kansas while playing close to full speed. The Cowboys decided to hold him out and won 47-7 in Lawrence, Kansas with Shane Illingworth running the offense. Having a healthy Sanders back on the field will allow the offense to be at its best as it continues to prepare for a progressively harder schedule.
"We know exactly where we're at with him," Gundy said. "But when you have an ankle injury you're always better letting him get 100%. If you go back on it at 85% you take a chance on setting it back and then those things can become chronic for six weeks. So for that reason we just held him out."
Frank Bonner II
918-581-8387
Twitter: Frank_Bonner2
Be the first to know
Get local news delivered to your inbox!