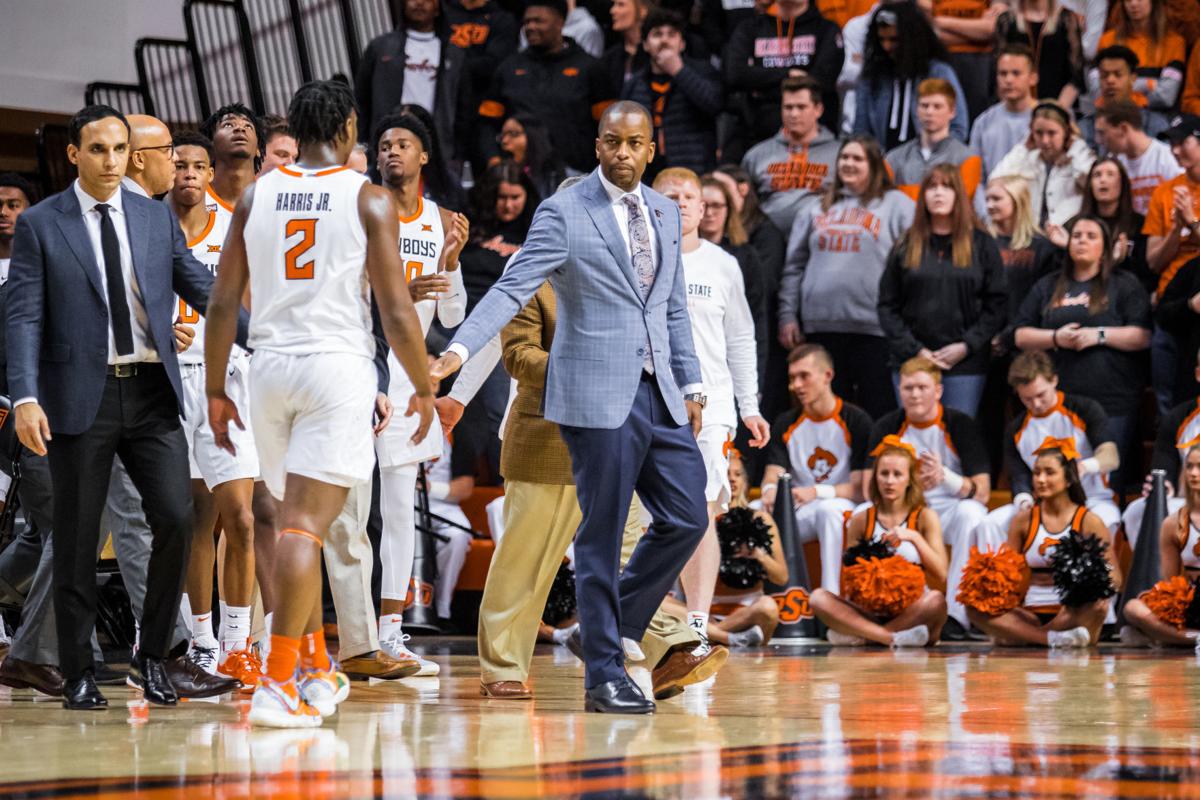 College football had to work through its struggles of scheduling a season around a pandemic this summer, and now it is college basketball's turn.
The NCAA announced last month that the season will begin on Nov. 25 instead of the original start date of Nov. 10 because of COVID-19 issues. Teams can start official practice on Wednesday and can play a maximum of 27 regular-season games.
Oklahoma State will open the season by competing in the 2020 Golden Window event in Nebraska from Nov. 25-28, but there are still several unanswered questions surrounding the rest of the OSU season. The Cowboys are scheduled to travel to Marquette on Dec. 1 and Wichita State on Dec. 12.
Big 12 teams also will play a couple of conference games in December, and it was reported OSU will play TCU in Stillwater on Dec. 6 and at Texas on Dec. 20. Scheduling is a fluid situation, and OSU coach Mike Boynton tries to keep his players focused on the things they can control.
"My staff and I have a job to make sure that we handle things behind the scenes and put our players in position where they can literally focus every day on just trying to be their best," Boynton said. "Trying to get better and being ready when that opportunity comes. So we don't talk about it much."
One of the biggest things programs across the country are trying to control is limiting the risk of coming in contact with the coronavirus. The Cowboys are continuing to wear masks and sanitize their basketballs while trying to keep the teams in smaller groups as much as possible. Boynton said his players have kept good attitudes through it all and have done their best in following the protocols.
"Everyone is going through pretty much the same thing," Boynton said, referencing other programs. "I think that'll be the key to having success this year is being nimble, having a good attitude, being able to adapt to the circumstances as they change.
"As we've already seen with football, a lot of cancellations, postponements or adjustments. Those things are almost certain to happen during basketball season. The guys that refuse to get frustrated or deterred by that, I think will find themselves enjoying the season as much as anybody else."
Junior guard Isaac Likekele is the most experienced veteran on the OSU roster. He has a talented group of young teammates that include top prospect Cade Cunningham. The Cowboys will need his leadership in what will be an unprecedented college basketball season. Likekele said the Cowboys have been able to work despite the pandemic. He praised Boynton's leadership in cultivating a resilient culture.
"He doesn't let anything get in his way, and that trickles down to us and the rest of the staff," Likekele said. "So there are literally no excuses as to why we couldn't get any work in even though there has been obstacles in the way. But that's what we pride ourselves on is figuring out ways to try and get around obstacles in life."
The Cowboys don't have any active cases right now, but Boynton said the program has had to deal with positive tests. OSU football coach Mike Gundy has expressed how his players didn't start the season with as much conditioning as years past because of the pandemic. Boynton anticipates the same problem for basketball.
"I think the conditioning aspect is something to really monitor during basketball season, not just for our fans, but even for our coaches, where guys are," Boynton said. "If they've been through the virus. If they're coming back. Not having the virus, if they've just been quarantined because they've been in close contact. Two weeks to sit at home on your butt is a long time for a guy to get in shape to play basketball."
Boynton said the best way to combat the conditioning issues is to do all you can to stay clear of the virus. He acknowledged how the virus affects people differently and could cause one guy to be out for 10 days and another to be out for 20 days.
"I think you just have to be prepared to use all the guys you have available as often as you can, knowing that you never know when you're going to lose guys," Boynton said. "It's just so unpredictable. We just cross our fingers and hope that the guys outside of our facility — when they're on their own in their apartments or just around campus — are taking the seriousness of the protocols the way they are around here."
Frank Bonner II
918-581-8387
Twitter: Frank_Bonner2
Be the first to know
Get local news delivered to your inbox!