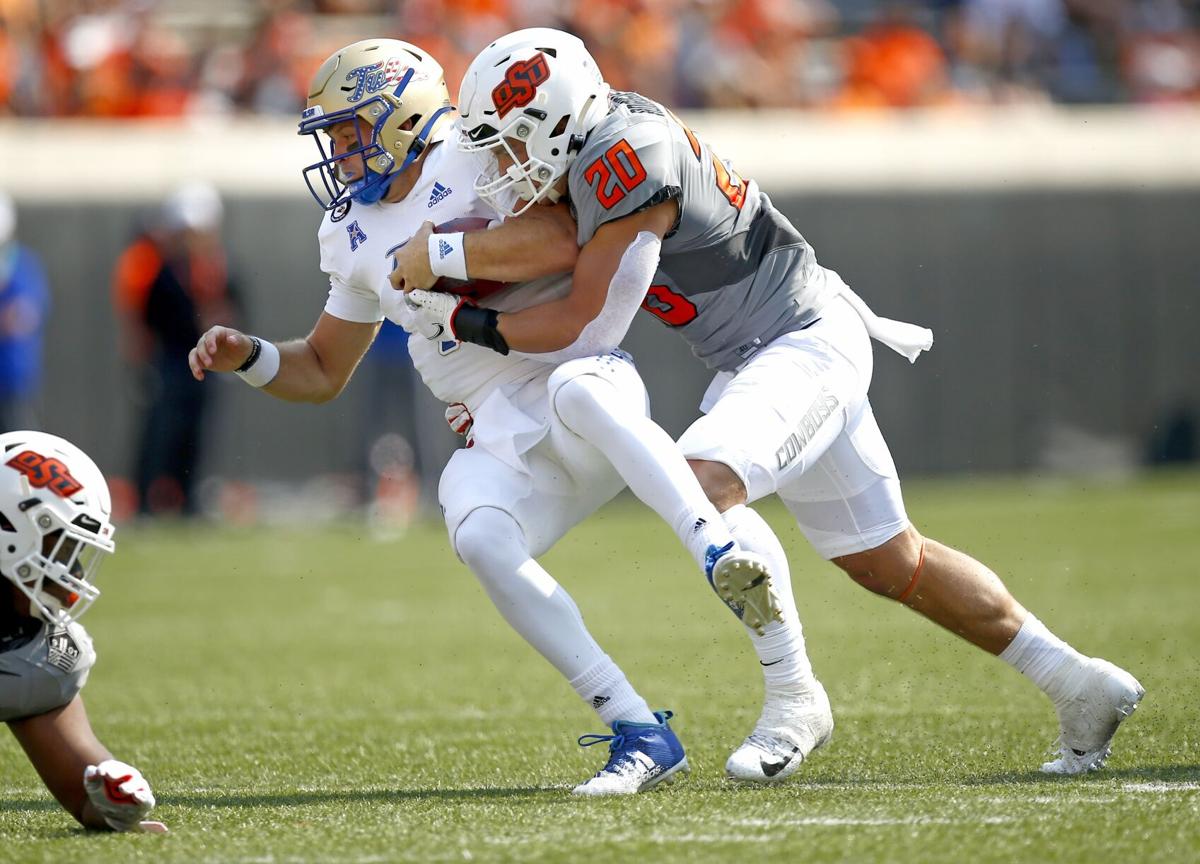 LD Brown's 98-yard, fourth-quarter kick return touchdown helped flip the second-half momentum in Oklahoma State's 28-23 win over Tulsa on Saturday. It also marked only the Cowboys' second kick return touchdown since 2014.
Brown's scoring return was the first for OSU since Jason Taylor's 48-yard, onside kick return touchdown against Texas Tech in 2020. It was also the longest for the Cowboys since Tyreek Hill's 99-yard return in 2014.
"It's an honor to be in the conversation with him," Brown said.
TU's Ray ejected for targeting: The game featured three reviews for targeting, but only one resulted in a confirmed call and ejection. Tulsa safety Kendarin Ray was flagged for a hit on Oklahoma State running back Dominic Richardson in the third quarter, meaning Ray will miss the first half of next week's game at Ohio State.
Cowboy safety Tre Sterling was ejected for targeting last week against Missouri State and did not play in the first half Saturday.
OSU's Martin starts, exits early: Wide receiver Tay Martin (ankle) started for the Cowboys on Saturday, then for the game after he was targeted on the game's second play. Mike Gundy acknowledged that Martin likely "wasn't ready to play" and expects his top pass-catcher back in Week 3.
"I think that he'll be back in the middle of the week," Gundy said. "He needed two or three or four more days in my opinion. He needs to go on the shelf until Tuesday or Wednesday and then we'll reevaluate him"
In OSU's opener against Missouri State, Martin caught six passes for 107 yards and a touchdown.
Prince, Watkins score for TU: Running back Deneric Prince, who had a 59-yard touchdown run in the Hurricane's opener, scored on a 3-yard run against OSU on Saturday. Anthony Watkins, a running back whose career started at Missouri, scored his first touchdown in the fourth quarter.
Burnett, Powers lead TU defense: Linebacker Yohance Burnett, who missed the 2020 season with an injury, made his second start and totaled eight tackles for the Hurricane. Safety Bryson Powers also had eight tackles and started in place of Cristian Williams, who was unavailable for the game.
— Eli Lederman and Kelly Hines