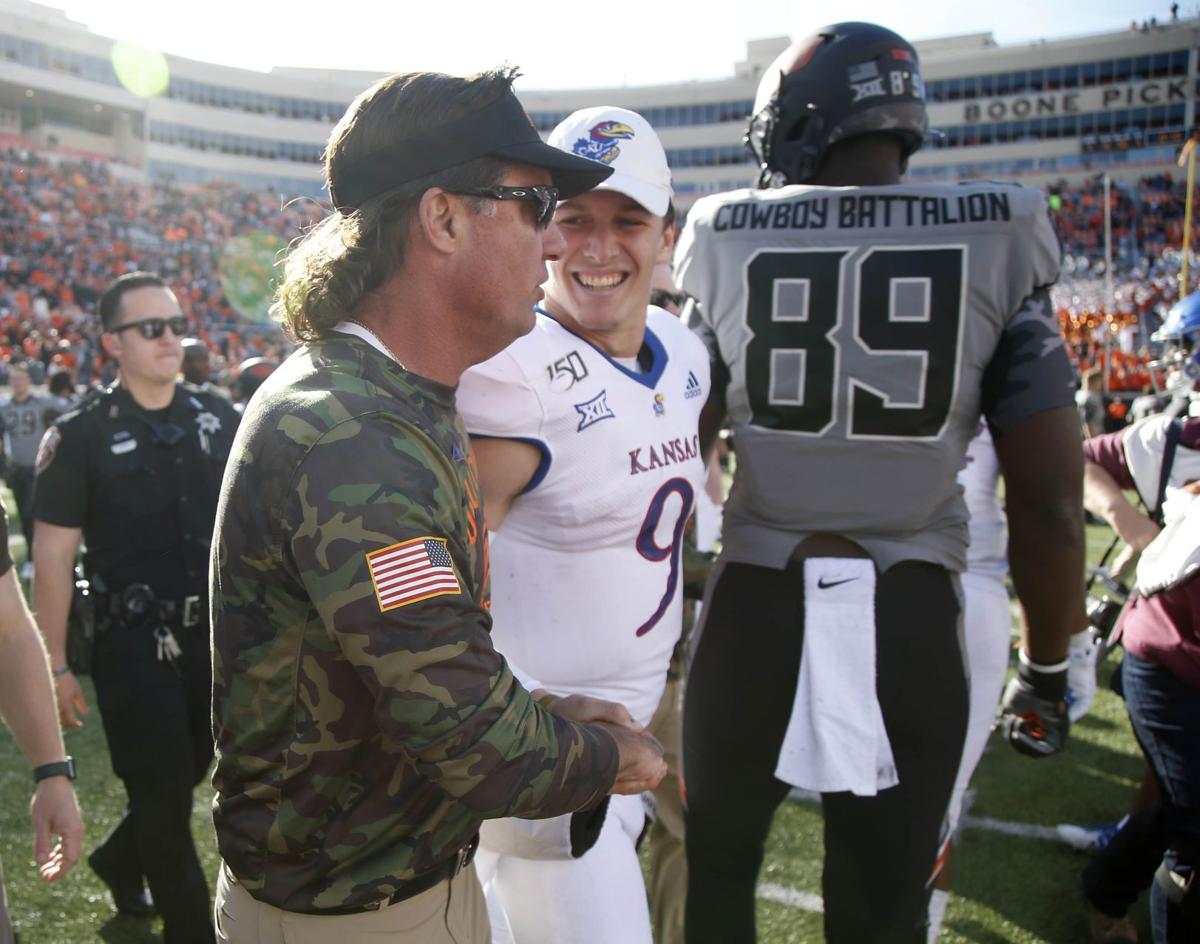 During a Sunday night team meeting, Oklahoma State football coach Mike Gundy spoke with his players about their first road game at Kansas on Saturday.
Kansas is allowing 10,000 fans into David Booth Kansas Memorial Stadium in Lawrence, Kansas, and the majority of those fans will be cheering for the Jayhawks.
The Cowboys said they felt a solid crowd presence from the 14,668 and 14,672 fans that attended the first two games at Boone Pickens Stadium. But most of those fans were rooting for Oklahoma State. Saturday's game, which kicks off at 2:30 p.m., will be different.
"You have to cover it," Gundy said referring to the limited fans on road games. "You've got to talk to them about it and it's going to be quiet in most stadiums. I've used the term 'you've got to bring your own party this year'. The party isn't going to be sitting there waiting for you. You've got to bring your own enthusiasm and that's the message that we've given the team this season."
Gundy's message surrounding the COVID-19 virus has stayed consistent all year, and he reiterated his message about being smart and staying safe following the 27-13 win against West Virginia last week. Gundy said before the season started that the team routine for home games and away games is pretty much the same. However, there are a few differences in travel protocol compared to previous years.
Players will have more space on travel buses and possible plane rides.
"You wear a mask and you're spaced out differently than what you would be normally," Gundy said. "You (sit) on an airplane and you would have an open seat and then another player and now I think they're every other row or something like that. We haven't been on a plane so I'm not for sure. I just know they said they are going to space everybody out and then you (are required to wear) your mask when you're in a confined area."
Six-foot-seven Cowboy back Jelani Woods said there was always adequate space during travel in previous years, but he welcomes the additional space this season.
"If I can have my own two seats, hey I'm fine with that," Woods said. "More room to sleep."
Hotel sleeping arrangements also are more strategic this year. The Cowboys have paired each player who has never tested positive for the virus with a player who has already tested positive and recovered. The goal is to limit the damage of contact tracing if a teammate tests positive.
"What can get you is the tracing," Gundy said. "One guy gets it and the other four guys have got to go to two-week primary because they've been in the area. So we don't put two guys in one room that have not had the virus because if one guy gets it, the other guy is automatically the trace guy. Unless he can prove to them he had a mask on and stayed six feet away from him, which you could but it's pretty rare."
The Cowboys have started the season 2-0 at home, and Woods isn't concerned with how many fans are going to be in the stands in their first road game on Saturday. It will be business as usual for him.
"We always feel like going into each game it's the same no matter who we're playing, no matter where we're playing," Woods said. "We always try to keep that same momentum and same energy everywhere. It might be even in practice. We practice like we're playing a game so I feel like we'll be fine. We'll pretty much be the same or even better."
Frank Bonner II
918-581-8387
Twitter: Frank_Bonner2
Be the first to know
Get local news delivered to your inbox!