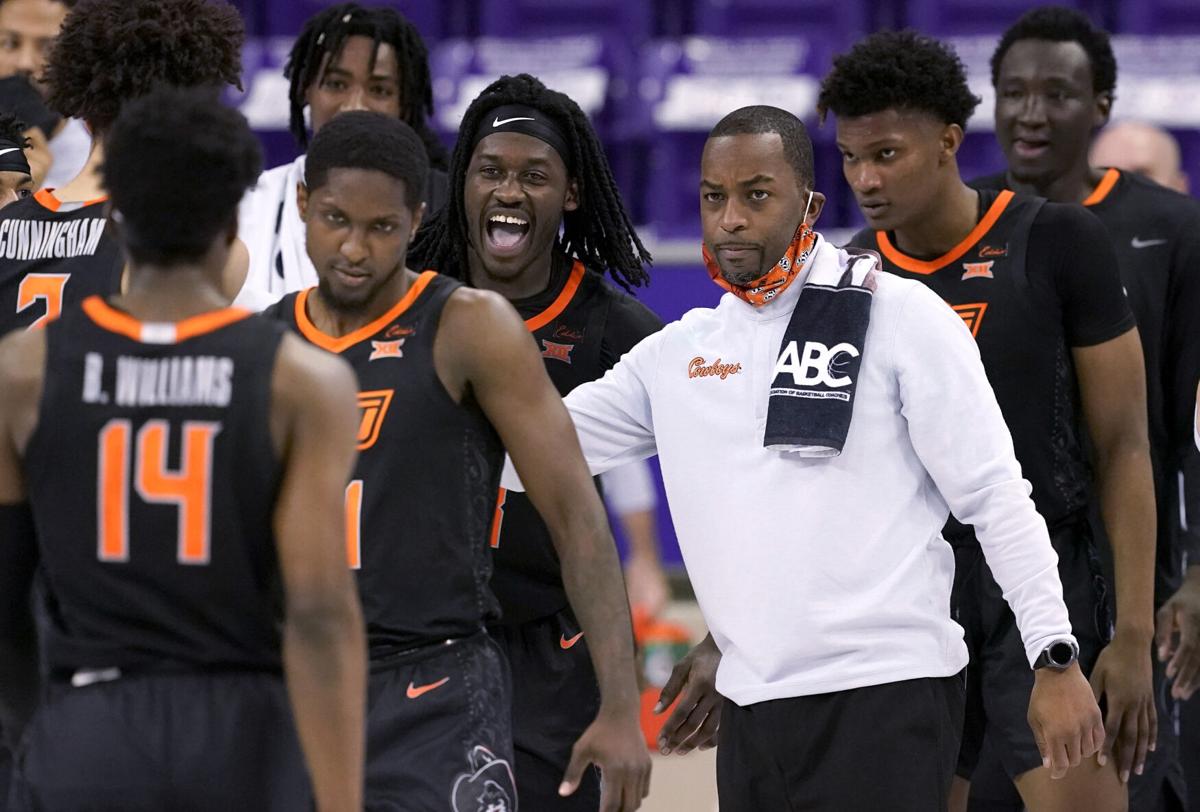 STILLWATER — With the release of the Big 12 Conference's 2021-22 slate Wednesday, Oklahoma State men's basketball now knows what lies on the other side of its 12-game non-conference schedule in January.
Among the standout fixtures: A New Year's Day trip to Texas Tech, a Jan. 4 visit from Kansas, a pair of Big Monday appearances in February and two games against Oklahoma across the span of 21 days that same month.
The Cowboys' 2021-22 roadmap became complete with the release of the Big 12's 90-game schedule. Included in the league lineup running from Jan. 1 to March 5 is a break from conference play on Jan. 29, when OSU travels to face the Florida Gators as all 10 Big 12 teams take part in the Big 12/SEC Challenge.
Following the conclusion of the regular season, the Big 12 Conference Tournament will be played from March 9-12 in Kansas City's T-Mobile Center.
OSU begins its 2021-22 campaign with three consecutive home games in November, opening with UT-Arlington on Nov. 9. The Cowboys finished 21-9 (11-7 Big 12) and earned an NCAA Tournament win last season, and this year embark on life after Cade Cunningham.
Coach Mike Boynton has added transfers Bryce Thompson (Kansas), Moussa Cisse (Memphis), Woody Newton (Syracuse) and Tyreek Smith (Texas Tech) to help fill the void left behind by the second No. 1 overall pick in school history. The newcomers join a roster that returns seven players who played over 14.5 minutes per game last season, including Avery Anderson — who made the All-Big 12 Championship team in 2021 — and back-to-back All-Big 12 honorable mention Isaac Likekele.
With transfers and returners in tow, the Cowboys' latest journey through the Big 12 begins on Jan. 1, when OSU heads to play the Red Raiders and first-year head coach Mark Adams to open 2022. Days later on Jan. 4, the Cowboys will host Kansas at Gallagher-Iba Arena, where they've topped the Jayhawks in five of the last eight meetings.
Texas follows in Stillwater on Jan. 8 before OSU's first conference road trip takes the Cowboys to West Virginia (Jan. 11) and defending national champions Baylor (Jan. 15) ahead of a Jan. 19 visit from TCU. OSU then travels to play the Longhorns in Austin on Jan. 22, with contests at home against Iowa State (Jan. 26) and away at Kansas State (Feb. 2) on either side of the Big 12/SEC Challenge.
Bedlam, likely with renewed energy, will resume in Stillwater on Feb. 5 before the Cowboys head to Norman three Saturday's later on Feb. 26. OSU carries a three-game win streak over their in-state rivals dating back to Feb. 22, 2020.
The Cowboys will also make their 52nd and 53rd Big Monday appearances in the month of February, first at Kansas on Feb. 14 and then on Feb. 21 in Stillwater against Baylor. Following the Feb. 26 visit to the Sooners, OSU closes out its regular season with a trip to Iowa State on March 2 before hosting Texas Tech on March 5.
Oklahoma State men's basketball 2021-21 Big 12 schedule:
Saturday, January 1 - Oklahoma State at Texas Tech
Tuesday, January 4 - Kansas at Oklahoma State
Saturday, January 8 - Texas at Oklahoma State
Tuesday, January 11 - Oklahoma State at West Virginia
Saturday, January 15 - Oklahoma State at Baylor
Wednesday, January 19 - TCU at Oklahoma State
Saturday, January 22 - Oklahoma State at Texas
Wednesday, January 26 - Iowa State at Oklahoma State
Wednesday, February 2 - Oklahoma State at K-State
Saturday, February 5 - Oklahoma at Oklahoma State
Tuesday, February 8 - Oklahoma State at TCU
Saturday, February 12 - West Virginia at Oklahoma State 
Monday, February 14 - Oklahoma State at Kansas
Saturday, February 19 - K-State at Oklahoma State
Monday, February 21 - Baylor at Oklahoma State
Saturday, February 26 - Oklahoma State at Oklahoma
Wednesday, March 2 - Oklahoma State at Iowa State
Saturday, March 5 - Texas Tech at Oklahoma State