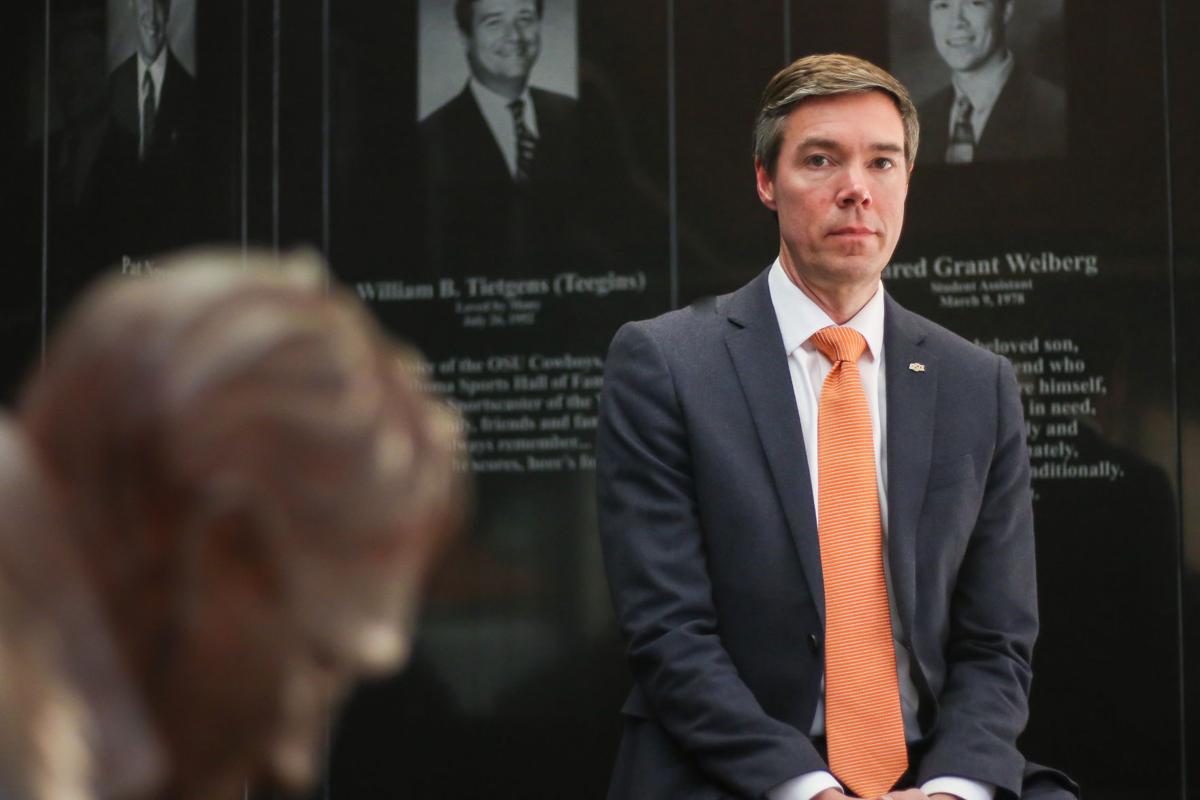 Thursday marks a brand new journey for Oklahoma State athletics.
Chad Weiberg will leave his post as the deputy athletic director and officially assume his position as the acting athletic director starting on Thursday. OSU announced Wednesday that Reid Sigmon will be the new deputy athletic director.
Weiberg will be formally introduced in his new role during a news conference starting at 10:30 a.m. Thursday. New Oklahoma State President Dr. Kayse Shrum will also speak at the news conference. Mike Holder, who has been the athletic director since 2005, is confident in Weiberg's ability to carry the torch.
"He is smart, honest, a great listener, makes friends easily, works hard, cares about the students, and loves OSU," Holder said in an email to the Tulsa World. "A great combination of attributes for a leader."
Weiberg is fully invested in the OSU culture. He is a 1994 OSU graduate who earned his master's degree in 2004 and has been serving as the Deputy Athletic Director since 2017. Honoring the 10 lives that were lost in the tragic plane crash on Jan. 27, 2001, hits home for Weiberg, who lost his brother, Jared, in the crash.
He has held roles as the director of corporate sales and donor relations for OSU Athletics, senior director of field operations for the OSU Alumni Association and the director of development for the OSU Foundation/College of Business Administration.
Weiberg left OSU for Kansas State after 2004 where he eventually held the lead role for the K-State Athletics Ahearn Fund and was recognized as the National Fundraiser of the Year by the National Association of Athletic Development Directors in 2014. He moved on to become the deputy director of athletics at Texas Tech in 2015 before assuming that role at OSU in 2017 and will now embark on his new journey as athletic director following Holder's 16-year tenure.
Anne Greenwood, an OSU alum and major OSU donor, said she is thankful for everything Holder has done for Oklahoma State and believes Weiberg is the perfect fit to succeed him.
"He knows how the machine works and the culture and being intimately involved with the good and the bad from some of the tragedies we've had to some of the remarkable successes," Greenwood said. "He's a natural, natural progression and so we have all the confidence. I'm getting older and I retired and while I hate to see the end of an era I think we have a bright, bright future."
OSU athletics has grown tremendously under the vision of Holder. From the opening of the Sherman E. Training Center, to the Michael and Anne Greenwood Tennis Center to this year's opening of O'Brate Stadium. Holder has raised an abundance of funds to help revamp Oklahoma State's facilities. He and his wife, Robbie, have also donated more than $2.5 million of their own money to OSU.
Holder has been a Cowboy since he first became a member of the OSU golf team as a freshman in 1966. He was an All-American golfer who eventually coached the golf team to eight national titles before becoming the AD. Holder said his friendship with the late Boone Pickens is what he is most proud of as an athletic director.
"We did a lot of things together and had a lot of fun in the process," Holder said. "I miss him every day."
Pickens donated over $600 million to OSU and is the reason for the top-notch Boone Pickens Stadium. His $165 million donation to OSU athletics in 2006 is the biggest donation in the history of NCAA athletics.
Greenwood said Holder's ability to establish strong relationships and gain the confidence of donors was the key to executing the vision he had for the school's athletic facilities.
"Through his stewardship, the personal connection and quite frankly his business acumen, he's a very smart man and he knew how to gather up the forces and gather a one lead donor like Mr. Pickens, who was the dream man," Greenwood said. "He made it all happen and said if we all join forces we can make and do what we need to do. Just to think of the transformation even in the last 10 years it's just an absolute showcase."
Holder also established close relationships with his coaching staff, especially men's basketball coach Mike Boynton. Boynton expressed how important Holder has been to the OSU community and to him personally.
"I'm not sure there's a more valuable person in the history of Oklahoma State University, and I don't say that like he gave the most money," Boynton said. "He gave a lot of money. I don't know if people know that. He gave a lot of money to the school, but his relationship brought Boone Pickens here, his working that. Without Mike Holder, there is no Boone Pickens Stadium here and Cecil O'Brate."
Holder, who hired Boynton as the men's basketball head coach in 2017, has also made a lasting impact on Boynton's personal life.
"There are probably five people in my life, including my parents and my wife, that I owe everything to and he's one of them," Boynton said.
Holder is leaving the athletic department in great shape for Weiberg to take over. He is inheriting an athletic program whose women's golf team advanced to the national championship this year, whose softball team just advanced to the Women's College World Series, the men's basketball team just housed the projected No. 1 overall pick in the upcoming NBA Draft, and wrestler AJ Ferrari just won an individual national championship as a freshman.
Not to mention a group of coaches who actively support each other and are so connected with one another that they have a group chat going. Holder said Weiberg played a major role in cultivating that level of support.
"He has been a part of that environment for the last four years and he's one of the primary reasons that it exists," Holder said. "I see no reason for that to change."
Holder will always be celebrated for his dedication to making OSU athletics a great program, but now it's Weiberg's turn to fill those shoes.
"Having to follow Mike Holder is a scary thing," Greenwood said. "That's big shoes to fill but I think we've chosen wisely and I think the fan base could not be more supportive of him and more excited for the future and how it's going to go. Bringing in someone new always is good. It's just change is always hard and I think we've chosen the best path possible for the future success of Oklahoma State."