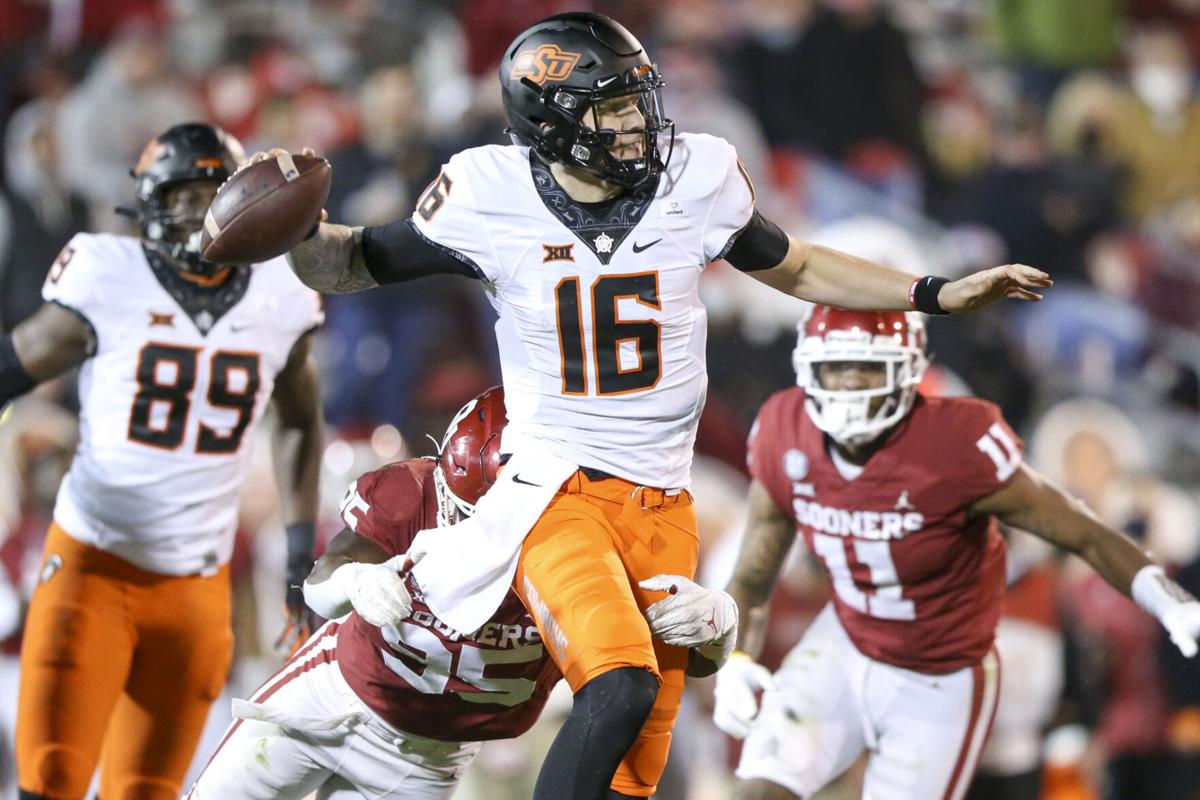 Oklahoma State backup quarterback Shane Illingworth didn't anticipate his dream of playing in an OSU football game would happen so quickly.
Spencer Sanders was the starter, and Illingworth wasn't even the next guy up when Sanders went down with an ankle injury in last year's season opener. Ethan Bullock stepped in behind Sanders in a game where the offense was struggling to move the ball.
Tulsa was leading 7-3 when OSU looked to true freshman Shane Illingworth as the third OSU quarterback to appear in the game. Illingworth's performance moved him into the backup role, where he became the starter until Sanders returned.
Illingworth earned game-time experience that most quarterbacks don't see as a true freshman. He played in four games, logging two starts. Last year gave the 6-6, 230-pound QB a base knowledge of what he needs to work on heading into the 2021 season.
Illingworth completed a 29-yard pass to receiver Tylan Wallace on his first throw of the game. His 36-yard pass to Wallace a few plays later allowed for a Chuba Hubbard score on a 3-yard run that gave the Cowboys a 10-7 lead on an 86-yard drive.
Illingworth led two more drives that ended in field goals, and OSU survived with a 16-7 victory to hand Tulsa its only regular-season loss of the year.
"A dream come true," Illingworth said following the OSU spring game in April. "I've been a little boy wanting to play for OSU. I've been wanting to be (coach) Mike Gundy's football player, and it's crazy. You guys have seen my family and how they reacted. It's still an unreal experience when people say that to me. I can't believe it myself. It was just amazing, just blessed. Honestly, that's all I can say. It was God's true work right there. That was amazing."
Illingworth started the following two games to lead OSU to wins over West Virginia and Kansas. He quarterbacked most of the Bedlam game after Sanders suffered another injury in the first quarter. He completed 73% of his passes for 483 yards and an interception, with all three of his touchdowns coming in the 47-7 win at Kansas, before completing 5-of-21 passes for 71 yards and a touchdown in the 41-13 loss to Oklahoma.
Illingworth showed both signs of poise and inexperience in his freshman season. He is a pro-style quarterback who is at his best when delivering from inside the pocket, but he acknowledged that he held onto the ball a little too long at times last season.
"I've got to keep on clicking through my progression," Illingworth said. "Where I make my money is going to be in the pocket. I'm going to have to do that. I'm going to have to continue getting better at that but I've got to keep on working on my athleticism, my speed. Make 10 yards when I need to get 10 yards. Hopefully, everyone is dropping out but I've just got to do whatever I can to make this team better."
COVID-19 prevented college football teams from completing their usual spring practice schedules, so this is the first offseason that Illingworth has been able to fully work with strength and conditioning coach Rob Glass. Illingworth said working with Glass has given him more power on his feet and improved his dropbacks. He's also helped Illingworth's mental approach.
"He's always the guy that's like 'Hey, you're good,'" Illingworth said. "He just keeps you up and keeps you in the right state of mind. I think that's the underrated part of coach Glass is that he's there. He cares for you. He wants the best for you. That's what I always needed is something there to say keep pushing keep grinding."
Quarterbacks coach Tim Rattay has helped improve Illingworth's progressions and has helped him become more comfortable with the playbook. Sanders has also been a major help in his development, and Illingworth hopes to use Sanders as a way to work on his speed.
"He's a veteran in this game," Illingworth said. "He's put me under his wing. He's helped me a lot, and he's a really good guy. I really appreciate what he's done for me. I think he's going to have a crazy year this year. Spencer has been really good for me and just watching what he does. He finds little holes and gaps I mean I can't probably close them as fast as he does but I'm working on it."