STILLWATER — To Mike Gundy, the landscape of college football is quickly evolving into the NFL.
There is an argument to be made. The transfer portal — which started in 2018 but exploded once one-time transfer rules were implemented by the NCAA in 2021 — gave collegiate sports a whiff of free agency.
Name, image and likeness legislation created contracts. The new college landscape often gets symbolized as the Wild West.
Or, as Gundy has referred to the college game in the past couple years, it's turning into the NFL.
"But, what it does is, whether we like it or not, it's becoming the NFL," Gundy said two weeks ago during a question about OSU evening out with transfer portal additions and losses.
The portal process was one Gundy shied away from over the years. The Cowboys would find success — just look at Tay Martin and Jaylen Warren as examples — but the emphasis was on developing those already in the program.
This offseason things changed. After initially expecting the transfer portal to slowly die down, the opposite happened, and Gundy responded by signing 13 players this offseason, with most competing for a starting spot on the roster.
"The portal's so crazy now, it's hard to really get your arms around it," Gundy said. "But we tried to bring in players we thought that wanted to be here."
Most transfer portal discussions lead to ideas of what's to come next. The process is still relatively new to the college landscape, but Gundy threw out several ideas this week.
The first starts with lawmakers, not the NCAA, passing legislation for transfers on a state-by-state basis. It's a similar road for NIL legislation too.
"I read a lot of politics, but lobbyists and things happen for a reason," he said. "That's the way it is. You're not going to control them. They're going to control you."
The second thought is even more polarizing.
High school recruits signing contractual agreements not for money, but for term. An example Gundy provided went as follows: A five-star, heavily recruited player signs a one-year contract to play at a school, and then can either sign another deal with the same school, or instead leave.
"That's what we're going to now," he said. "That's the only way that we are going to have a chance to manage rosters."
The inverse of Gundy's example would be a three-star prospect signing an agreement to play at one school for four years.
"I've suggested it," Gundy said. "I don't know if anybody's listened or cares, but high school kids ought to have an opportunity. So you want a four-year deal? Sign a four-year deal, but you're bound to that four-year contract unless your head coach says he'll sign off and let you go."
In Gundy's solution, a coach could sign off on voiding a contract. He admits it puts more pressure on the head coach, but still allows players to exit early if circumstances change.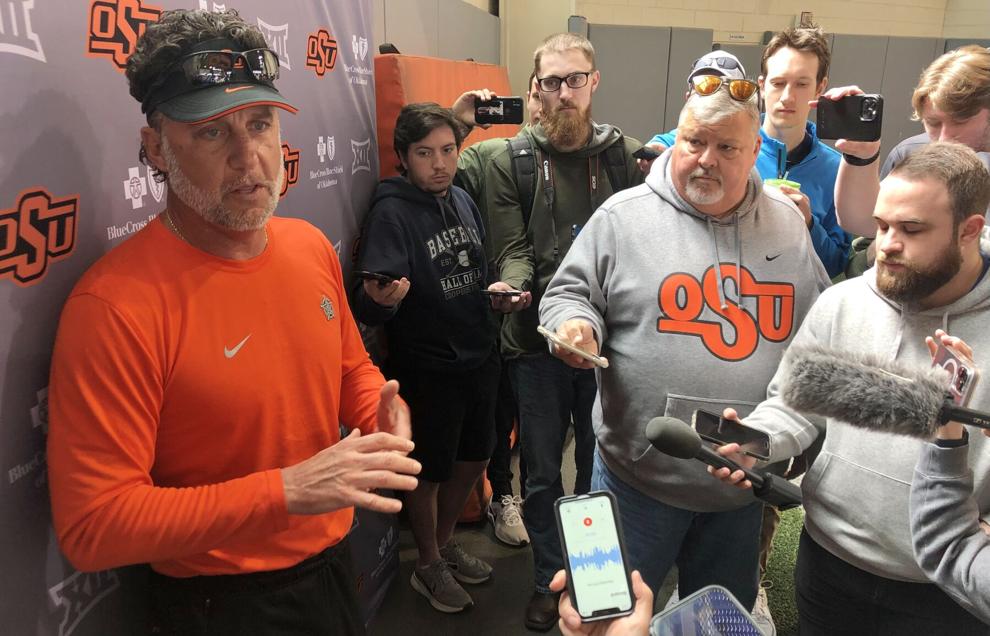 "Until they come to contractual agreements in recruiting, that's what we're going to have to do as coaches," Gundy said of keeping numbers balanced in the offseason. "That's the downfall right now. We don't really know how to manage our numbers, because we don't know what we're going to be faced with."
It's a decision to help balance roster management, a nightmare for college coaches since the portal's emergence. The portal's pace doesn't help either.
Windows to enter the transfer portal were created to help with roster management already, with players only allowed to enter their name during a 45-day period that starts in early December, and a 15-day window that opens on May 1.
That quick speed makes due diligence on players incredibly difficult. With the primary window being open during semester breaks, and university staff not present on campus, acquiring transcripts and grades is a slow process.
Move too slow, and that player could sign somewhere else.
"You have young men coming in on visits that we're seeing on the portal, we say we want them, we go after them, we make contact, bring them in on visit, we don't even know what their academic records are," Gundy said.
"How are we going to know that? We can't wait. If we wait, we lose. We have a few kids came in, had a visit, it was great, they left, we found out they weren't even eligible."
No matter how it's viewed, the transfer portal produces risk. Between managing rosters — both your own and the one you'd accrue in the portal — moving quickly within the designated windows to not only learn about prospects, but conduct due diligence and
But Gundy admits, it's a risk you need to take.
"I don't think you have a choice," Gundy said. "You know, it's like when you got to have car insurance. You got to have house insurance. You got to have the portal.
"Is that a concern? Sure it is. But I don't think you have a choice. You got to figure it out. Because if not, you're going to get left behind, in my opinion."