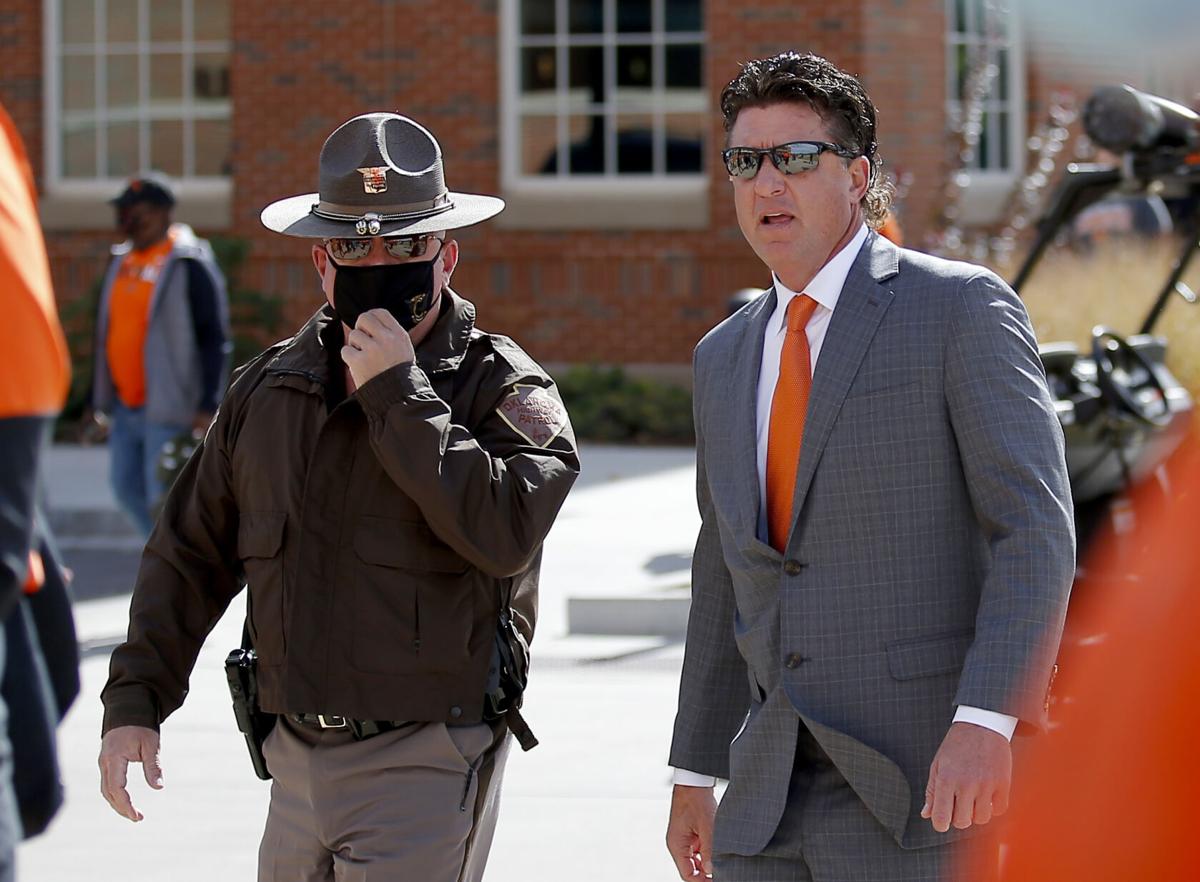 Another week fully engaged in this crazy world of ours...
This made me laugh
Mike Gundy was explaining the progress of Oklahoma State quarterback Spencer Sanders last Tuesday when he compared it to working a Rubik's Cube, that iconic '80s study hall killer.
"By the way, I never got the Rubik's Cube done. I did one side only."
That's OK, Mike. I didn't even get one side knocked out. Too impatient.
When I wanted to do something more productive than study for Mr. Ward's eighth-grade history test, I preferred paper football (y'know... fold the paper into a triangle and flick it toward the end of the desk/table) or this game my best friend Breck and I patented. "Pencil Golf."
We took a sheet of notebook paper (Google it, young'uns), drew a tee on one end and a hole on the other, then drew bunkers and other hazards between the tee and hole. At the tee, we held the pencil (Google it, young'uns) straight down on the paper, index finger pressing on the eraser until the pencil gave way and made a mark across the paper. Or the course in this case.
Our next shot came at the end of the mark. If our mark struck a hazard, we'd have to shoot from the point it did so.
We'd rotate until one of us hit the hole. Then it was a new sheet of paper and a new course. Match play. "Pencil Golf."
We'd go make C's on Mr. Ward's test, but it was so worth it.
God I wish I was 13 again.
I'd like to thank Gundy for being my age and a child of the '80s and injecting the Rubik's Cube into last week's discussion. That way, I could inject "Pencil Golf" and study hall and Breck and even Mr. Ward into last week's daydreams.
This made me think
For that version, I yield to Mel Kiper Jr, the ESPN draftnik who hosted a media call last Thursday.
"Chuba, going into this year it looked like he was going to be a little bit of a higher pick," Kiper said. "But I like him. He's got a little pace to his running style. He's got that burst. I think he can be a guy in the third-, fourth- or fifth-round area that can help you."
By the way, Kiper slotted OSU tackle Teven Jenkins between No. 19 and No. 24 overall in Thursday's call.
Another chuckle
OU football coach Lincoln Riley caught some social media flak last Easter when he tweeted a photo of homemade brisket that... Well... Let's just say it wasn't exactly sopping with juice.
One wise guy responded: "If you drop your phone in water you could put it in a bag with this brisket to dry it out."
Another: "This (bleep) loves football so much he eats it for dinner."
Someone had to come to Riley's aid here. SoonerScoop's Carey Murdock gave OU guard Marquis Hayes that chance last Thursday by asking Hayes about Riley's barbecue.
"I know they were getting on him, but we rally around him because that's our coach," Hayes said. "We ate there before, and it was some home-good meals. I know Twitter is going to bash you, but I would've tried it. I ain't going to knock it before I tried it."
Offensive linemen... Forever doing the dirty work.
This made me cry
I saw Tulsa's men's soccer team lost a 1-0 heartbreaker to UCF in the American Athletic Conference championship Saturday. I ached some.
Journalists aren't supposed to care about winners and losers, but I've been pulling hard for TU soccer since sitting down with coach Tom McIntosh last August. Dude literally teared up talking about the connection with his players at a time like a pandemic.
"When I see them every day and I get to look in their eyes?" McIntosh said. "I know what they feel."
I hate that the Golden Hurricane felt bad about Saturday's result, but I love that they stayed together through such a crazy year and got a season in.
"This group has breathed life back into the program," McIntosh said in TU's postgame release.
And this made me cry
My old pal John Hoover of SI Sooners asked OU H-back/running back/tight end Mikey Henderson last Thursday if he knew about Josh Norman, the H-back/running back/tight end who helped OU win the 2000 national championship.
"Uuuuhh... Josh Norman..." Henderson answered. "I've heard the name before but I'm not completely sure who that is."
This is what happens when current Sooners are born after the '00 Sooners' run to glory.
This is what happens when you look up and realize Norman is 40.
This is what happens when time keeps on slippin, slippin, slippin into the fu-ture.