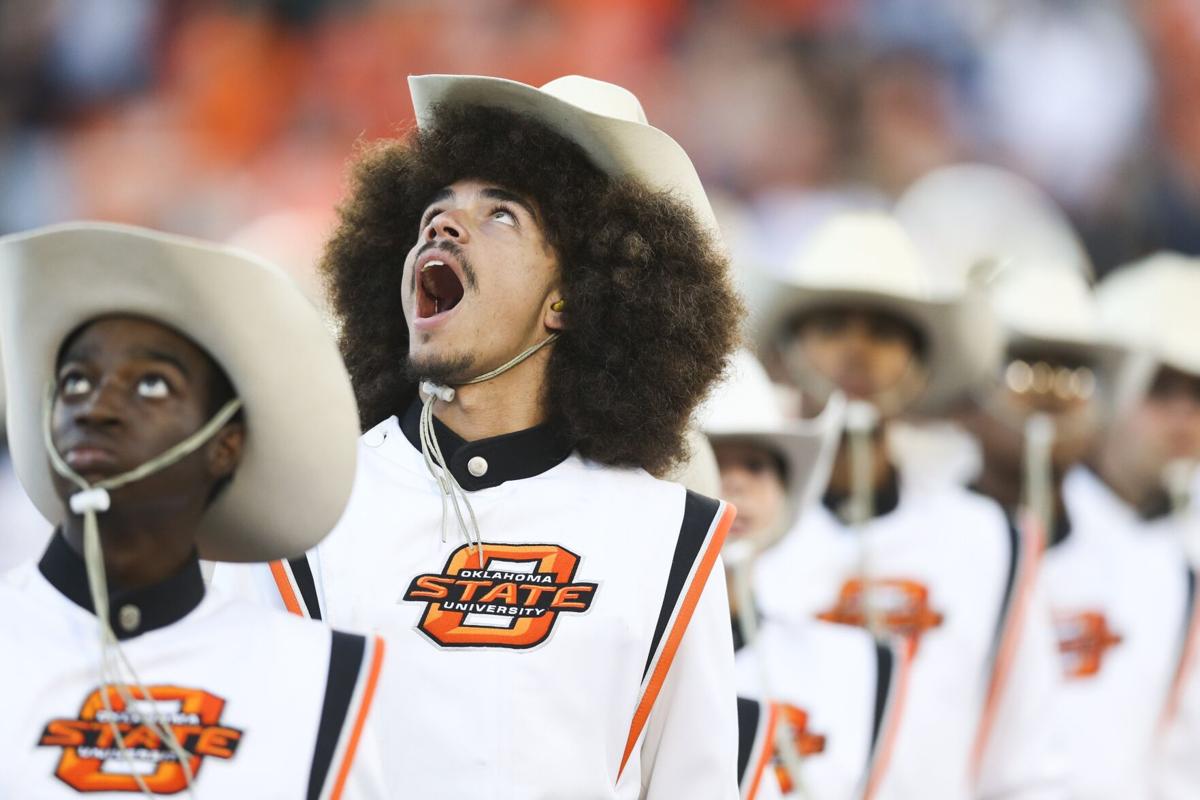 Oklahoma State jumped two spots to No. 7 in Tuesday's College Football Playoff standings. Oklahoma jumped three to No. 10.
It isn't quite as wild as 2015, when OSU was No. 6 and OU No. 7 in the CFP heading into Bedlam, but we'll gladly take a top-10 showdown Saturday night.
The Cowboys fell that night in '15. If they prevail this time, and then defeat Baylor (provided Baylor beats Texas Tech earlier Saturday) in the Big 12 Championship Dec. 4, they are in encouraging playoff shape.
Here's why as of the latest CFP reveal:
*** The committee dropped Alabama from No. 2 to No. 3 despite its supposed affection for the Crimson Tide.
That affection has its limits, apparently. Ohio State beat Michigan State so soundly that the committee flipped the Buckeyes and the Tide at No. 2 and No. 3, even as the Tide knocked off No. 21 Arkansas.
That takes a lot of air out of the notion that if 1-loss Alabama loses to No. 1 Georgia in the SEC Championship, the Tide could still find a way into the CFP.
If Bama beats Georgia, the SEC is getting both into the playoff. But if Georgia beats Bama, I don't see how the Tide gets in, provided OSU, Cincinnati, Notre Dame and the winner of Saturday's Ohio State-Michigan game win out.
*** In that scenario, the committee surely seeds Georgia 1, Ohio State/Michigan 2, and then chooses between 13-0 Cincinnati, 11-1 Notre Dame and 12-1 OSU for 3 and 4.
Don't get too worked up by the current pecking order – Cincinnati at No. 4, Notre Dame at No. 6 and OSU at No. 7.
The Irish finish at 3-8 Stanford Saturday. They don't play a conference championship game the following weekend, and that would be a big problem for a team with one top-25 win to its record – 41-13 over current No. 14 Wisconsin Sept. 25.
Cincinnati beat Notre Dame 24-13 Oct. 2. By that head-to-head alone, the Bearcats should get in over the Irish in our five-team scenario.
*** So let's consider the resume of a 12-1 OSU.
The Cowboys have already beaten current No. 8 Baylor (24-14 on Sept. 2). They can beat No. 10 OU Saturday night.
And if that happens, and Baylor defeats Tech, the Cowboys can then beat a Bears team that rises to No. 7 next week (passing the Ohio State-Michigan loser) and win a Big 12 championship.
There is no way in that scenario that Notre Dame gets in over the Cowboys.
If favorites win out, it's Georgia, Ohio State, Cincinnati and Oklahoma State in that order, most likely, although the Cowboys could make a strong case for No. 3 given the strength of their closing schedule. (Cincy plays at 7-4 East Carolina Friday night, then gets No. 24 Houston in the American Athletic Championship.)
*** If Alabama upsets Georgia Dec. 4, and Ohio State/Michigan, Cincinnati, Notre Dame and OSU win out, the Cowboys and Bearcats go from fighting over the playoff's No. 3 seed to the No. 4.
Message to OSU fans: If the Pokes win Bedlam and then beat Baylor Dec. 4, flip over to CBS and root like mad for Georgia to eliminate Alabama on Championship Saturday.
*** Everything we just covered is true for OU... to a degree.
If the No. 10 Sooners win out and finish 12-1, they'll pass Ole Miss, Baylor, OSU and Michigan with no trouble.
They should pass 2-loss Alabama if Georgia handles the Tide in the SEC Championship.
They should pass an 11-1 Notre Dame that doesn't win a conference title and has a single top-25 win to its credit.
I just don't know if it's as obvious for them as it is for a 12-1 OSU.
If Bama were to upset Georgia and steal a playoff bid, joining Ohio State/Michigan in the process, I think OU is a longer shot than OSU to win a "Sooners vs. Cincinnati" committee debate for No. 4.
*** A wild card making OU's CFP task more difficult: the prospect of winning Bedlam, and then winning it again for the Big 12 title a week later.
It's not just the chore of beating OSU back-to-back, it's how the committee would view beating the same opponent back-to-back.
Human nature tells me that committee members would view an OSU Big 12 Championship win over Baylor (higher-ranked than OU currently and having just beaten OU two weeks ago) more favorably than an OU Big 12 Championship win over OSU.
So that's another reason, in my opinion, to like the Cowboys' playoff prospects better than the Sooners' if either finishes 12-1.