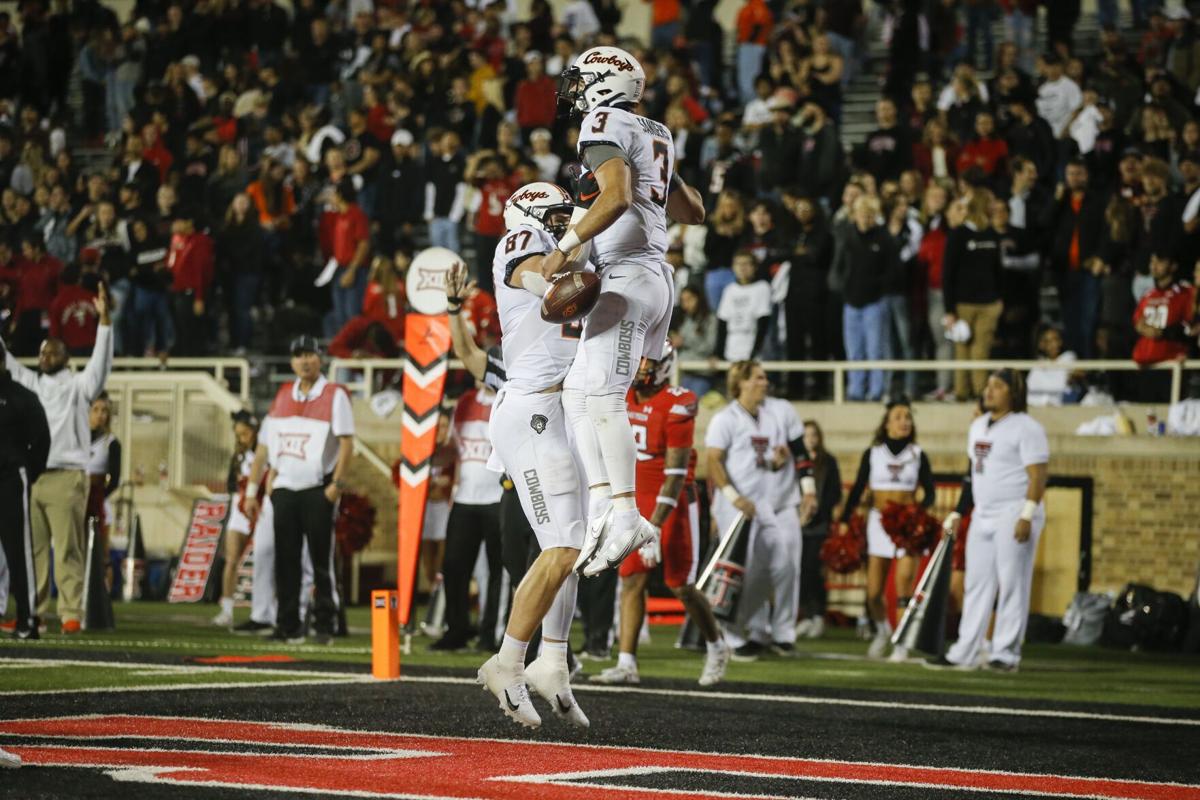 Oklahoma State still at the top. Texas, incredibly, still at the bottom.
Happy Thanksgiving, everyone. Enjoy the family, the feast and the football. Especially Bedlam.
1 – Oklahoma State (10-1, 7-1)
Last week: Blanked Texas Tech 23-0
This Saturday: vs. OU, 6:30 p.m. (ABC)
Before the weekend, the one missing notch on OSU's defensive belt was a shutout. It's there now. The Cowboys hadn't blanked a conference opponent since Oklahoma in 1995. I wonder if that's an omen heading into Bedlam.
Last week: Won at Kansas State 20-10
This Saturday: vs. Texas Tech, 11 a.m. (FS1)
The only downer for the Bears at K-State was Gerry Bohanon's pulled hamstring. Coach Dave Aranda was non-committal about his quarterback's status moving forward. Baylor can beat Texas Tech without him, but not OSU in the Big 12 Championship should the Bears reach Arlington.
Last week: Held off Iowa State 28-21
This Saturday: at OSU, 6:30 p.m. (ABC)
Lincoln Riley continues to be hopeful about his inconsistent offense rounding into peak form. There can be no hope when the Sooners head to Stillwater this weekend. That is a must. OU will struggle to score 20 points without a much sharper offensive edge in Bedlam.
4 – Iowa State (6-5, 4-4)
Last week: Couldn't quite complete the comeback at OU
This Friday: vs. TCU, 3:30 p.m. (FS1)
Brock Purdy has a shot to quarterback in the NFL. Breece Hall most definitely does. But the Cyclone who should enjoy the longest career and most success playing Sundays is tight end Charlie Kolar. He looks like Travis Kelce 2.0 to me.
5 – Kansas State (7-4, 4-4)
Last week: Fell to Baylor
This Friday: at Texas, 11 a.m. (FOX)
Deuce Vaughn was the Wildcats' bright spot Saturday with 128 yards, 65 of which came on K-State's only touchdown. Vaughn has eclipsed the 1,000-yard mark this season, joining a Big 12 club that includes Hall, Baylor's Abram Smith, Texas' Bijan Robinson and OSU's Jaylen Warren.
6 – West Virginia (5-6, 3-5)
Last week: Topped Texas 31-23
This Saturday: at Kansas, 6 p.m. (FS1)
Salt in the wound courtesy of the recap on WVU's web page: "Texas, which announced it was leaving the Big 12 for the SEC this summer when the Big 12's television deal expires in 20215, is in the midst of its worst football season since 1956."
7 – Texas Tech (6-5, 3-5)
Last week: Struggled to gain positive yardage against OSU
This Saturday: at Baylor, 11 a.m. (FS1)
Before Saturday night I had never seen a team assessed a 15-yard unsportsmanlike conduct penalty because of the behavior of its own fans. How sad for the faultless Red Raider players. How pitiful for the Red Raider fan base.
Last week: Kicked a last-second field goal to beat Kansas 31-28
This Friday: at Iowa State, 3:30 p.m. (FS1)
Gary Patterson, fired as TCU coach Oct. 31, released a statement last week that began: "After 24 years, Kelsey (Patterson's wife) and I are at a loss of words to describe how we feel about Fort Worth and TCU. This is why it has taken me so long to respond." Gulp.
Last week: Went to the wire before falling at TCU
This Saturday: vs. West Virginia, 6 p.m. (FS1)
Jared Casey went from his heroic 2-point catch at Texas to a touchdown grab at TCU. The young man got an NIL deal and an ESPN College GameDay feature last week. He is the best individual story of this college football season.
Last week: Lost sixth in a row in Morgantown
This Friday: vs. K-State, 11 a.m. (FOX)
If ranking KU ahead Texas last week was a single-outcome punishment for the woeful Longhorns, now it feels legitimately accurate. Seriously, would you favor Texas in a rematch in Lawrence?