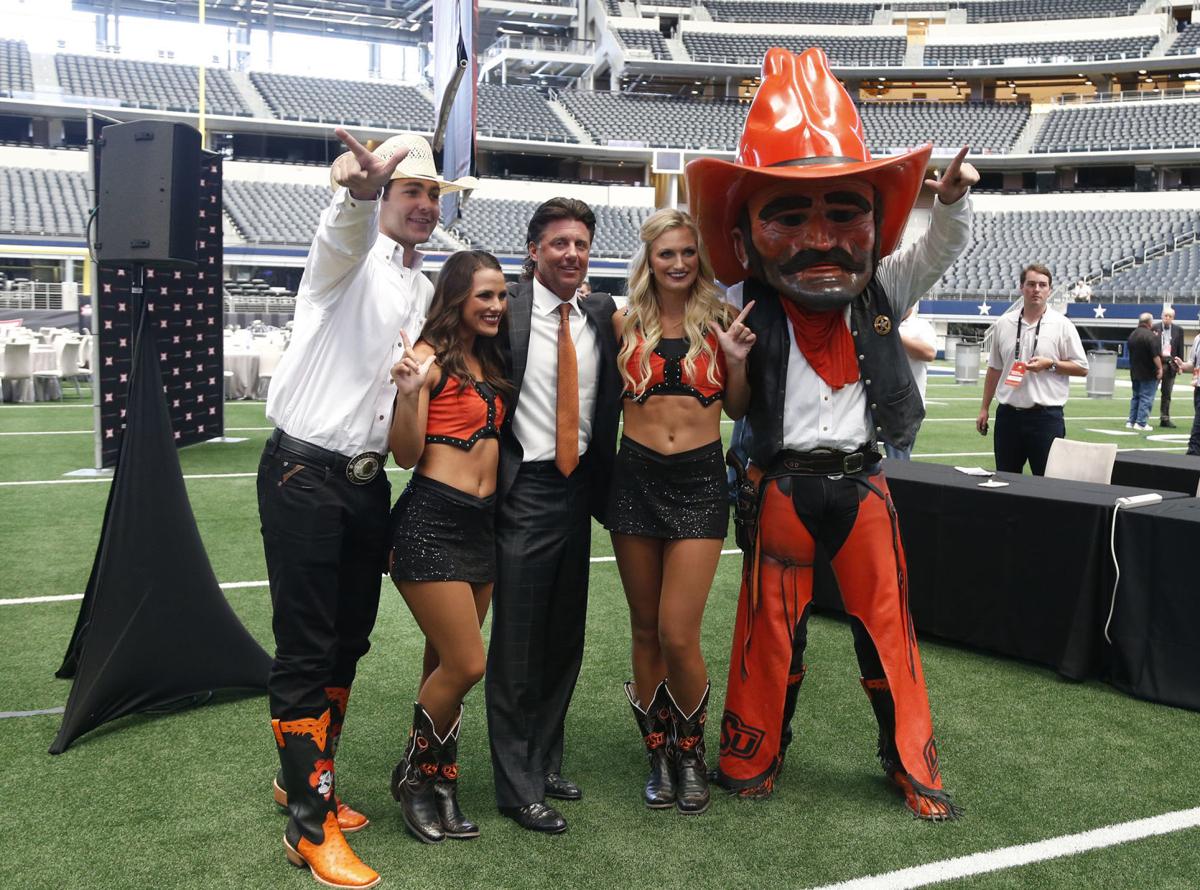 Among the things I'm thankful for this year: Tulsa World readers. You will never be taken for granted, I promise, by anyone at the World.
Happy Thanksgiving, gang. Enjoy your families, feasts and football games this week.
From Rhonda: "I will be brief and to the point — this divorce is absolutely liberating! Finally our beloved university has the opportunity to develop an independent character, personality and spirit. The academic achievements and athletic successes of Oklahoma State University should under no circumstances be influenced by or dependence on another university.
"It would be wonderful if this Saturday was the very last Bedlam meeting!"
Thank you, Rhonda, and Happy Thanksgiving.
Mike Gundy opined earlier this week that Bedlam was likely ending with Oklahoma's departure to the SEC. He blamed future schedules and game contracts for that. Logistics. The business side of things.
OSU fans had justifiably hard feelings over OU's abandonment at the time. OSU administrators had even harder feelings, since OU's abandonment left the Cowboys (and the other seven Big 12 Conference holders) vulnerable financially. It wasn't just history being threatened, it was a livelihood.
Those feelings haven't waned much.
From Lowell: "I would love it if Mike Gundy's prediction in Eli Lederman's story proves correct, for OSU to win the final Bedlam. It's the only one that counts."
Thank you, Lowell. Happy Thanksgiving, sir.
I tend to think OSU wins Saturday night, Baylor beats Texas Tech earlier in the day and then the Cowboys avoid a rematch with the Sooners at the Big 12 Championship next Saturday. That would be an ideal scenario for Gundy & Co. and not just because of Saturday's potential for a Bedlam sendoff.
The Pokes have an encouraging path to the College Football Playoff, provided they defeat OU and Baylor. There is a lot that can happen with Georgia/Alabama in the SEC, Ohio State/Michigan in the Big Ten, Cincinnati and Notre Dame, but it's starting to feel like the CFP breaks in OSU's favor… if OSU is 12-1 and Big 12 champion by Selection Sunday.
From Paul: "How about taking this angle... OSU really has nothing to lose (except Game 1) by 'letting loose.' They are already locked into the Big 12 Championship Game. If they are reluctant to show 'all their cards' in Game 1 for fear of having nothing 'new' for Game 2 then they have lost the mentality that they need to beat OU."
Thanks, Paul. Happy Thanksgiving to you.
This is a response to my Tuesday column suggesting that for all of the flak Gundy catches for his Bedlam conservatism, he should probably play Saturday night as he has played this season — conservatively. That way, his offense doesn't make any mistakes that his defense can't overcome.
Here's how I see it: We have reached the point it doesn't matter who OSU defends, that team isn't going to reach 20 points. Caleb Williams and the Sooners included.
So can OSU's offense get to 20 by doing what it has done all season — handing off to Jaylen Warren and the running backs and asking Spencer Sanders to be a high-percentage, low-risk complementary quarterback?
Yeah, I think it can, mostly because I think Warren can have a 125-yard game against OU's defense.
From Chris: "The Cowboys can dictate the tone of the game by playing to their strength. They have been plodders by nature, and I think plodding away this week will frustrate the Sooners. We have already seen teams do so throughout the year and it noticeably causes OU to struggle.
"This is probably stating the obvious but Caleb Williams is the key to the game. If he makes more than 3 or 4 big plays, OU probably wins the game. My gut tells me Malcolm Rodriguez and company will be ready and we see a 23-13 Cowboy win. A lot of stalled red zone drives lead to several field goals."
Sharp analysis, Chris. Happy Thanksgiving to you.
Young Mr. Williams is the focal point as I wrote in Wednesday's World. He has to play with the spirit and attitude he did when he burst on the scene against Texas.
This game does feel like a race to that "23" total on the winning side. Williams can be dynamic enough to get OU there first, I just don't see it happening. Mainly because I don't see him making up for the fact that the Sooners are really going to struggle trying to block the Cowboys.
From Larry: "Lincoln Riley is a superb offensive coordinator and play caller. Some say the best in the business, at any level. But one cannot run the ship and also be the cannoneer. The OU offense thrives on rhythm; always has. But rhythm is for the most part missing this year. He has a co-OC (Cale Gundy). Work with him on a game plan during the week, then turn it over to him on Saturday."
Thank you, Larry. Happy Thanksgiving to you, buddy.
I have heard a lot of this sentiment this season. I'm not near ready to go there.
Riley has built up too much capital the previous six years to yank play-calling from him because of 2021. Let's give him more time to adjust to opposing defense's adjustments, and to adjust to Williams.
Some Thanksgiving leftovers
From Ken: "Because you're not new to the Big 12 by any means I'm sure you know Texas Tech fans are notorious for being beyond rude to visiting teams. Ask any Texas A&M fan or recall the treatment Marcus Smart received at the United Spirit Arena. And then there was the recent blasting of officials by Tech's radio announcers in their game against Iowa State. Thanks for taking the high road."
Happy Thanksgiving, Ken. Thank you for reading.
This is in reference to me tagging Tech fans in Monday's column for throwing debris on the field during OSU's win Saturday night.
Let me just say that I have met some really nice, thoughtful Red Raider fans in my time covering the Big 12. I have met some really nice, thoughtful fans everywhere I have been in this league.
Unfortunately, every fan base has some degenerates that stain the crowd.
More unfortunately, and to Ken's point, Tech's degenerates do tend to stand out.
From Pat: "Several years ago I thought I had figured out what made a 'good' columnist when one of the World's staff wrote about the orange cones along the highways welcoming people to the OSU game — but you nailed the prize today with the tumbleweed stuck to the car grille."
I'm honored, Pat. Thank you! And Happy Thanksgiving!
For years I have wondered if all those long, desolate car rides to Lubbock were worth the trouble. I guess I have my answer now.
From Steve: "Full disclosure: I am a graduate of the University of Utah. For the long-shot playoff hopes for OU and OSU, the Utah-Oregon matchup was obviously among the most important of Saturday's games, especially so when it ended in a Utes 38-7 rout over the Ducks. It was a precious gift of badly needed life support for the dim chances of either OSU or OU earning a spot in the CFP.
"Perhaps I was naïve this morning, hoping to read a small piece about Utah's gift last night to the state of Oklahoma's CFP football prospects. Instead, I'll just give grudging kudos to Guerin Emig, who, somewhere about paragraph 14 or 15, managed to squeeze in 50 or so words into his column about the college football game most of the nation was watching last night and of huge importance to OU and OSU."
Thanks, Steve. Happy Thanksgiving and congratulations to your Utes for the show they put on against Oregon.
I didn't mean to downplay Utah's favor to OSU, OU or the Big 12. Let the record reflect it was an enormous development for the Cowboys' playoff chances particularly.
Most pundits have pointed out how Utah cleared Cincinnati's CFP path. But if OSU jumps, or even joins, Cincy in the playoff, Gundy should absolutely send Utah coach Kyle Whittingham a fruit basket.
From Bill: "I can't imagine the late nights you guys put in for these later football games, but many of us do appreciate you. For a game to end at 10-11pm, then have the sports rundown in next day's paper by 3-5am is quite a feat. Obviously, it wasn't an 9am-5pm day!"
Thanks for noticing, Bill. Seriously. That is so kind of you.
Happy Thanksgiving, again, to all of you.
See every Bedlam score since the rivalry began in 1904
Nov. 21, 2020: No. 18 Oklahoma 41, No. 14 Oklahoma State 13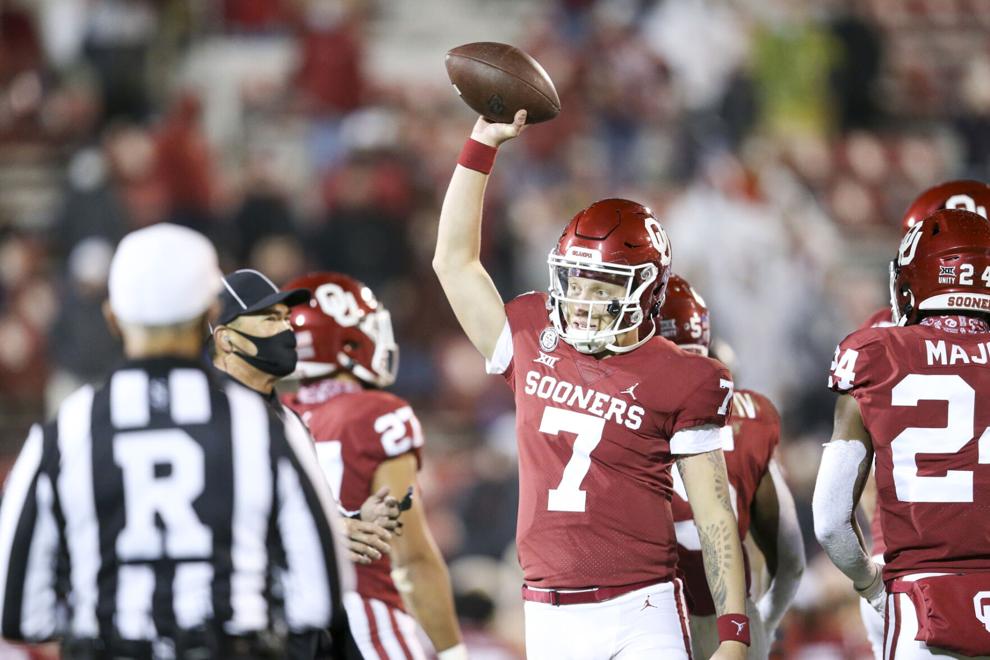 Nov. 30, 2019: No. 7 Oklahoma 34, No. 21 Oklahoma State 16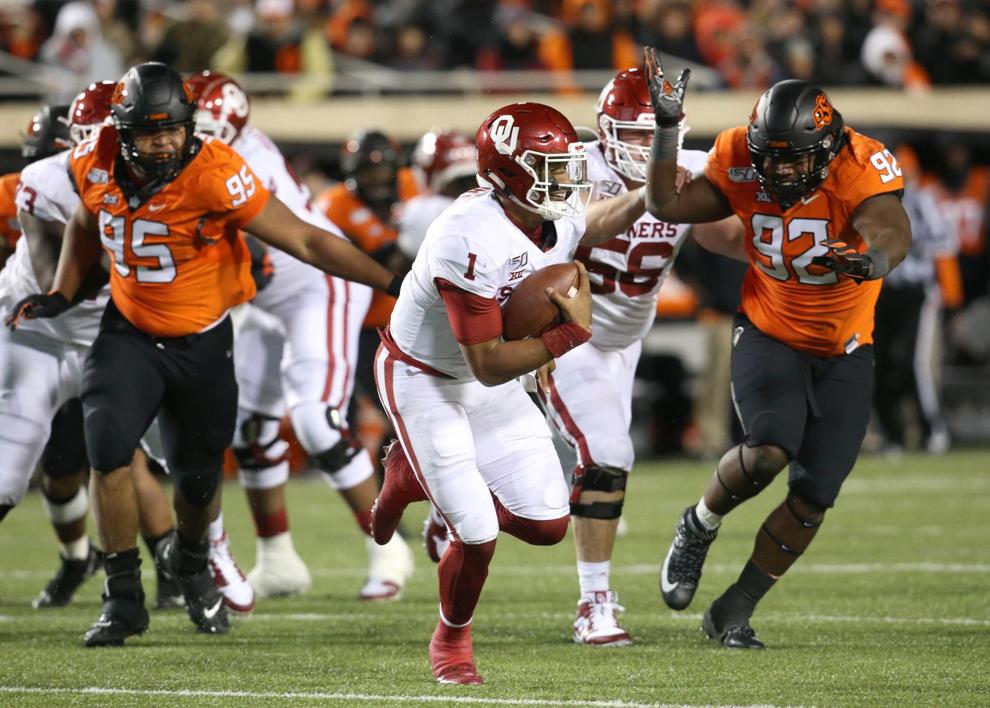 Nov. 10, 2018: No. 6 Oklahoma 48, Oklahoma State 48-47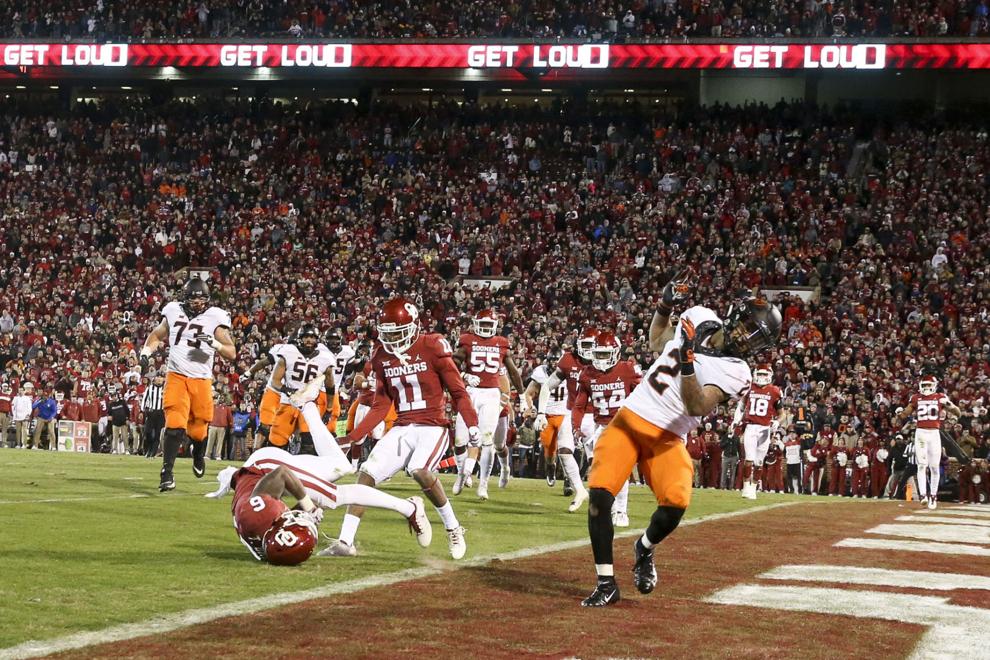 Nov. 4, 2017: No. 5 Oklahoma 62, No. 11 Oklahoma State 52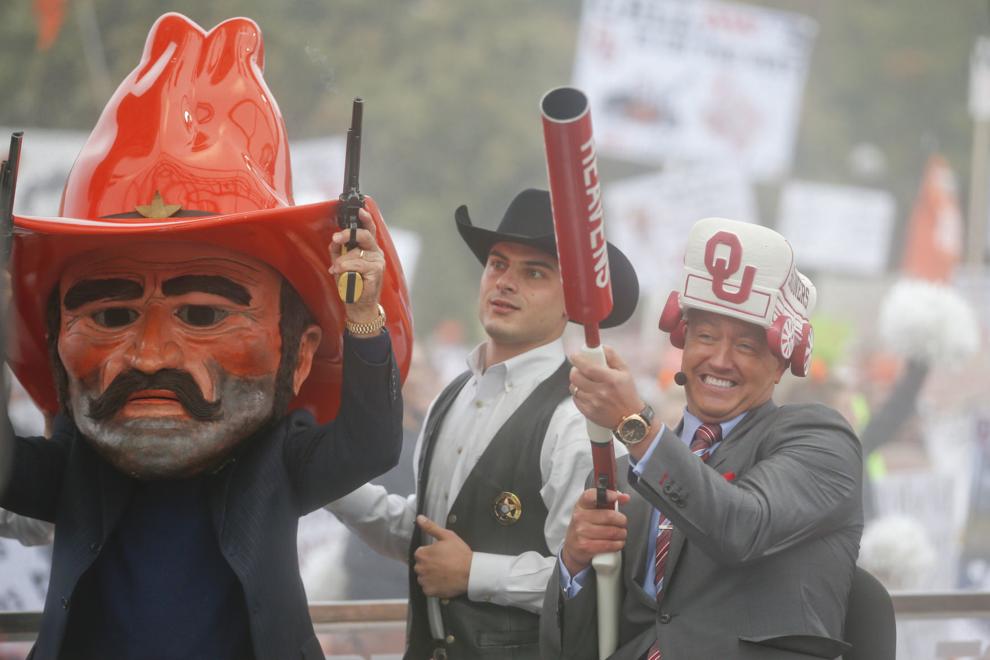 Dec. 3, 2016: No. 5 Oklahoma 38, No. 11 Oklahoma State 20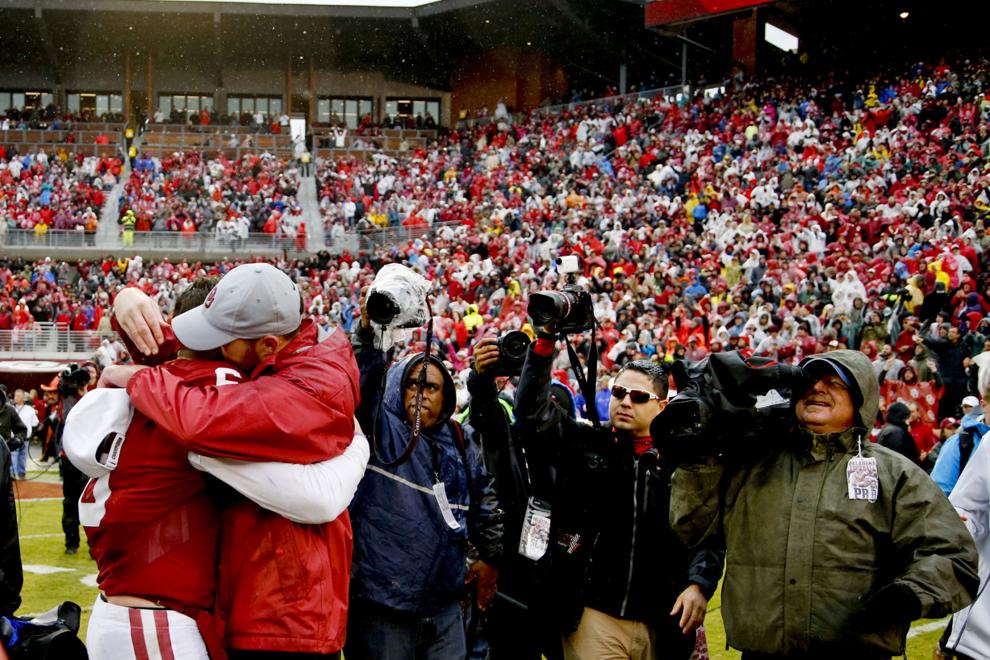 Nov. 28, 2015: No. 3 Oklahoma 58, No. 11 Oklahoma State 23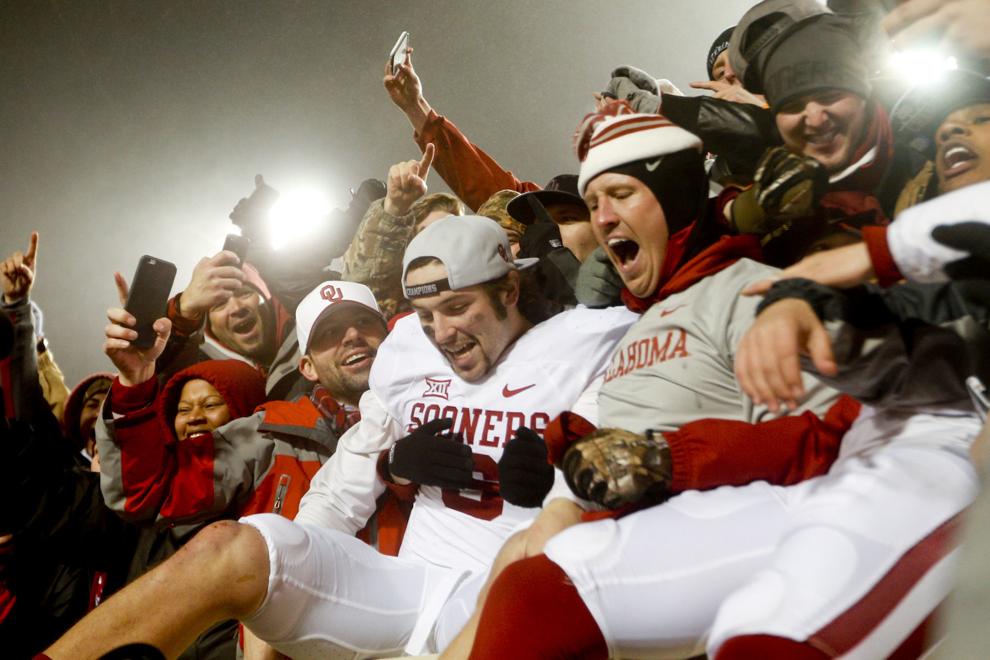 Dec. 6, 2014: Oklahoma State 38, No. 18 Oklahoma 35 (OT)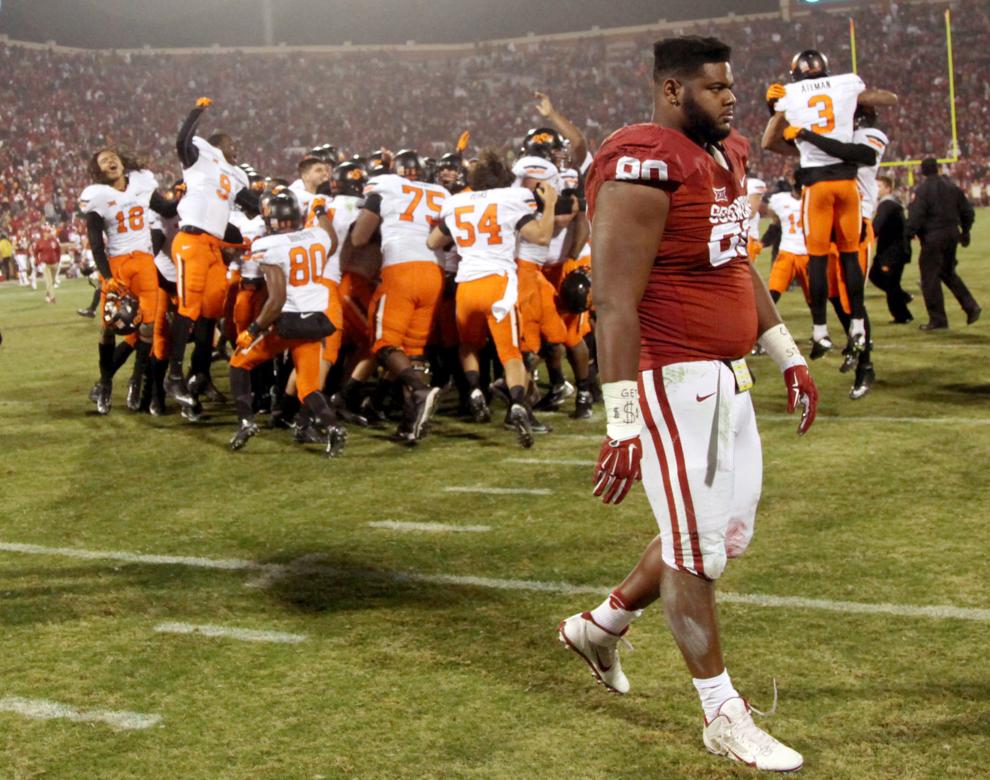 Dec. 7, 2013: No. 17 Oklahoma 33, No. 6 Oklahoma State 24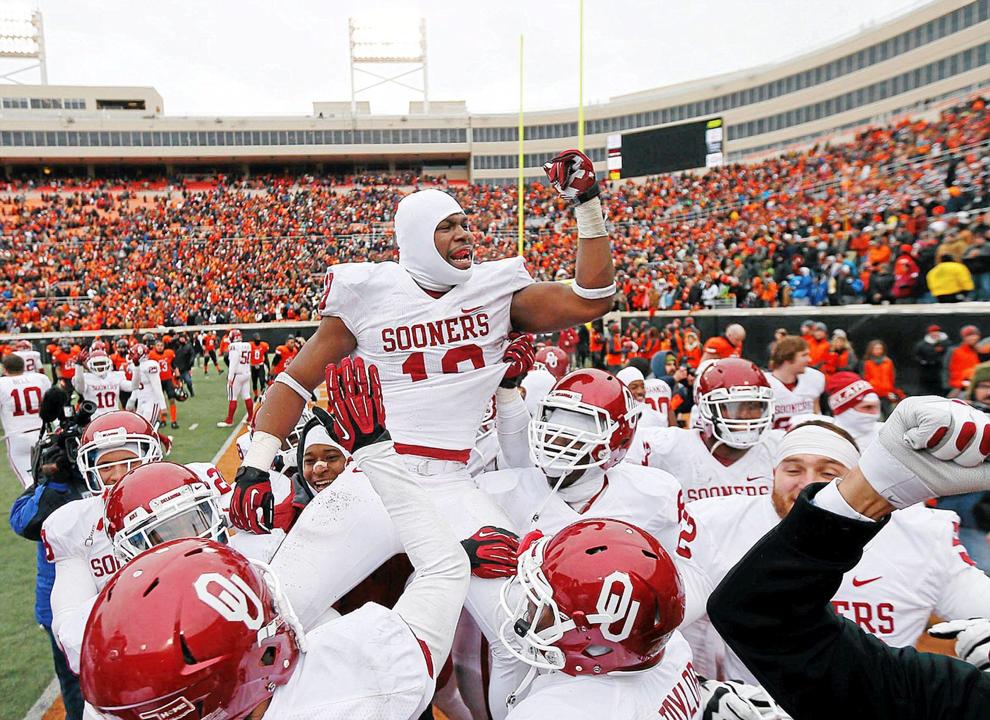 Nov. 24, 2012: No. 13 Oklahoma 51, No. 21 Oklahoma State 48 (OT)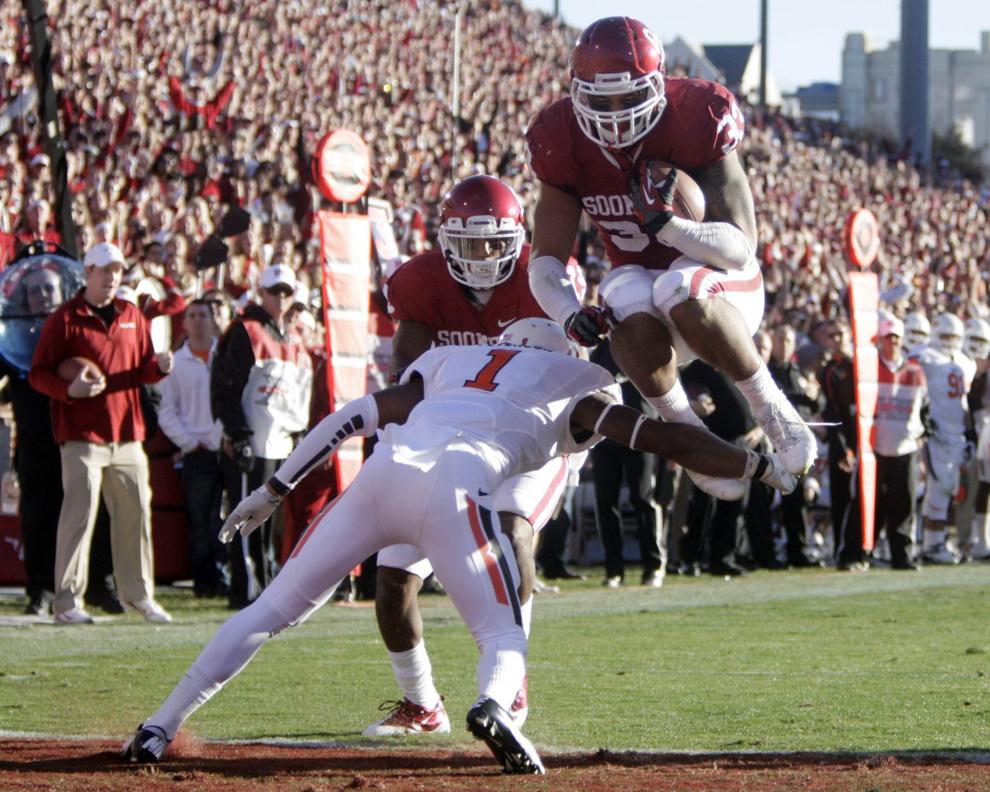 Dec. 3, 2011: No. 3 Oklahoma State 44, No. 10 Oklahoma 10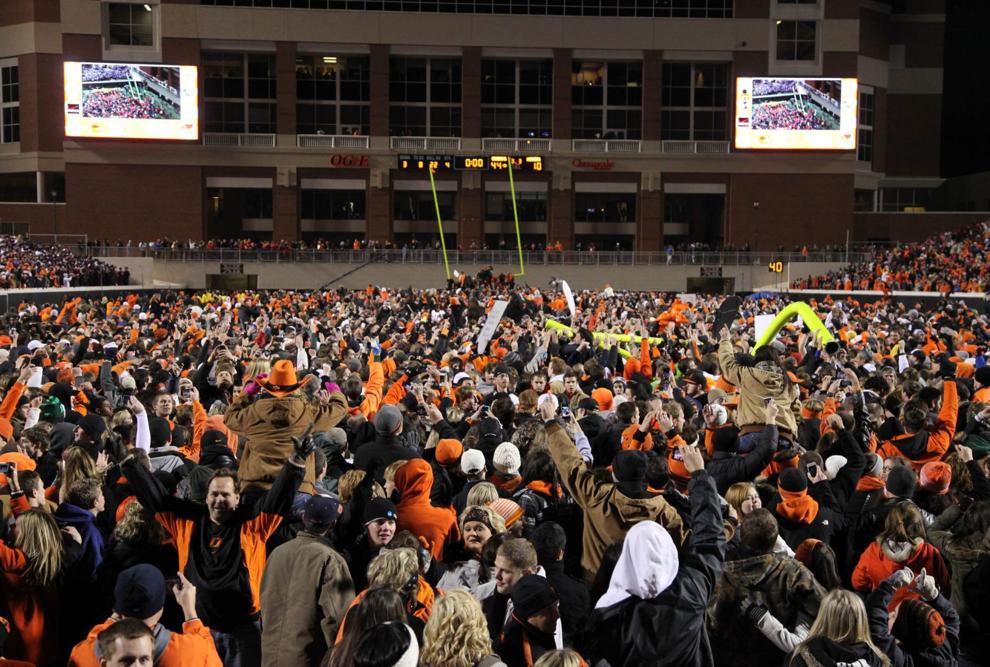 Nov. 27, 2010: No. 14 Oklahoma 47, No. 10 Oklahoma State 41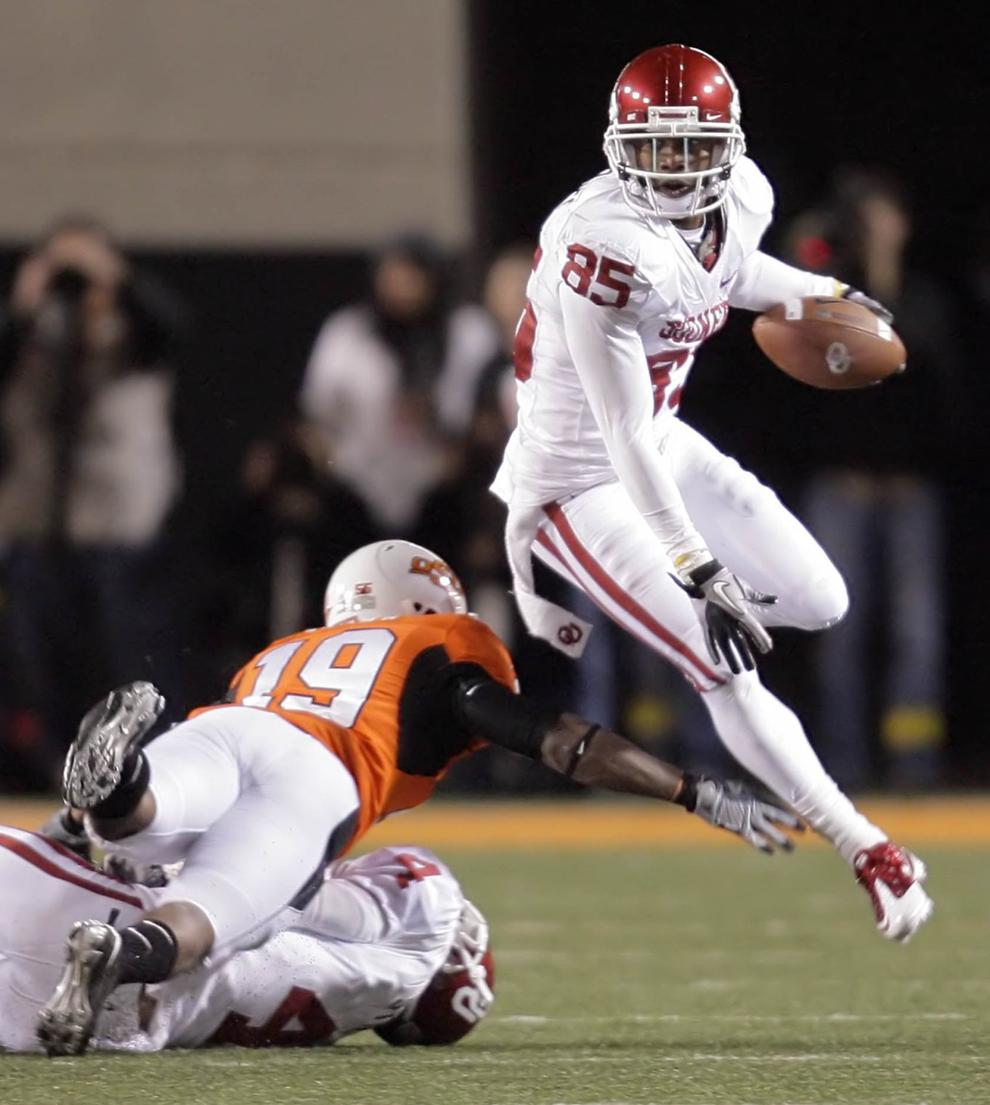 Nov. 28, 2009: Oklahoma 27, No. 12 Oklahoma State 0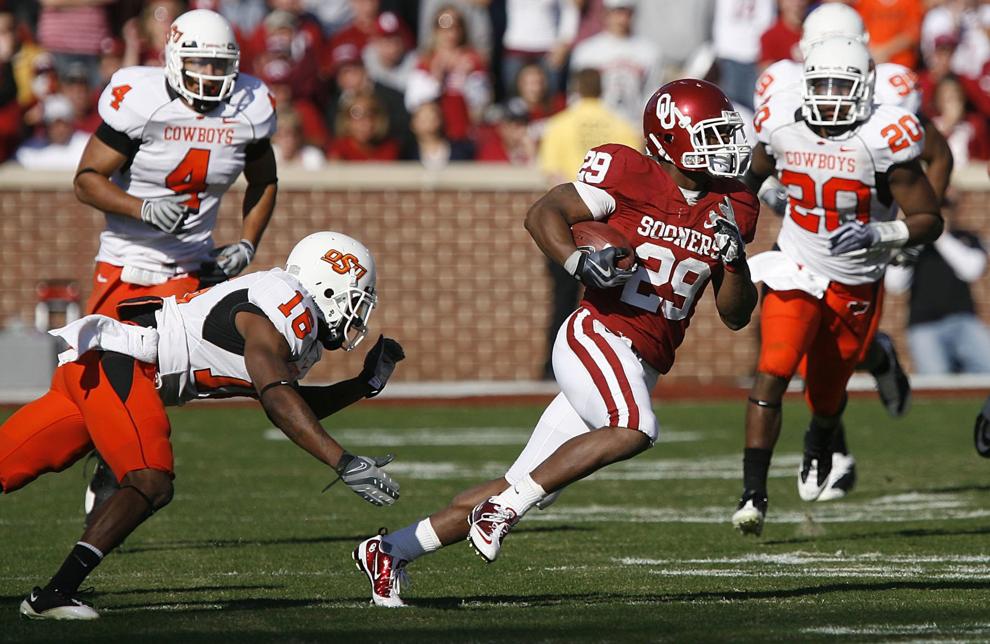 Nov. 29, 2008: No. 3 Oklahoma 61, No. 11 Oklahoma State 41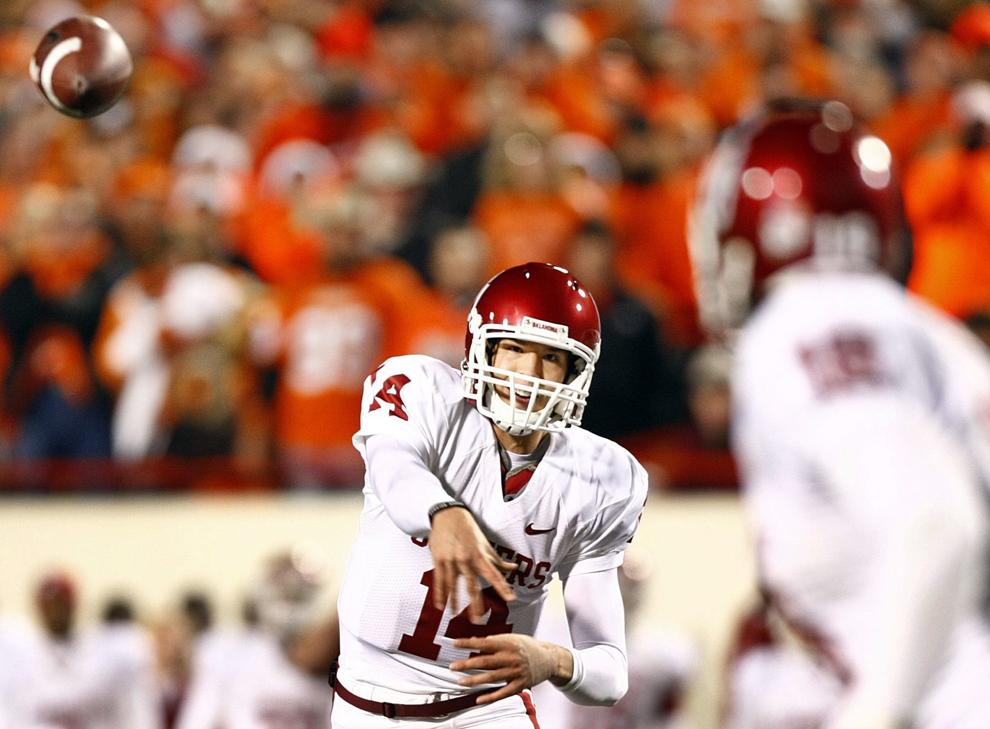 Nov. 24, 2007: No. 10 Oklahoma 49, Oklahoma State 17
Nov. 25, 2006: No. 13 Oklahoma 27, Oklahoma State 21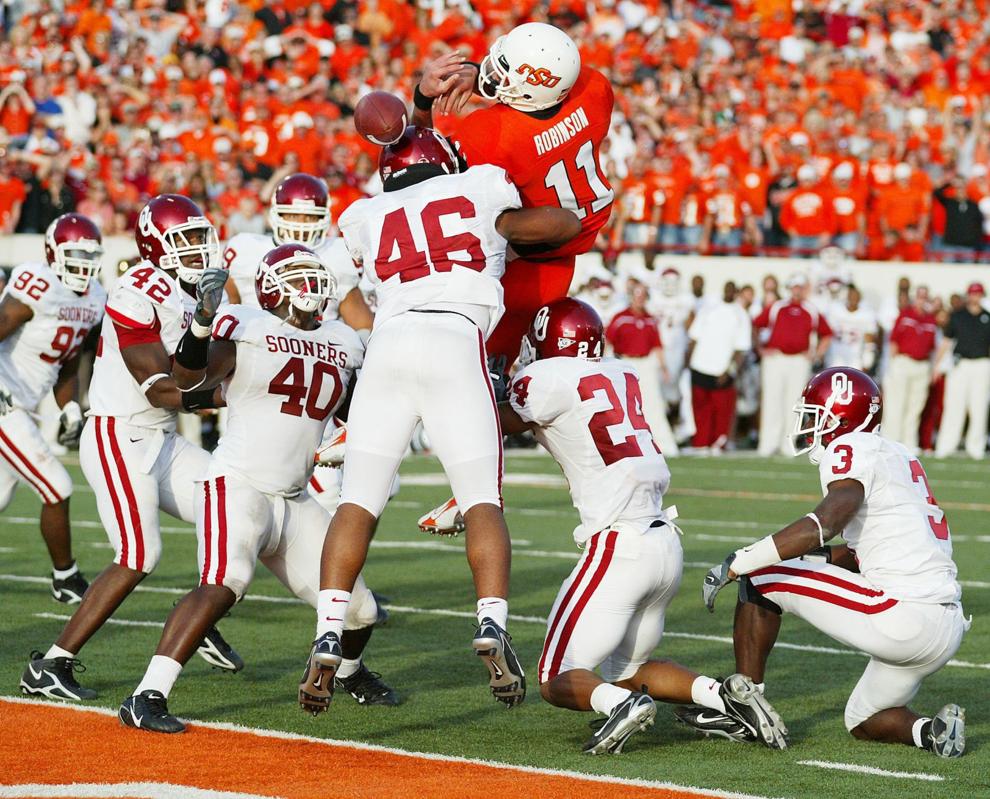 Nov. 26, 2005: Oklahoma 42, Oklahoma State 14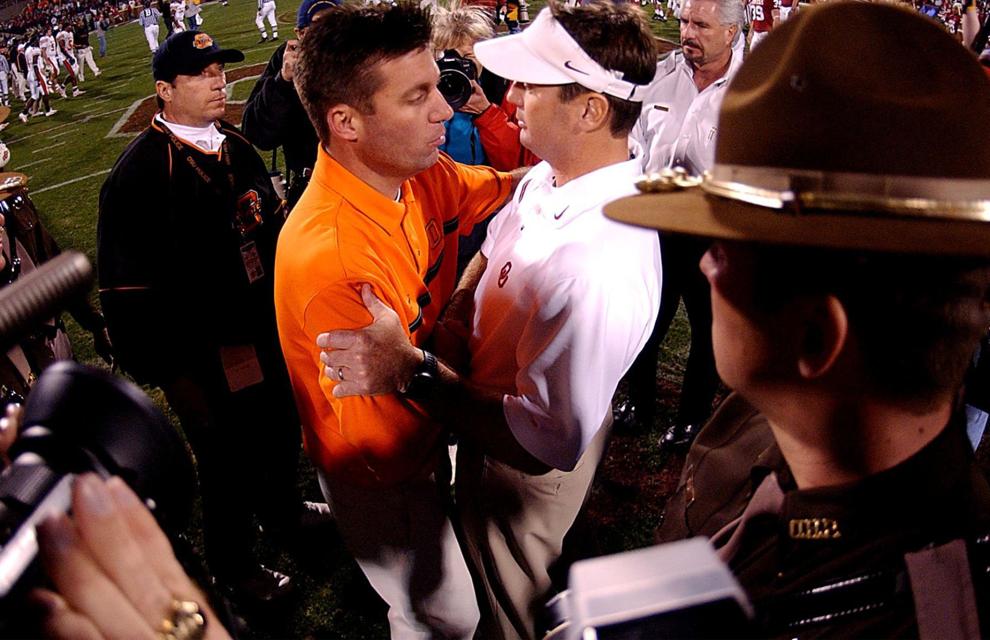 Oct. 30, 2004: No. 2 Oklahoma 38, No. 20 Oklahoma State 35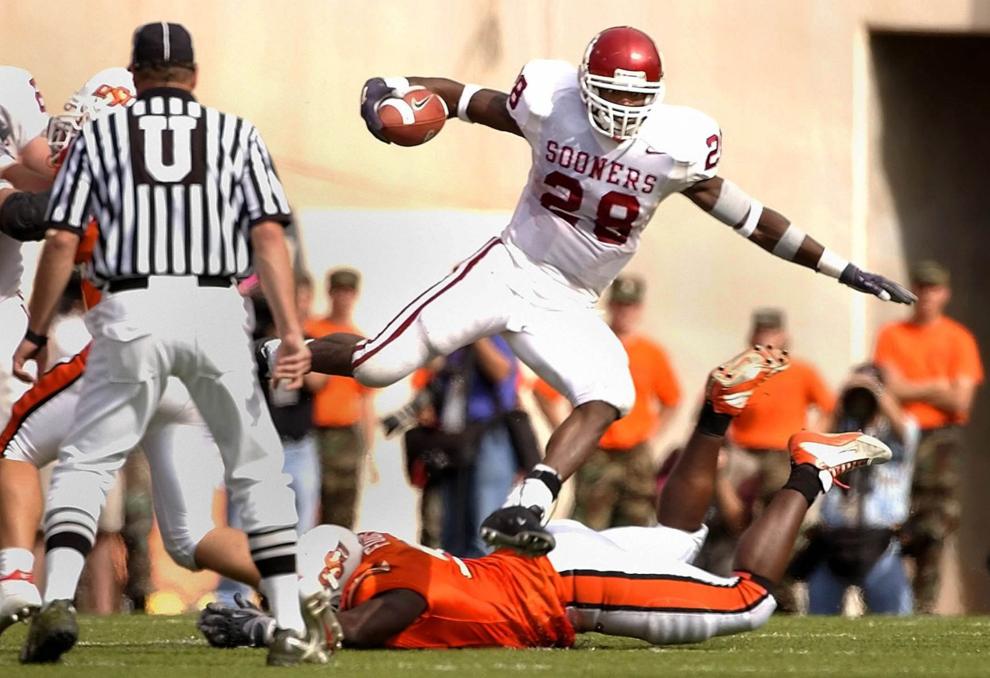 Nov. 1, 2003: No. 1 Oklahoma 52, No. 14 Oklahoma State 9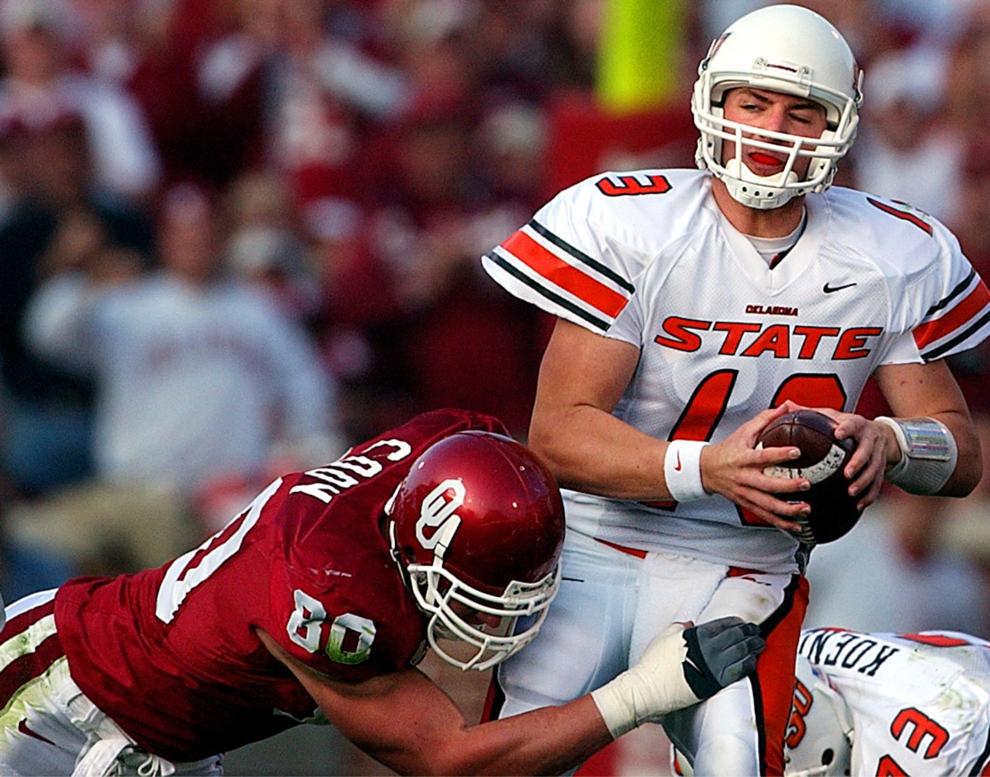 Nov. 30, 2002: Oklahoma State 38, No. 3 Oklahoma 28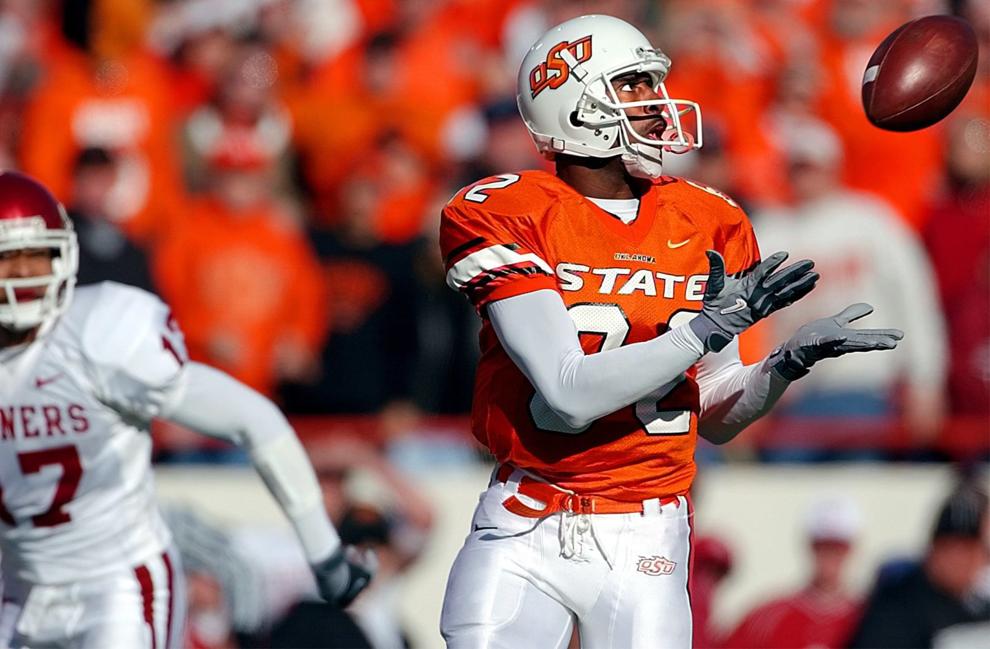 Nov. 24, 2001: Oklahoma State 16, No. 4 Oklahoma 13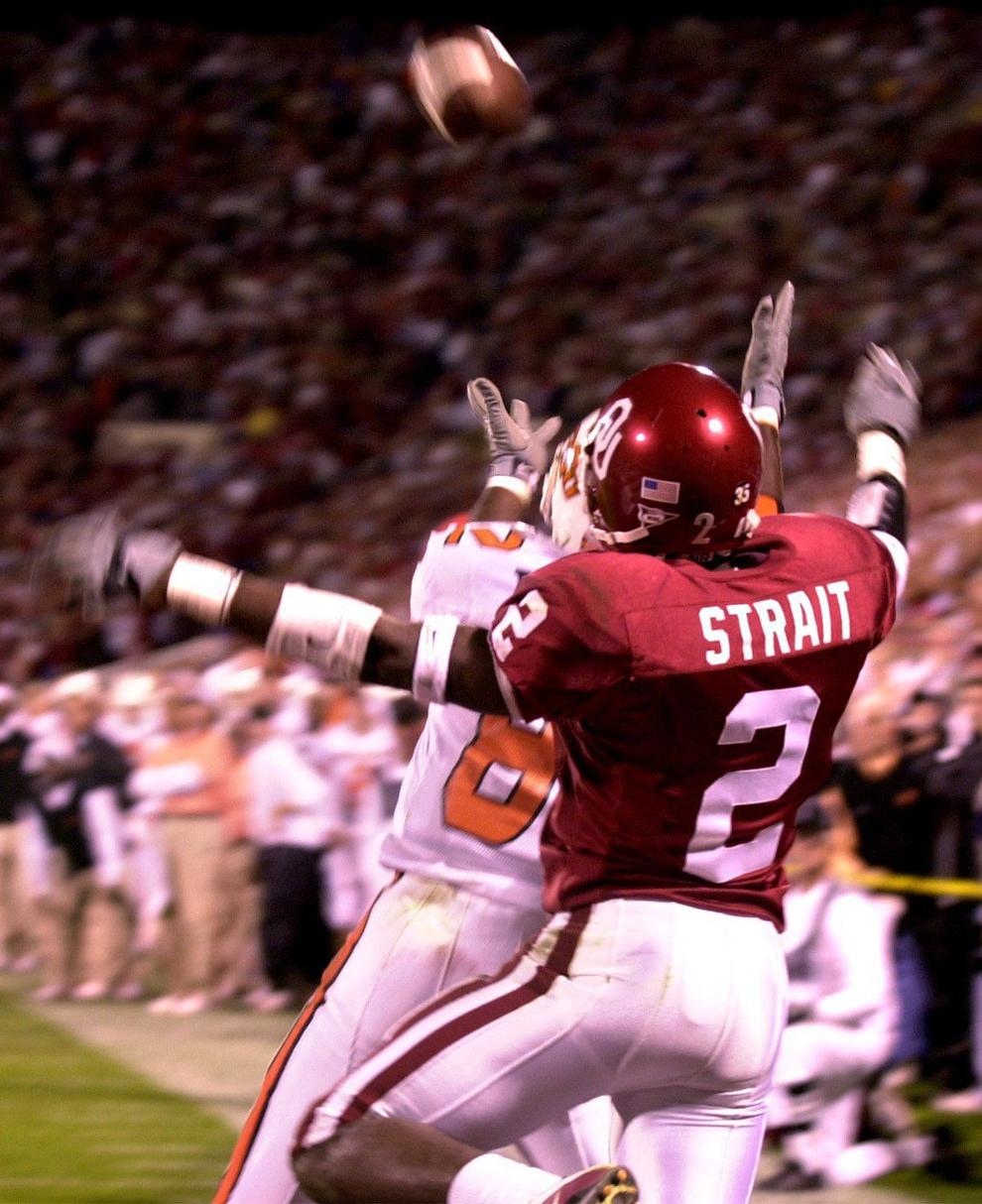 Nov. 25, 2000: No. 1 Oklahoma 12, Oklahoma State 7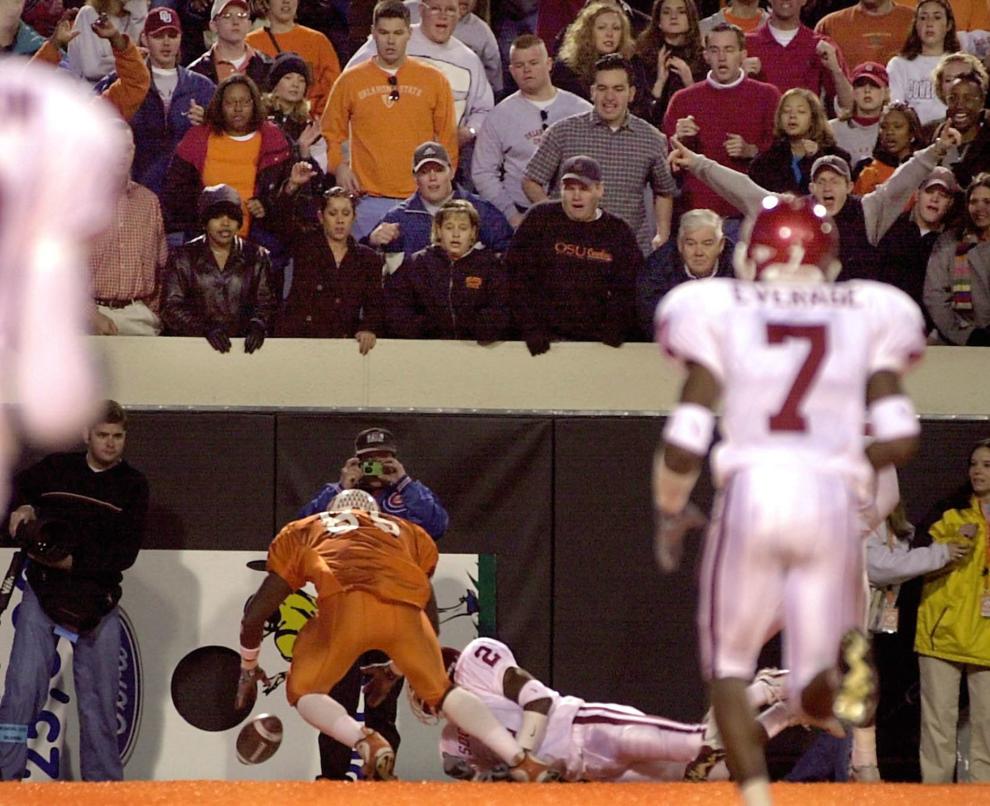 Nov. 27, 1999: Oklahoma 44, Oklahoma State 7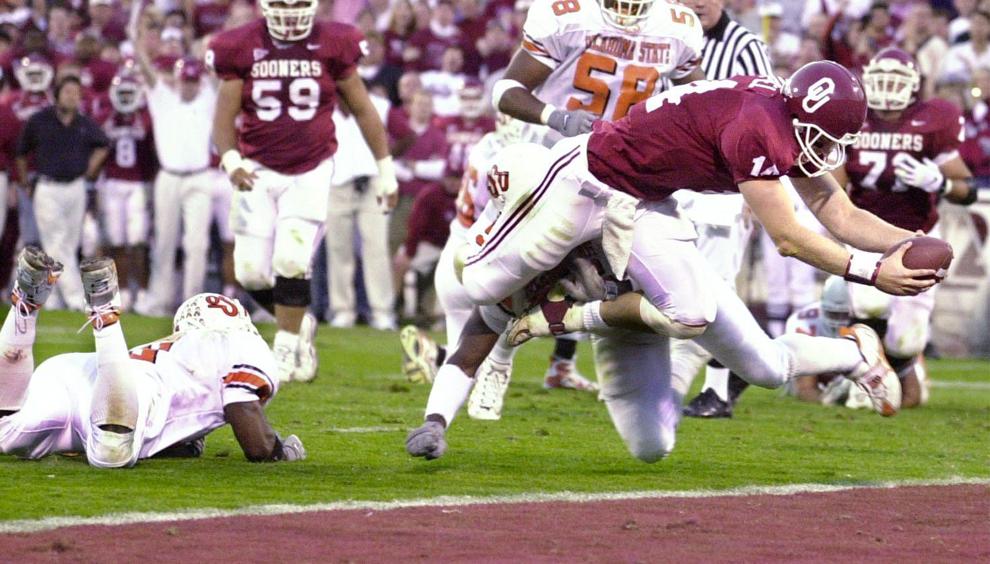 Oct. 24, 1998: Oklahoma State 41, Oklahoma 26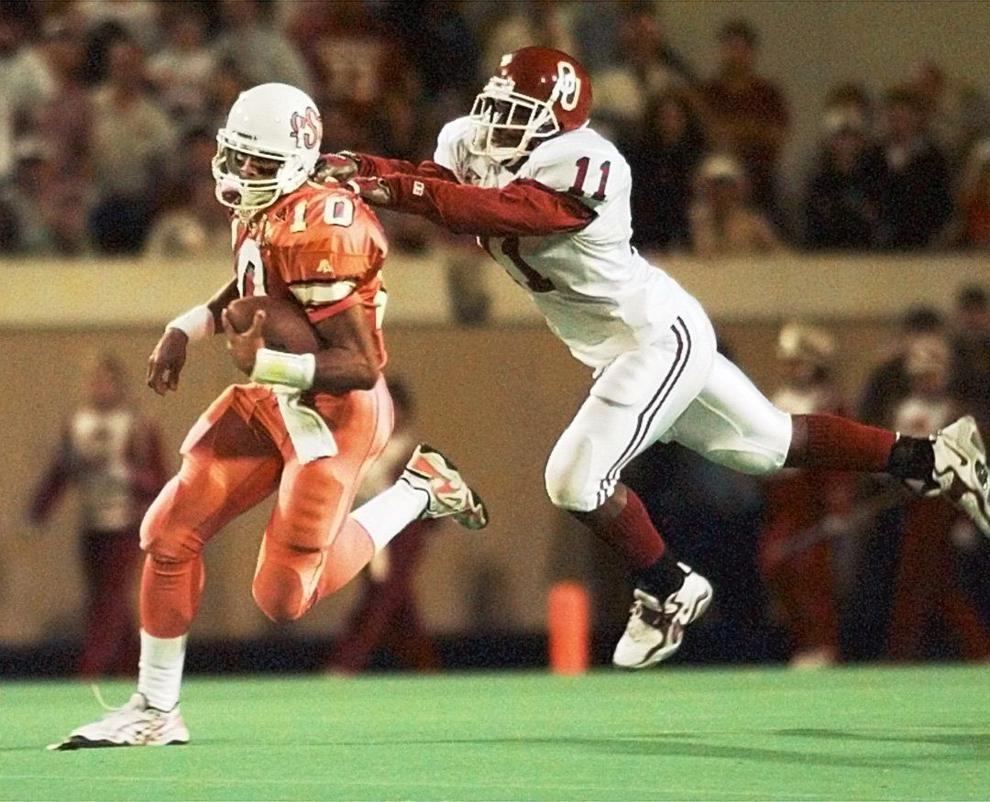 Nov. 8, 1997: No. 25 Oklahoma State 30, Oklahoma 7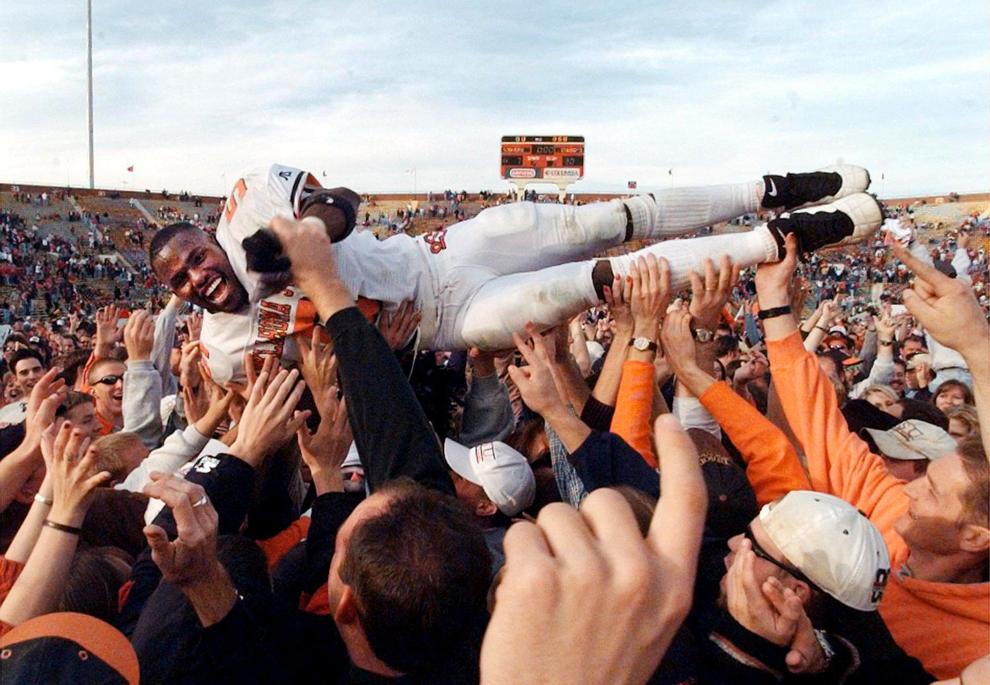 Nov. 8, 1996: Oklahoma 27, Oklahoma State 17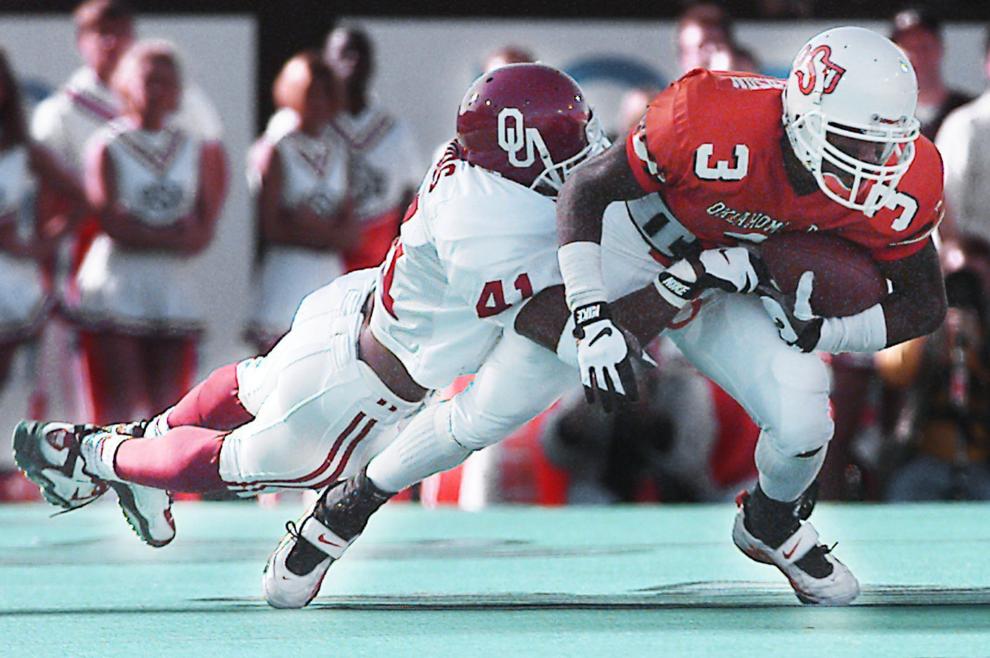 Nov. 11, 1995: Oklahoma State 12, Oklahoma 0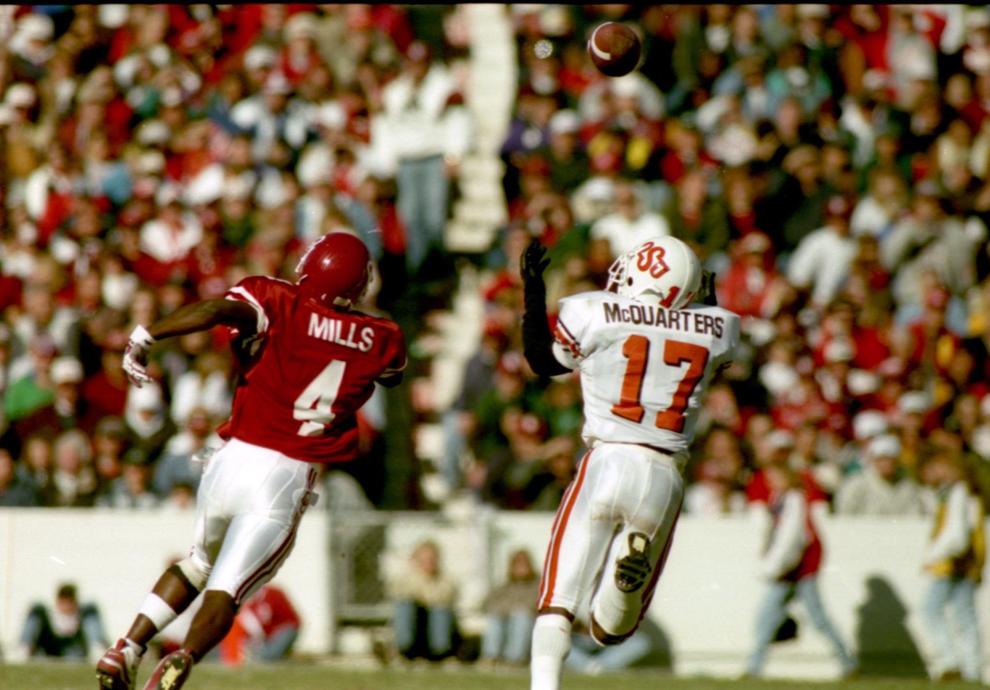 Nov. 12, 1994: Oklahoma 33, Oklahoma State 14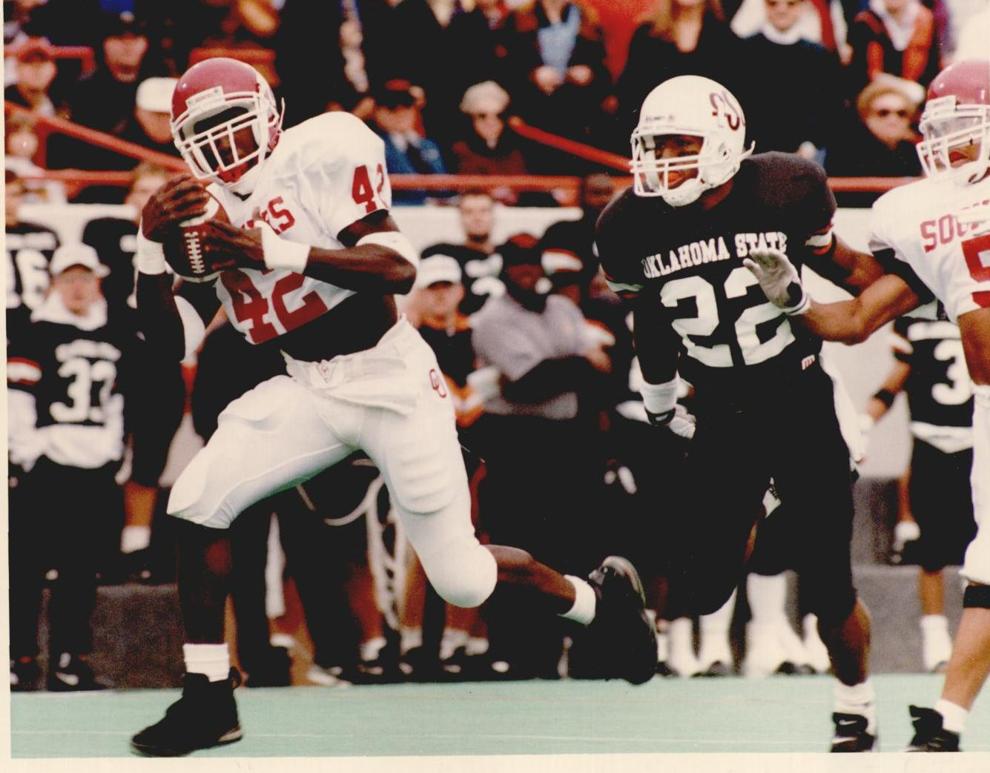 Nov. 13, 1993: No. 17 Oklahoma 31, Oklahoma 0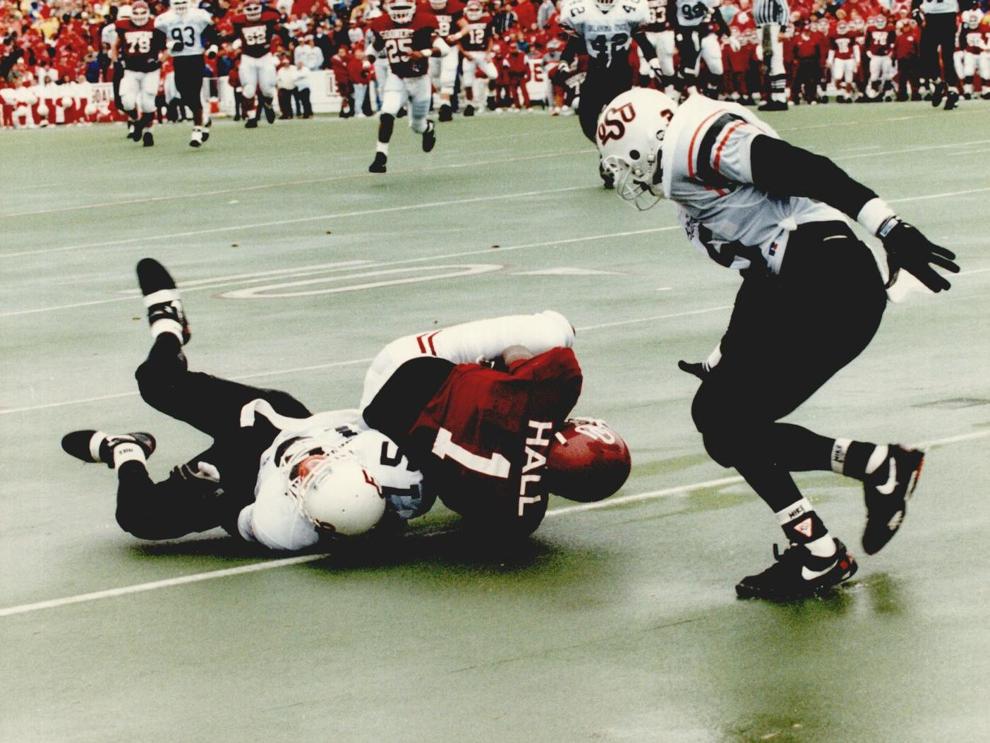 Nov. 14, 1992: Oklahoma 15, Oklahoma State 15
Nov. 16, 1991: No. 18 Oklahoma 21, Oklahoma State 6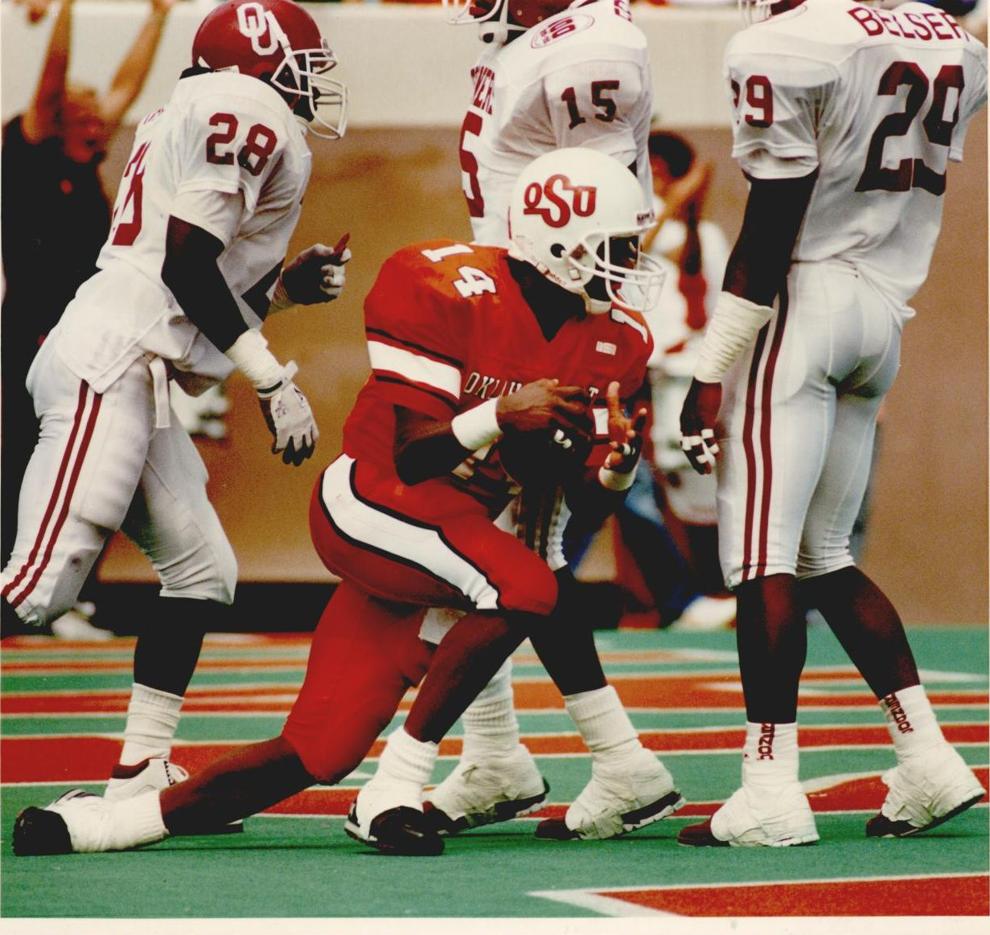 Oct. 6, 1990: No. 7 Oklahoma 31, Oklahoma State 17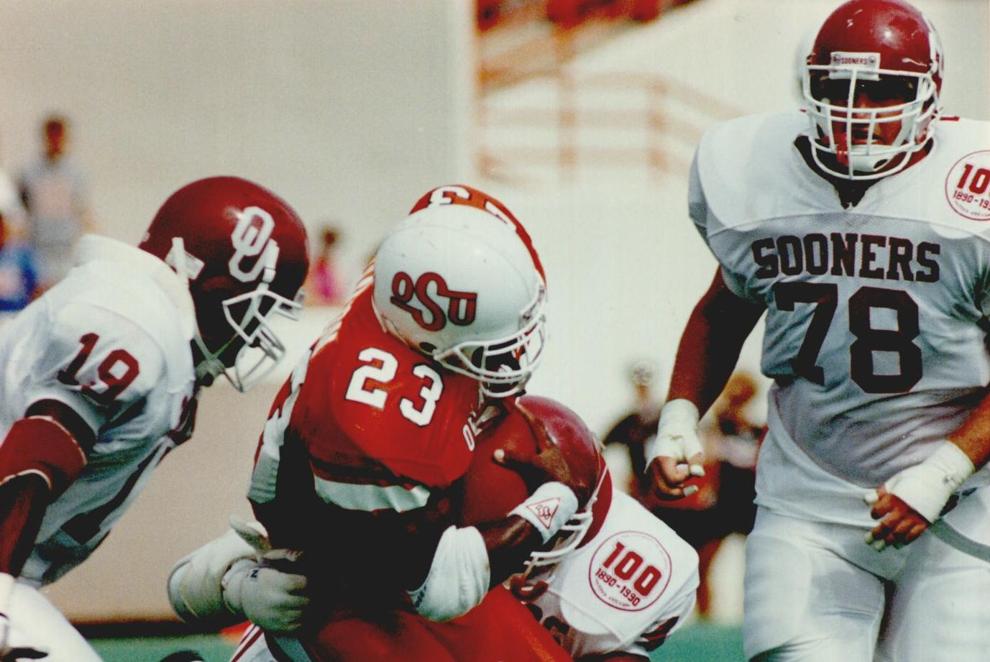 1984-1980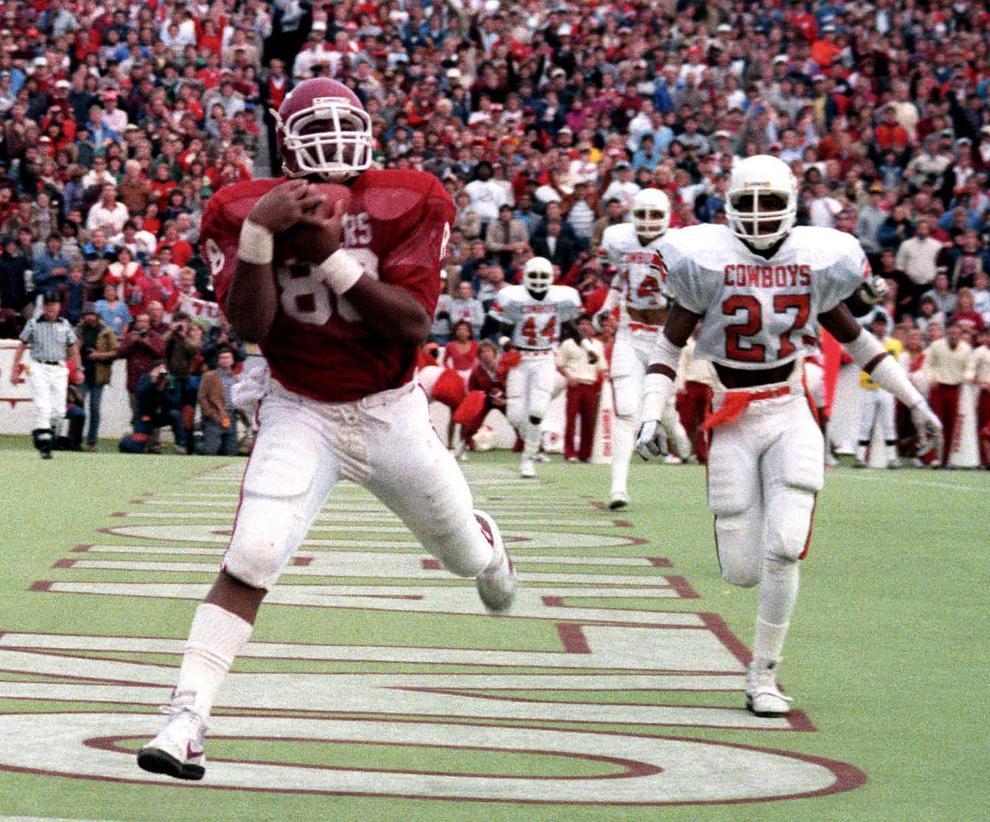 1979-1970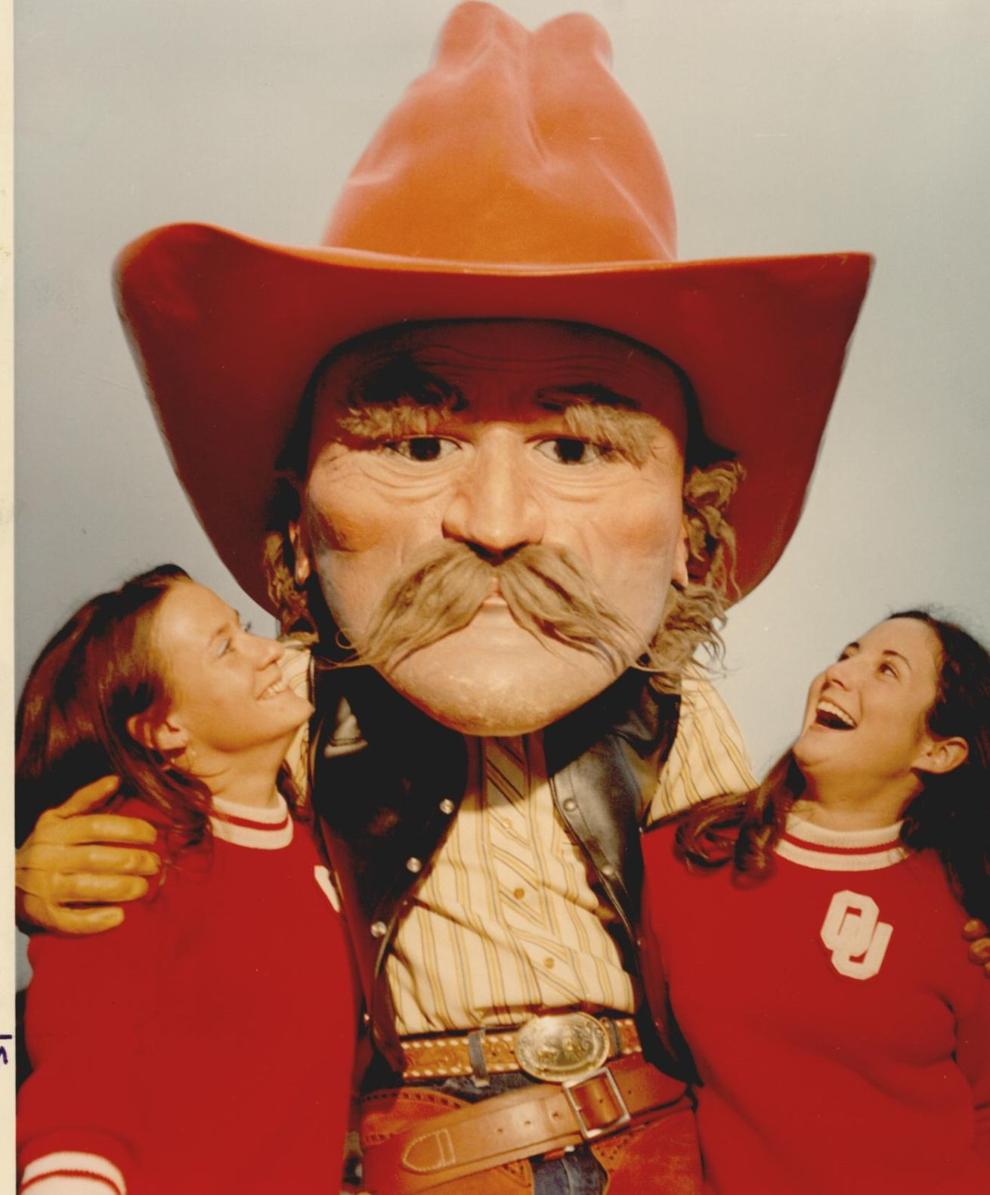 1969-1960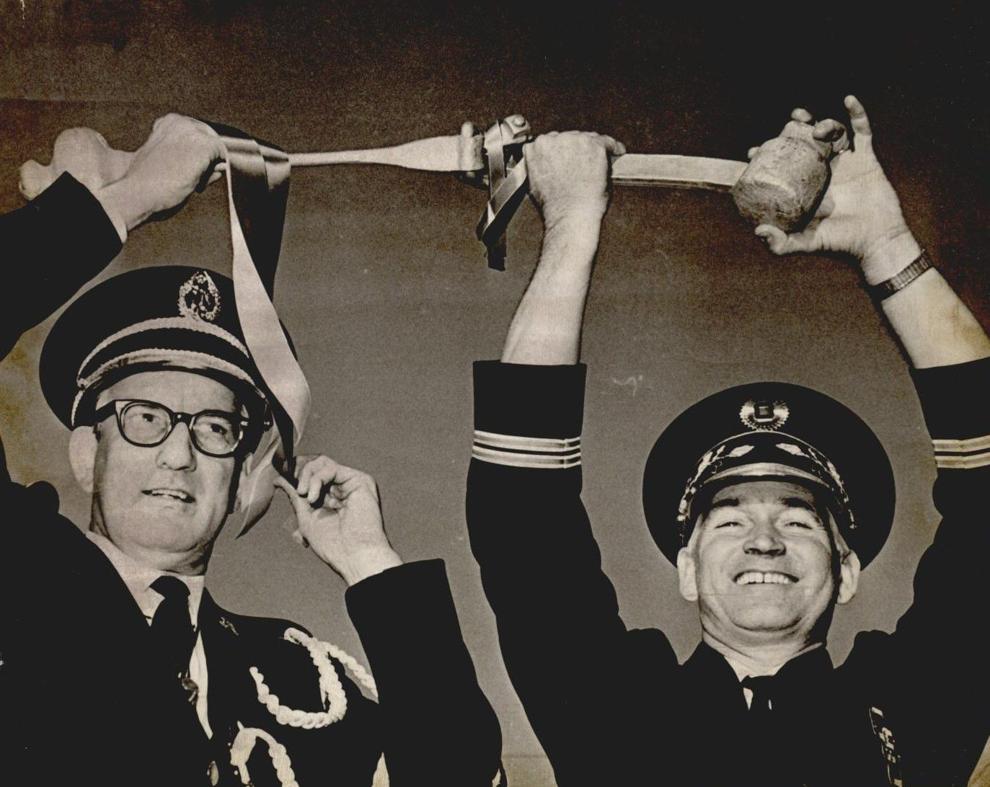 1959-1904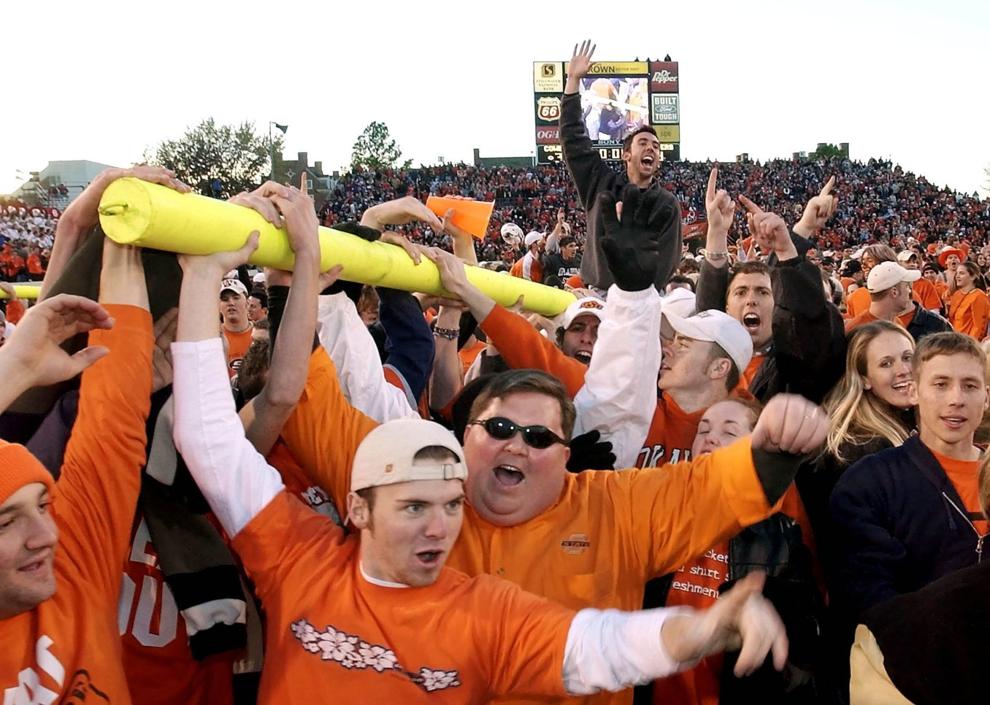 $5 for 5 months
July 2021 video: OU athletics director Joe Castiglione on relationship with OSU, Big 12 moving forward