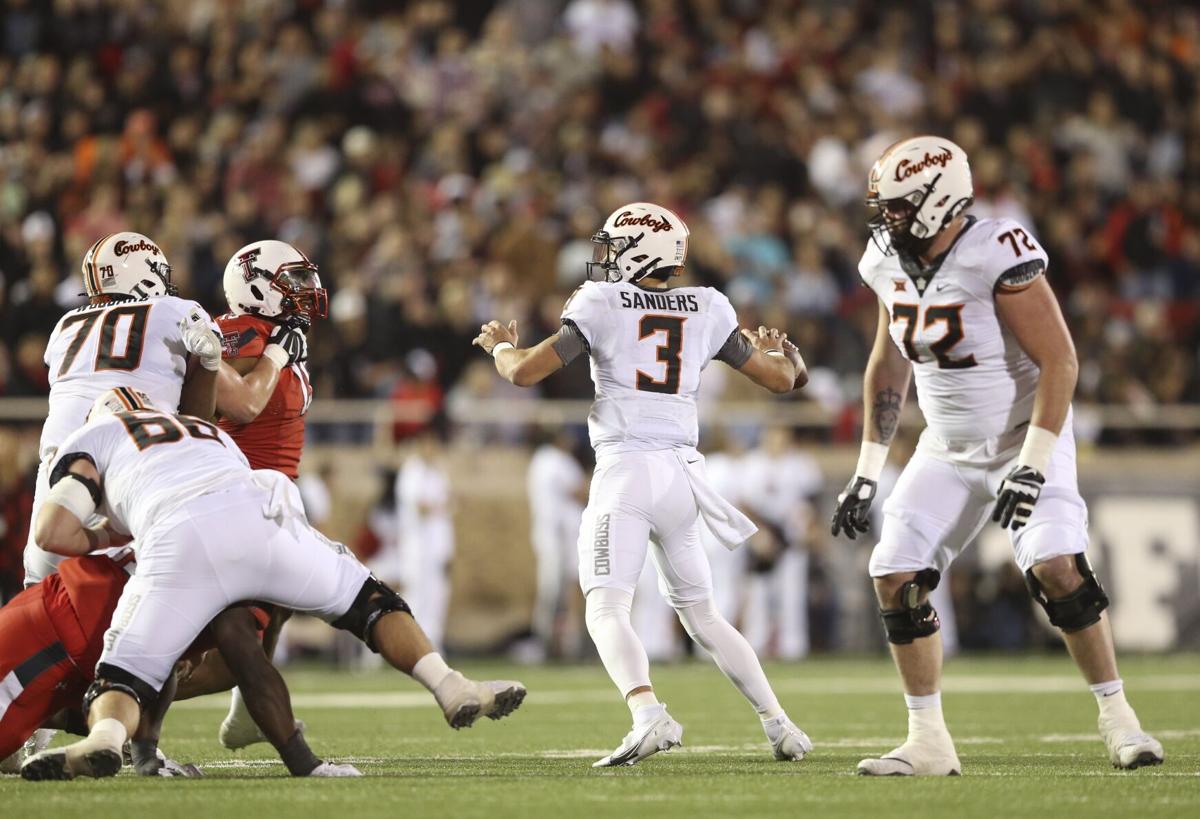 Two players, two problems, one preposterous prediction and one pick for Bedlam...
Quarterback Caleb Williams
Kennedy Brooks must crank out consistent 5-to-6-yard runs. Marvin Mims and Jadon Haselwood must win 1-on-1 battles against Oklahoma State's sticky defensive backs. The Sooners' somewhat suspect offensive line must merge and have its strongest (by far) game of the year.
Ultimately, though, OU's chances boil down to a quarterback who was 17-of-36 for 229 yards, one touchdown and three interceptions against Baylor and Iowa State the past two weeks. Williams' stat line Saturday night must look a lot more like Spencer Rattler's in Bedlam a year ago: 17-of-24 for 301 yards, four touchdowns and no interceptions.
Rattler was crisp from the first snap. He carried out Lincoln Riley's design flawlessly. His team jumped to an insurmountable 21-0 lead in the first quarter.
The Sooners will be hard-pressed to score 21 points over this Saturday's four quarters. If they get there, they'll actually have a good shot to win.
Williams has to get them there by throwing the ball with more certainty and efficiency, and by beating Brooks to the 100-yard mark rushing, since OSU is likely to take away OU's traditional running lanes.
ONE PLAYER FOR OKLAHOMA STATE
Quarterback Spencer Sanders
OU's defense isn't playing as well as it did in September, but it is showing some resistance. It is taking away the ball. Iowa State, Baylor and Texas Tech, OU's last three opponents, coughed up a total of eight turnovers. The Sooners are going to be digging for the ball in Stillwater to try to help their offense drive shorter lengths against OSU's nasty defense.
And that leads us to Sanders, a quarterback who has forced the hearts of Cowboy fans into their throats at various unsteady times over the past three years.
Sanders has been very steady since throwing three interceptions against Baylor Oct. 2. He didn't complete a high percentage of passes at Texas Tech last week (19-of-37) but he played his fourth turnover-less game over OSU's past five outings.
The Cowboys don't need Sanders to be anything beyond steady Saturday night. He doesn't need to be spectacular, which is what OU needs from Williams. That plus two more years of experience should have him in a calmer frame of mind than Williams heading into kickoff.
If Sanders stays calm for another three hours, he and the Cowboys are set up to prevail.
The Sooners' inconsistency against workhorse running backs.
OU ranks 25th against the run among FBS defenses, and 109th against the pass. So why the concern with the Sooners' run defense in Bedlam? Because the Cowboys are almost certain to try to pound away with Jaylen Warren, take some of the load off Sanders, and get into the type of methodically-paced game that OU hasn't been comfortable with all season.
The Sooners handled Iowa State stud Breece Hall (19 carries for 58 yards) just fine last week. The week before at Baylor, however, Bears running back Abram Smith went for 148 yards on 20 carries and changed the game with a 75-yard burst 25 seconds into the fourth quarter.
OU held TCU's Kendre Miller in check (15 carries, 55 yards) Oct. 16. Texas' Bijan Robinson, however, got loose for 137 yards on 20 carries the week before that in the Cotton Bowl.
Warren is a little banged up according to Mike Gundy, but he still runs violently enough to inflict some real damage Saturday night, depending on which OU run defense shows up.
The Cowboys' physical condition on offense.
Warren, Brennan Presley and a number of Cowboy backs and offensive linemen showed up injured at Texas Tech last week. OSU rolled anyway because the Red Raiders struggled to gain positive yardage.
Nobody expects OU to pile up major yardage Saturday night. But Williams can do things that Tech quarterback Donovan Smith can't. Brooks is superior to any of Tech's running backs. Mims and Haselwood will test OSU's secondary more than Tech's receivers did.
That leaves OSU needing to do more offensively than it did in Lubbock to feel secure about its chances. Warren would seem to represent the Cowboys' hope here – surely Sanders isn't going to come out firing, is he? – but he wasn't in peak physical condition the last time we saw him.
And while OSU's offensive line isn't in the disarray it was in last year's Bedlam, it isn't exactly the picture of stability. Or health.
ONE PREPOSTEROUS PREDICTION
For all of our anticipation over Williams lining up against Malcolm Rodriguez and Riley game planning against Jim Knowles, we're very likely short-changing Sanders vs. OU's pass rush and Gundy/Kasey Dunn vs. Alex Grinch. We'll definitely figure that out when Williams plays well and OU moves the ball better than we expected... and still OSU prevails. Sanders turns in a superb fourth quarter with the help of Tay Martin and John Paul Richardson, and the Pokes score a touchdown and two field goals to stay ahead.