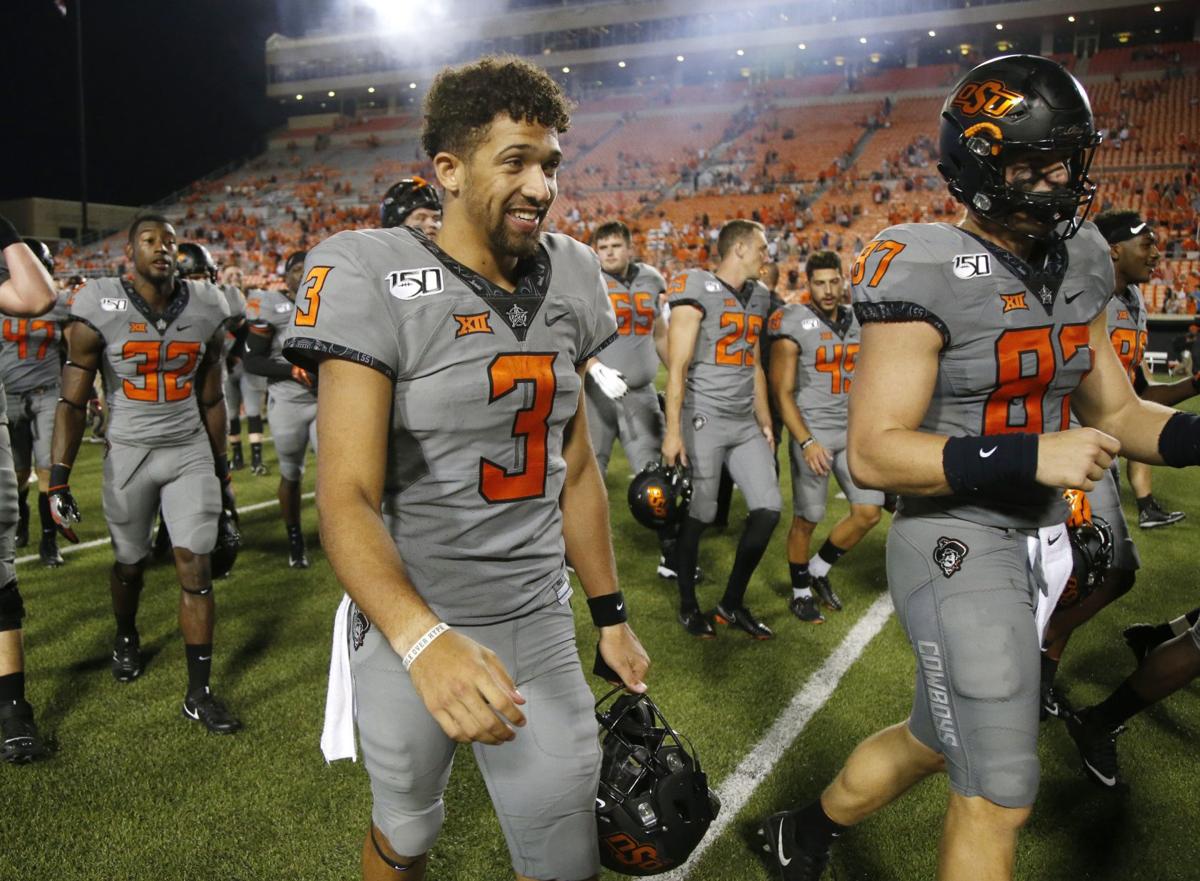 ---
STILLWATER — Oklahoma State quarterback Spencer Sanders knows Tom Herman a little.
"As soon as he got hired, him and Tim Beck came to my high school and talked to me," Sanders said about Texas' head coach and his offensive coordinator, taking us back almost three years. "I said, 'Hey I'm committed to Oklahoma State. I don't have any interest anywhere else.' They said, 'That's fine. We respect that.' And they went about their business."
Sanders was a four-star quarterback at Denton (Texas) Ryan, but Saturday's game at Texas isn't some "I'll show you" exhibit to Herman. Nor is it a proving ground to friends and relatives.
Asked after practice Tuesday if there were any Longhorns fans in the family, Sanders said: "Oh, no."
Nothing personal to see here, apparently. That feels like a good thing since Sanders is the swing player in what could be the swing game in OSU's season.
He must play well in order for the Cowboys to win. For that to occur, he must be composed in front of 98,000 Longhorns fans. He must ride the ebbs and flows sure to come.
They came last week at Tulsa. Sanders handled them reasonably well as OSU outscored the Hurricane 20-0 in the second half to run away.
Sanders must endure a more toxic environment at Texas, and a stiffer physical challenge. He grew from the TU experience, sure, but he's still just 19 years old and making his fourth college start.
"Sometimes early in a quarterback's career, the game moves really fast for them," OSU coach Mike Gundy said this week. "After they mature — which looks like where Ehlinger (Sam Ehlinger, Texas' star quarterback) is right now — the game slows down. Spencer's game hasn't slowed down yet, and it won't for another 10 games, in my opinion.
"He stays healthy and continues to work and improve, it should start slowing down for him about this time next year."
That is very reasonable, but the Cowboys need Sanders in control this year. They have Chuba Hubbard and Tylan Wallace, the nation's top rusher and receiver, respectively, this year. They are 3-0 and starting to get some national notice this year.
The Cowboys need Sanders in control Saturday night. They need him to take advantage of a Texas secondary missing starting safety B.J. Foster. They need him to keep up with Ehlinger.
The clearer Sanders' mind, the easier those tasks will be for him.
"If you're not nervous, I take that as you're not ready to play," he said. "You don't really care."
The Cowboys just can't have him care too much is all or take too much on. They can help in that regard.
"I just grab him, put my arm around him, say, 'Hey, just relax, it's OK. I mean, it's all good,' " Gundy said. "'You need to compete, play hard, be durable, be tough. It'll all come back around. Just relax.'"
This was Gundy's message to Sanders in the second quarter at Tulsa, when the game got twisted and the quarterback got frustrated.
"It's fairly common with competitive athletes. They go through that," Gundy said. "Mason (Rudolph) used to get frustrated at times. Josh Fields would get frustrated. They want to have success, so they want everything to happen. They want to score every play. They get impatient. ... That's really what happened. So we got him calmed down and he went back out and played well."
Gundy was that sprouting OSU quarterback once. His first daunting road game was at Nebraska in 1986. How did he manage?
"I was surrounded by great players, which helped," he said, "and I just did what they told me. I knew that they took the guy out in front of me (Ronnie Williams) for throwing interceptions, so I knew not to throw an interception. That's how I handled it."
The Cowboys lost that game 30-10, but Gundy's point about support lingers.
Wallace and Hubbard will help Sanders at Texas, provided he trusts them to do so. He can't force things himself or he risks the mistakes Gundy can't afford Saturday.
There is another corner man for Sanders in Austin — quarterback coach and play-caller Sean Gleeson.
Gundy talks about the need for Sanders "to control his emotions, to get on the sideline, get the information, make the corrections, put a plan in place, get back on the field and function." That falls to Gleeson more than Gundy or any teammate.
It sounds like Gleeson's demeanor is well suited here.
Gundy gives the impression that past offensive coordinators Todd Monken, Larry Fedora and Dana Holgorsen were game-day madmen. He says Gleeson predecessor Mike Yurcich was "about half as excited."
"Not really in that league," Gundy said. "He's much more calm up to this point."
So that's a solid support staff for Sanders, with one more interesting ally — 2018 starting quarterback Taylor Cornelius.
"Watching Corn play last year, he had amazing poise," Sanders said. "I took that from his game."
Cornelius outdueled Ehlinger and beat Texas last year in Stillwater. Now Sanders must follow suit Saturday night in Austin.
His body is able. That's clear after three games.
It's Sanders' mind the Longhorns, and their fans, will mess with. His response should determine the outcome.
Guerin Emig
918-629-6229
guerin.emig
@tulsaworld.com
Twitter: @GuerinEmig