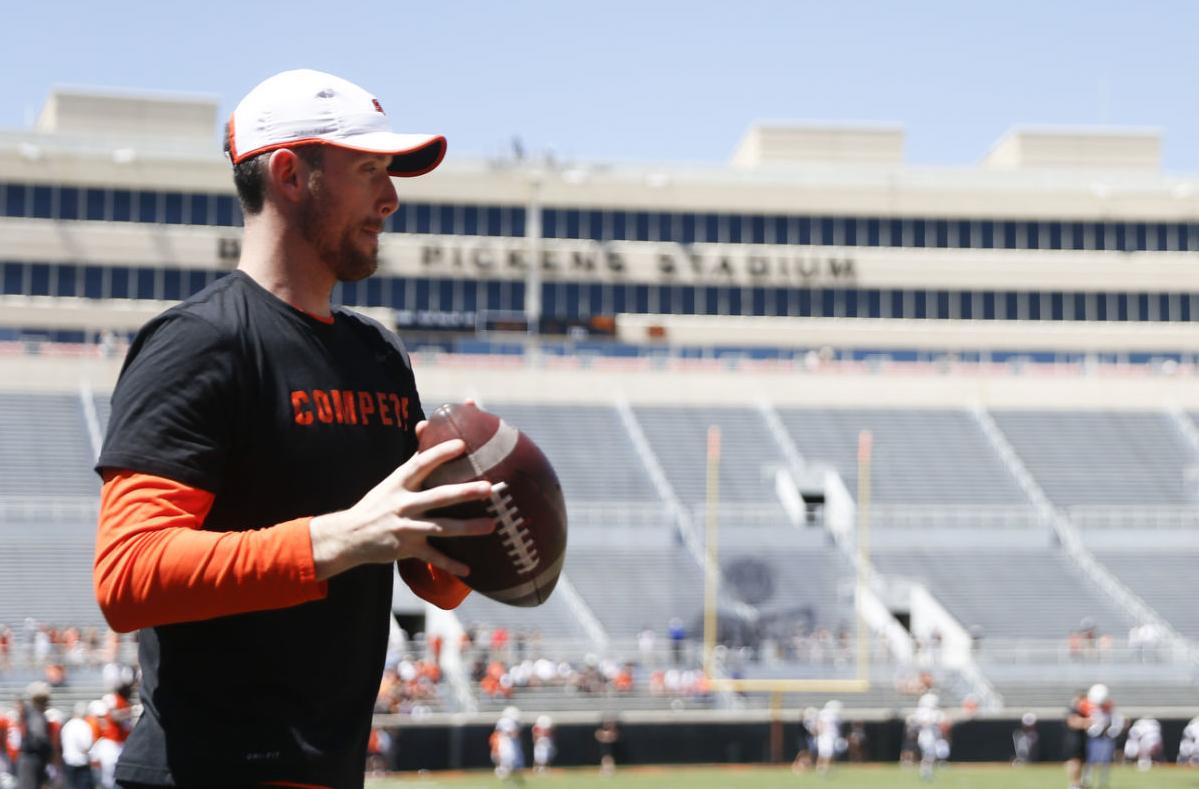 We've had one peek at the Oklahoma State quarterbacks since the end of spring practice. Sean Gleeson gave it to us — a tweeted photo of the QBs playing cornhole in Gleeson's Stillwater yard on June 23.
"Occasionally the NCAA allows us to have a meal with the guys. I like to get them together," Gleeson said. "It's good to get them in that setting and have some down time with them and show them a different part of your life other than the meeting room and film room."
This is particularly important for an offensive coordinator/quarterbacks coach who has been on the job five months. If Gleeson, OSU's 34-year-old play-caller, can get Spencer Sanders, Dru Brown and Brendan Costello comfortable with him, it might be easier for Sanders, Brown and Costello to get comfortable with his system, his tutoring.
That being said, it's the meeting and film rooms that are paramount. Cowboy fans are more interested in Sanders' absorption of Gleeson's offense, not his digestion of Gleeson's barbecue. Or Brown's absorption, seeing as how Gleeson maintains it's still a two-player race for the starting job while freshman Costello gains college seasoning.
"We will make a decision when it's apparent to us. Coach (Mike) Gundy has said that," Gleeson said during a recent chat with the Tulsa World and Oklahoman. "We're not trying to fool anybody. When the time comes, the time comes."
OK. But back to the absorption of the offense...
"I don't think that there's too many hiccups, to tell you the truth," Gleeson said. "Everybody's got their football nomenclature in the way they talk about plays and technique. Once you get past that over a two- to three-month period, we've been able to make some ground this summer talking about defenses. That's been really, really good.
"Yeah, they're responding really well."
Since playing offense in the Big 12 Conference without a productive, more-often-than-not dynamic quarterback is like playing defense without use of your arms, this is encouraging to hear.
It isn't necessarily surprising — no football coach ever sounds gloomy in July. It isn't necessarily specific.
"Whoever ends up playing, we'll make sure we tailor the package to the strengths of that guy," Gleeson said without going into details on that package or that guy.
It's safe to assume Gleeson will be imaginative either way. He had some good players at Princeton, but they thrived when he discovered creative uses for them. That's what got Gleeson noticed the past two years as Tigers' play-caller. That's what got him to Stillwater.
That and the fact that his last two quarterbacks, Chad Kanoff in 2017 and John Lovett in '18, became Ivy League Offensive Player of the Year playing two different ways — Kanoff dropped back and threw the ball, while Lovett was just as likely to run with it.
"I'm coming here to bring what I know about quarterback development to a really successful offense," Gleeson said. "That's kind of been the narrative, to blend those two things together."
The assumption is if Gleeson can develop Ivy Leaguers, surely he'll feast with Big 12 talents the caliber of a four-star dual threat like Sanders. The coach's first inclination is to defend Kanoff and Lovett, to remind you both are on NFL rosters.
But he also allows: "The thing, I guess, that is a little different is there's just so much more… This is a football environment. There's a few more distractions at Princeton where they've got so much going on in other parts of their life. It's not surprising to watch a kid like Justice Hill do what he did at the combine. If you want to develop football players there's no better place in America than right here.
"I think these kids, and the quarterbacks in particular, are very locked in on their growth as players."
We're back to the development of OSU's quarterbacks, the most important of Gleeson's job requirements. This will be easier to judge once we see Sanders and/or Brown in action, and we discover just how effective Gleeson has meshed their skills with his system.
For now it's enough for the new coach to sound encouraged. That way, we can at least feel optimistic.
"The kids we have here," Gleeson said, "I feel very much at home."
Guerin Emig
918-629-6229
Twitter: @GuerinEmig