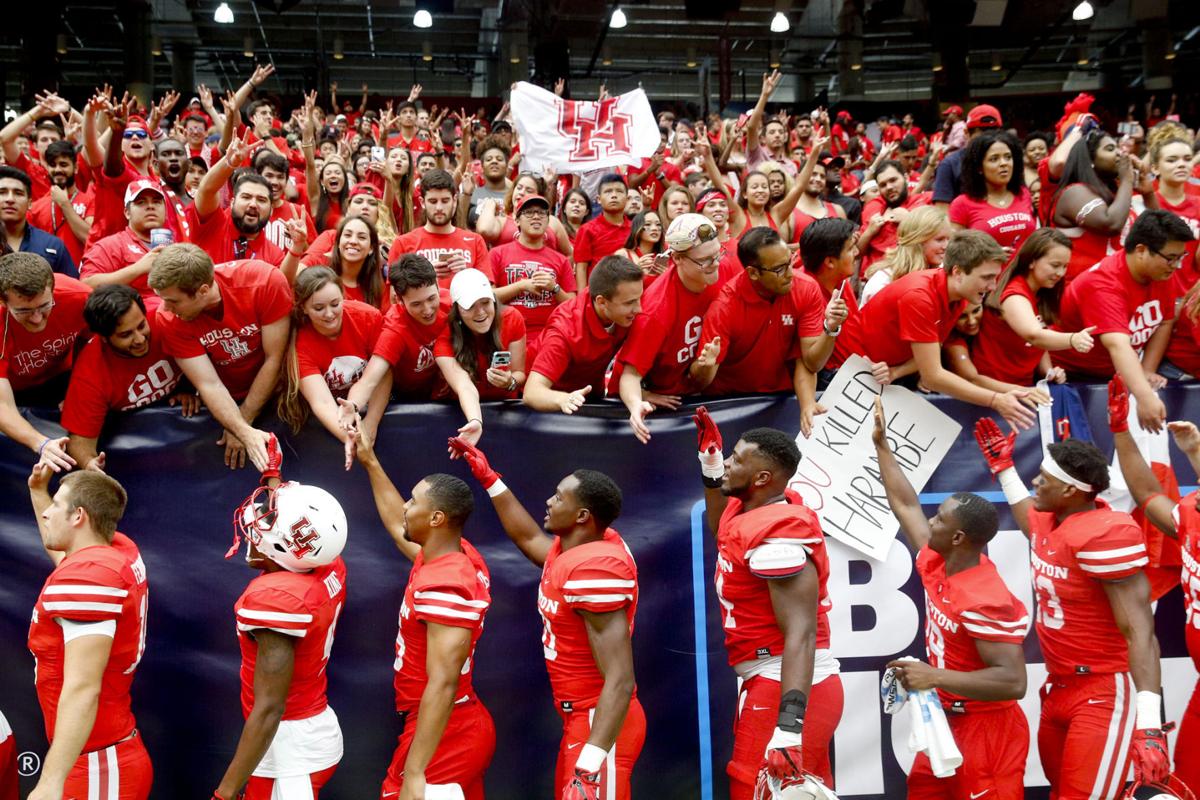 Let's reset on the heels of Friday's Big 12 expansion developments...
Q: When are BYU, UCF, Cincinnati and Houston coming aboard?
Big 12 commissioner Bob Bowlsby said BYU joins by the fall of '23, the three current American Athletic Conference members no later than the summer of '24. That's worded so as not to get in the way of the AAC provision that departing schools must give 27 months notice ahead of their departure dates.
Q: So UCF, Cincinnati and Houston in '24 then?
I'd bet big that it will be '23 for all four. Schools have worked around that AAC provision by paying exit fees/buyouts.
Expect UCF, Cincinnati and Houston to pay accordingly and join BYU in the Big 12 by the '23 football season.
Q: How does this affect Oklahoma's and Texas' timeline to leave the Big 12 for the SEC?
OU and Texas would prefer to join the SEC before their grant of rights agreements with the Big 12 expire in 2025. I've said there is a better chance of the Sooners and Longhorns playing in the SEC in '22 than '25, provided their legal teams can work out exit fee/buyout details. The two schools didn't join the SEC seven weeks ago to wait another four years to make it so.
Now we have another pivotal year in the timeline – 2023, when BYU and very likely UCF, Cincinnati and Houston join the Big 12 party. I can't imagine OU or Texas wanting anything to do with a conference redesigned to exist without them.
So let's put it this way as of Friday: If 2022 is "wishful thinking" for the Sooners' and Longhorns' migration to the SEC, 2023 is now "essential thinking."
Q: What does OSU think about Friday's news?
The president, athletic director, football coach and men's basketball coach all expressed enthusiasm in official statements. Believe it to be genuine.
This isn't best case scenario for the Cowboys. That would have been OU and Texas staying loyal and true to the Big 12.
This isn't next-best case scenario. That would have been OSU relocating to a Pac-12 Conference whose flagship, big-money institution (USC) hadn't just bolted to instantly lop off half the league's media rights value.
This is, however, a potentially stabilizing scenario.
This is the Big 12 doing the best it can with no other realistic options, adding four schools with good competitive value in terms of football and men's hoops. The league's market value won't be the same, but there is some strength in numbers moving forward.
The Big 12 appears headed back at 12. That's a membership that should expect College Football Playoff berths whenever the CFP expands, and ample NCAA Tournament representation.
If the Cowboys seize Friday's expansion to gain an upper hand competitively, all the better both for the prospects of the revised Big 12, and for OSU's prospects in the next realignment derby should the Pokes choose to get involved.
Q: What does TU think about Friday's news?
I covered this in a column earlier this week. TU is now in OSU's old spot right after OU and Texas sent the Cowboys into dizzy spells.
The Hurricane must face the reality that its American Athletic Conference loses market value immediately without Cincinnati, Houston and UCF. TU must hope ESPN doesn't renegotiate its $1 billion media rights deal with the AAC from 2019 too far down as a result.
TU doesn't have the option of exploring relocation, something OSU could at least consider with the Pac-12. That leaves the future of Hurricane athletics tied to the AAC's ability to regain its footing.
AAC commissioner Mike Aresco, like Bowlsby, can't recapture his league's value with new schools. He, like Bowlsby, must mitigate the damage and restore some stability however he goes about that.
If he doesn't, Friday looms as ominous in TU's history book.
Q: Back to future expansion for a second. What is this about the Big 12 not stopping?
I thought OSU president Kayse Shrum's tweet Friday was very interesting: "Today's actions represent the first in a series of steps to expand the conference and ensure we continue to compete at the highest level..."
Athletic directors at both Texas Tech and Baylor have teased further Big 12 expansion as well.
"We're always open to opportunities as they present themselves," Bowlsby said Friday.
I might file that away at Memphis, South Florida, SMU and Boise State. Just in case.
Q: What specifically went into the decision to add BYU, UCF, Cincinnati and Houston?
Depends on who you ask. I thought the statement put out by David Rudd, president of spurned Memphis, left a clue: "Our understanding is that this latest round of expansion for the Big 12 essentially came down to the size of the institutions and the market in which they reside."
According to figures from the 2017-18 academic year compiled by collegexpress.com, UCF had the nation's second-largest enrollment combining undergraduates with grad students. Houston ranked 19th and Cincinnati 39th.
The more alumni, the more viewers of an alma mater's games. Total viewership of schools' games will factor increasingly in a media market where fans increasingly stop subscribing to cable networks for games, and start streaming specific games of their favorite teams instead.
Q: How does BYU fit in here?
The school's Church of Jesus Christ of Latter-day Saints affiliation gives it a national following. There are plenty who watch/stream Cougar games.
Q: When BYU, UCF, Cincinnati and Houston were Big 12 expansion candidates in 2016, didn't you vote "no" on all of them?
Actually, UCF was my only hard "no." Cincy and Houston were "nos" if better options fell through. BYU was a "yes" provided the Big 12 could add from the Pac-12 as well.
There were no better options for a Big 12 without OU and Texas this time, unless Bowlsby wanted to make a go of a Big 8. Adding BYU, UCF, Cincinnati and Houston felt better than subtracting OU and Texas and holding there.
Q: Any other news Friday?
My out-of-the-box suggestion was a return to the old Big 12 North and South. OSU, UCF and the four Texas schools in the South. Kansas, K-State, Iowa State, West Virginia, BYU and Cincy in the North.
I figured that kept rivalries intact while splitting the four conference newcomers evenly.
As soon as I tweeted out my idea, my pal Jenni Carlson of The Oklahoman suggested an East/West alignment. BYU with OSU and the Texas schools in the West, UCF and everyone else in the East.
That cuts down on a BYU-to-West Virginia geographical divide in the North Division while still preserving rivalries and dividing the four newcomers.
Yeah, let's go with that instead.