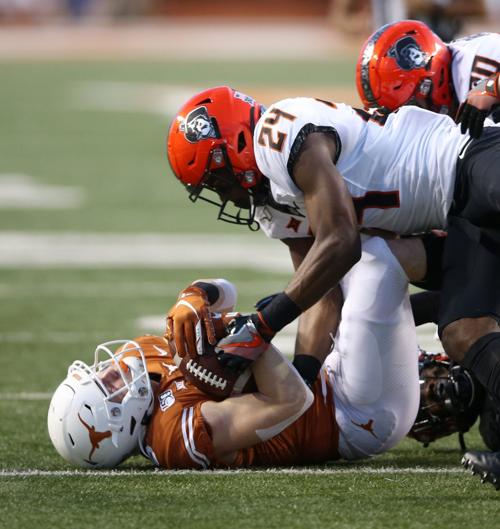 The problem when Texas pops up on your football schedule is it's Texas. The Longhorns are a big deal, too big a deal honestly, and so they tend to overshadow anything you are doing.
Since the Hook Ems are on Oklahoma State's schedule this week, we're spending a fair amount of time on their head coach, offensive coordinator, starting quarterback and school song. As in:
How much trouble is Tom Herman in?
How will it be having first-year play caller Mike Yurcich back in Stillwater?
How many times has Sam Ehlinger faced OSU? (Mike Gundy cracked it feels like the sixth.)
How many Longhorns will pay their respects during the suddenly-controversial postgame ballad "The Eyes of Texas?"
This is all interesting, especially since these questions are peppered with angst. Nobody takes pleasure in Texas football angst like Oklahomans, regardless of Bedlam allegiance.
Just be clear that what's going wrong for UT is secondary to what's going right for OSU. The Cowboys are the story this week, not the team they are about to play.
The team they are favored to beat. The team they should beat.
Ehlinger is one of college football's gutsiest players. Yurcich is an accomplished coordinator, even if he still has his detractors for not quite maximizing the Mason Rudolph-James Washington-Justice Hill years of OSU offense.
The focus of Saturday's matchup, however, should be on the Cowboys' side of the ball.
"They're as good as it gets in our league," Herman gushed over the Pokes' defense this week.
Texas' embattled coach singled out safety Kolby Harvell-Peel and defensive end Trace Ford during his Big 12 coaches teleconference appearance Monday, but he could have picked out any number of Cowboys for their superlative play. Jim Knowles has his defenders running and tackling in a scheme Herman called "very, very complex," which means his defenders are also causing some chaos.
Herman was asked on the teleconference how comforting it was having a quarterback as experienced as Ehlinger to manage that chaos. A fair question.
The comfort, though, ultimately lies with the Cowboys.
"You want to open up and throw it all over the yard, but at the same time our defense is playing so well," OSU offensive coordinator Kasey Dunn said after last Saturday's 24-21 victory over Iowa State. "You just don't want to give up cheap points… I did not want to give up something that was cheap against ourselves. Not with the way Jim and the boys are playing on the dark side."
The Cowboys are being cautious because, Gundy said, their offensive line is relatively inexperienced and seeking stability. The same can be said of quarterback Spencer Sanders, although his upside is a lot more obvious as evident by his poise and playmaking in key moments of the Iowa State win.
Sanders coming of age this season alongside Chuba Hubbard and Tylan Wallace is tantalizing. You get the feeling OSU can score plenty of points yet.
You also realize the Cowboys don't necessarily need to, barring a complete defensive breakdown.
The Pokes will give up a big play now and then — see: Breece Hall's two long runs last Saturday – but then that's the norm everywhere, Clemson and Alabama included. OSU is too strong defensively to just collapse. They have shown us as much this season.
They have shown us a lot more than Texas.
Herman, Yurcich and Ehlinger are coming to Boone Pickens Stadium, with the color, logo, song and brand that gets everyone worked up. It's a lot to digest. It always is with Texas.
But this week, Gundy, Knowles and Sanders are the things. Hubbard and Wallace are. Harvell-Peel and Ford and their tag-team partners wrecking shop on defense.
It's Texas Week for Oklahoma State? Nope. Not this year.
---
OSU remains unbeaten in Big 12 with 24-21 win over ISU
OSU remains unbeaten in Big 12 with 24-21 win over ISU: Follow our coverage here
STILLWATER — In its biggest game of the year to this point, Oklahoma State defended its No. 6 ranking with a win over No. 17 Iowa State and remained at the top of the Big 12 on Saturday.
The 24-21 win over the Cyclones is the first win for OSU over a ranked opponent this season. The Cowboys (4-0 overall, 3-0 in Big 12) handed Iowa State its first conference loss, leaving OSU and Kansas State as the only unbeaten teams in league play. K-State rolled to a 41-point win over Kansas on Saturday.
Iowa State (3-2, 3-1) and OSU haven't had a game decided by more than seven points since the Cowboys' 17-point win in 2014. ISU quarterback Brock Purdy made sure that streak continued by throwing a 20-yard touchdown pass to Xavier Hutchinson to cut a 10-point deficit to three with 49 seconds left. The Cowboys recovered the onside kick and ran the clock out.
"It feels good but like coach (Mike) Gundy says, tomorrow it's going to be over with," linebacker Malcolm Rodriguez said. "So tomorrow we've got to move on to Texas."
Saturday was the start of a tough four-game stretch for the Cowboys. Their next three opponents are against Texas, No. 20 Kansas State and Oklahoma. If the Cowboys survive Texas on Oct. 31, they could find themselves in a battle with K-State for the Big 12's only undefeated team against conference opponents on Nov. 7.
Considering the tough road ahead, starting quarterback Spencer Sanders couldn't have returned at a better time for OSU. Sanders started against Iowa State after not playing a snap since suffering an ankle injury in the first quarter of the season opener against Tulsa on Sept. 19.
Sanders threw two interceptions that Iowa State converted into 14 points, but the redshirt sophomore completed 20-of-29 passes for 235 yards and a touchdown. He also rushed for 71 yards and a touchdown.
"We got some things out of him that he shows you, that he gives you in practice," Gundy said. "He might mistake something and get you in a bad play but then he might turn around and make two or three really good ones and that's what we had today from him."
Freshman Shane Illingworth did a solid job running the offense while Sanders was out, but the rushing ability by Sanders creates an additional threat for opposing defenses. The Cowboys are at the top of the Big 12 right now and will need Sanders' playmaking ability if they want to stay there.
"I think the best thing coaches can do is play to the strength of their quarterback. That's his strength," Gundy said. "He throws the ball well when he's rushing the ball well."
The 389 total yards by Iowa State are the most yards gained against OSU this year and the Cyclones are the first team to score more than one touchdown against the Cowboys. But OSU continued to stay firm on third down and held the Cyclones to their fewest first-half points of the season. Iowa State was 3-of-13 on third down and OSU forced a three-and-out in four of Iowa State's last five possessions.
"Obviously, it prevents long drives for sure so our guys are always fresh," defensive coordinator Jim Knowles said of third downs. "But we want to get the ball back into the hands of our offense. We have a powerful offense. … It wins games particularly when you have a strong offense getting the ball back into their hands and stealing possessions. That's everything in the Big 12."
Breece Hall rushed for 185 yards with 136 yards coming from just two rushes. Hall had a 70-yard run in the first quarter and a 66-yard touchdown run that tied the game at 14 with just over 10 minutes left in the third. He averaged 2.7 yards per carry on his other 18 rushes.
Purdy is the best quarterback the OSU defense has faced in its first four games and Gundy was pleased with the execution on Saturday compared to the last time Purdy played in Stillwater that ended in a 48-42 loss two years ago.
"We forced a lot of punts today," Gundy said. "They're a good football team. They're unusual a little bit with so much three tight end style of offense that they run. If you're not careful you can get out of your gap and that's what happened to us a couple times. But overall, I thought our play was way better and it was executed way better than it was when Purdy was here as a freshman."
OSU trailed in a game for the first time since trailing 7-3 in the opener against Tulsa. Iowa State took a 7-0 lead after the first Sanders interception before the Cowboys scored 14 unanswered points to take a 14-7 lead in the second quarter. Both teams scored a touchdown in the third quarter and OSU held on for the win in the fourth.
— By Frank Bonner, Tulsa World
---