Editor's note: This story originally published in early March. With the NCAA wrestling championships beginning today in Tulsa, it's being re-issued.
---
STILLWATER — Daton Fix concluded his high school career with a 168-0 record.
A standout in Sand Springs, Fix notched four state championships and an unblemished record before heading to Stillwater to attend Oklahoma State. 
With a well-documented career — and hundreds of images taken of his during his time in high school — Fix sat down with the Tulsa World to revisit some of his more famous images, almost seven years later. 
And as Fix prepared for the NCAA National Championships, held at the BOK Center in Tulsa from Thursday-Saturday, Fix reflected on the career he molded in the city. 
The jumping man is born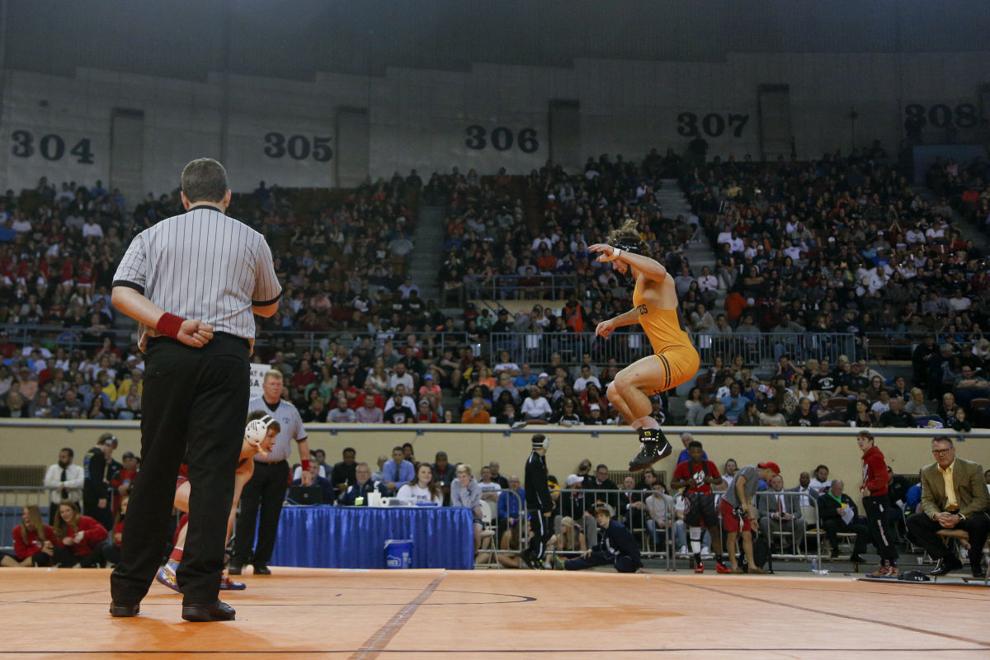 In this photograph by World photographer Ian Maule, the junior-year Fix leaps into the air ahead of his state title match at 126 pounds against Westmoore's Dalton Duffield, seen staring up toward him.
"I look like I'm pretty high up there, I think a little bit of that is the angle," Fix said with a laugh. "It's still something that I do before every match."
It's a part of Fix's now-famous pregame routine, where he will roll onto the mat and leap into the air, a maneuver that's earned him the moniker "The Jumping Man" when introduced at Gallagher-Iba Arena. 
As for the reasoning behind why he started it, Fix has a simple answer.
"A lot of the time, people, they think of a wrestler as someone who is kind of robotic, doesn't show a whole lot of personality, and I just wanted to do something a little bit different," he said.
It's a way Fix shows spectators he's enjoying himself on the mat, admitting he wrestles his best when he's having fun.
Studying with his father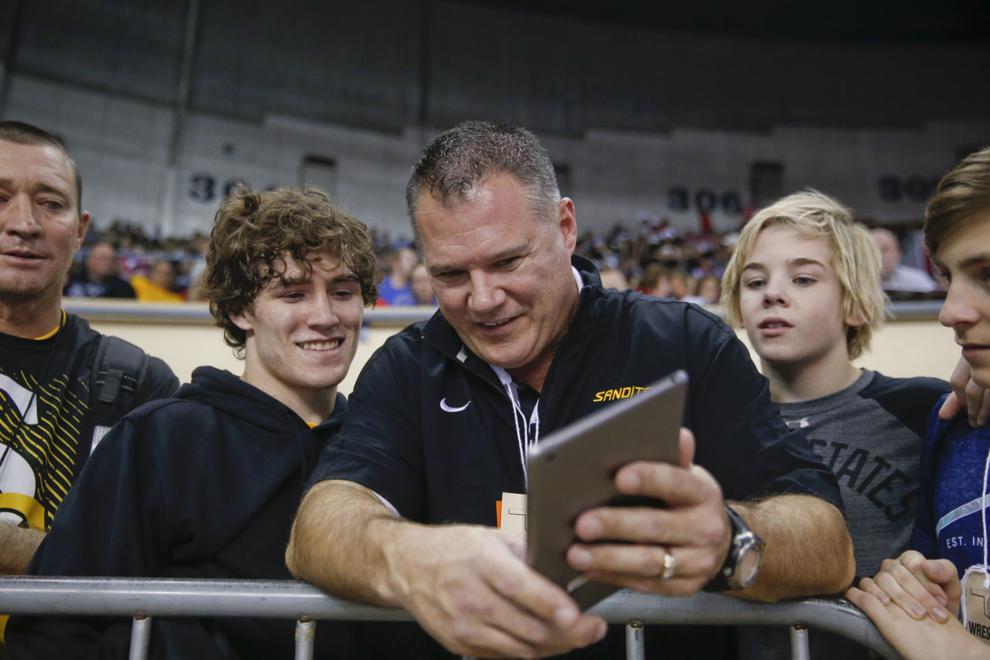 In this one, Fix examines film with his father, Derek, after winning a semifinal match in the 2016 OSSAA State Championships.
"A lot of people ask if he was harder on me than most, and I don't know," Fix said of his father, who coached him in high school. "He was hard on me, but he did a really good job of separating himself from being a coach and being a dad."
Wrestling was kept to a minimum during dinner conversations, swapped out instead for discussions on other sports. Fix's father was one of the reasons Fix started wrestling in fifth grade, but he was never forced into it, despite coming from a strong wrestling background.
"He was more loving than the other," Fix continued. "He coached me through love and just motivated me and getting me to believe I could accomplish whatever I set out to accomplish."
As for the blonde-haired wrestler standing next to them? That's Carter Young, OSU's starting 141-pounder. It was one of the first things Fix pointed out about the photo, letting out a chuckle while staring at it.
"I know it was a big deal whenever he flipped his commitment," Fix said. "He was going to go to Northwestern and decided to come here instead."
Fix said he would work with Young after high school practices, showing him everything he could. Six years later, Fix can't help but laugh at it.
Family support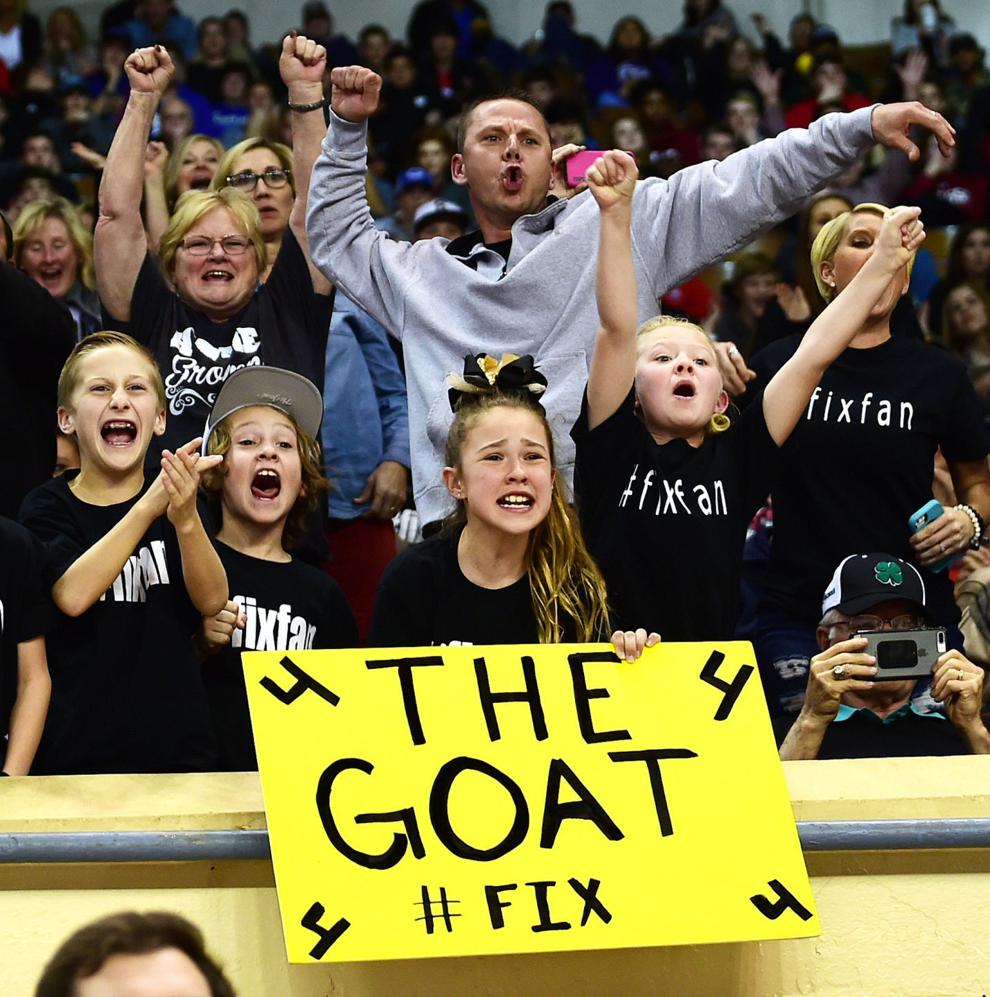 In this photograph, a collection of Fix's family and friends cheer him on from the stands at the State Fairgrounds in Oklahoma City at the 2017 OSSAA State Championships.
His siblings, holding a sign that reads "THE GOAT" — an abbreviation for greatest of all time — cheer for him. His great uncle, wearing a shamrock hat, films his match.
"It makes me feel old," Fix said. "That's my sister and my brother, the two right there in the front. They don't look like that anymore."
As for what kind of a family showing Fix is expecting in Tulsa at the NCAA National Championships, Fix said he lets his parents plan all that. But he expects a good contingent.
"Every time I get done competing, I love to go find my family and see them, so it's awesome looking back on these," he said. "It reminds me of how far I've come, but also how much I've grown and gotten better."
A complete embrace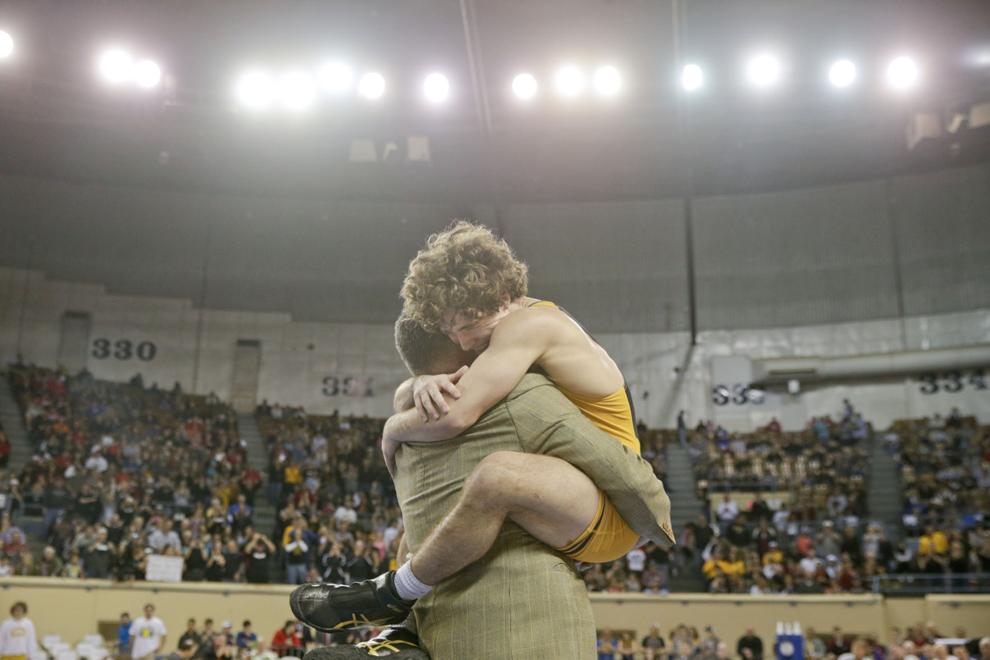 Arguably the most recognizable image of Fix's high school career and captured by the World's Ian Maule, the 132-pounder leaps into his father's arms after defeating Edmond North's Brandon Bright in 2017.
It secured Fix's fourth state championship and an unblemished high school record. But six years later, Fix's first thought on this is one of comfort.
"It was a relief that it was kind of finally over," Fix recalls. "I accomplished what I set out to do and my dad, he was the first one there, and I wouldn't really want anyone else to be there and to jump into his arms."
"It wouldn't have happened if I didn't have my father," Fix said. "He made sure to remind me, take it one match at a time, don't take anything for granted, because it could all end in a blink of an eye."
A new frontier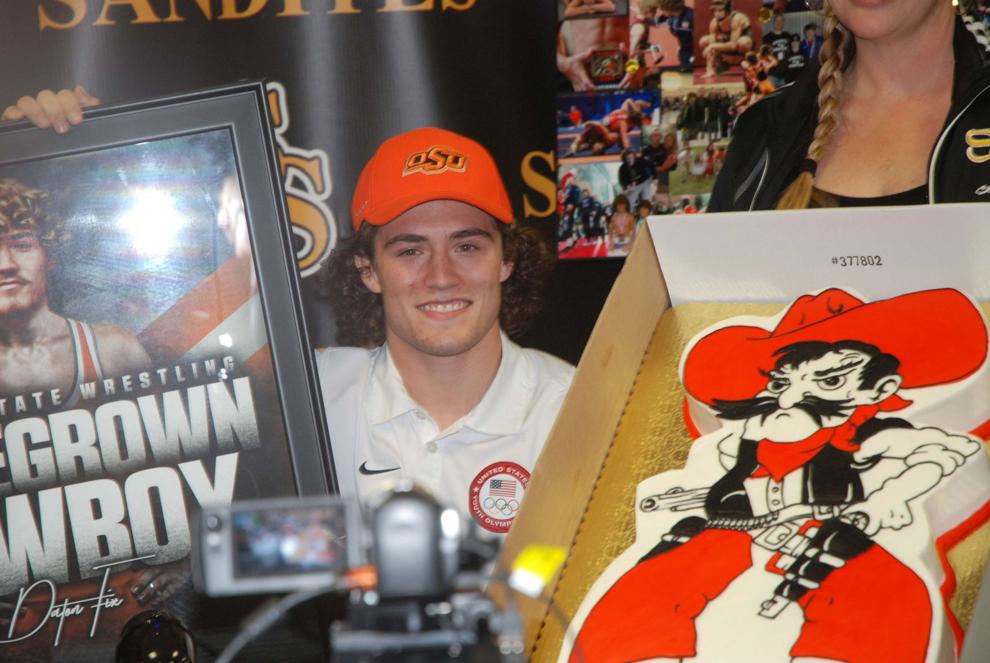 Fix committed to OSU on Nov. 23, 2016.
He'd fielded offers from a crop of prestigious schools, but OSU was always the end goal for him. His father wrestled there in the 90s and Fix wanted to follow after him.
"I felt most at home here in Stillwater and I don't regret that decision at all," Fix said. "I wouldn't change it for the world."
The images provide a glimpse to Fix of his younger self. A less-polished version. As he reflects on them almost seven years later, Fix can't help but notice that. 
"That version probably thinks I could have done even more," he said. "I may have not accomplished everything that I've set out to do, but that's in the past."
He continued, "Whenever you win all the time, sometimes you take stuff for granted. I could have lost everything in a second, and I don't know if that version really realized that."