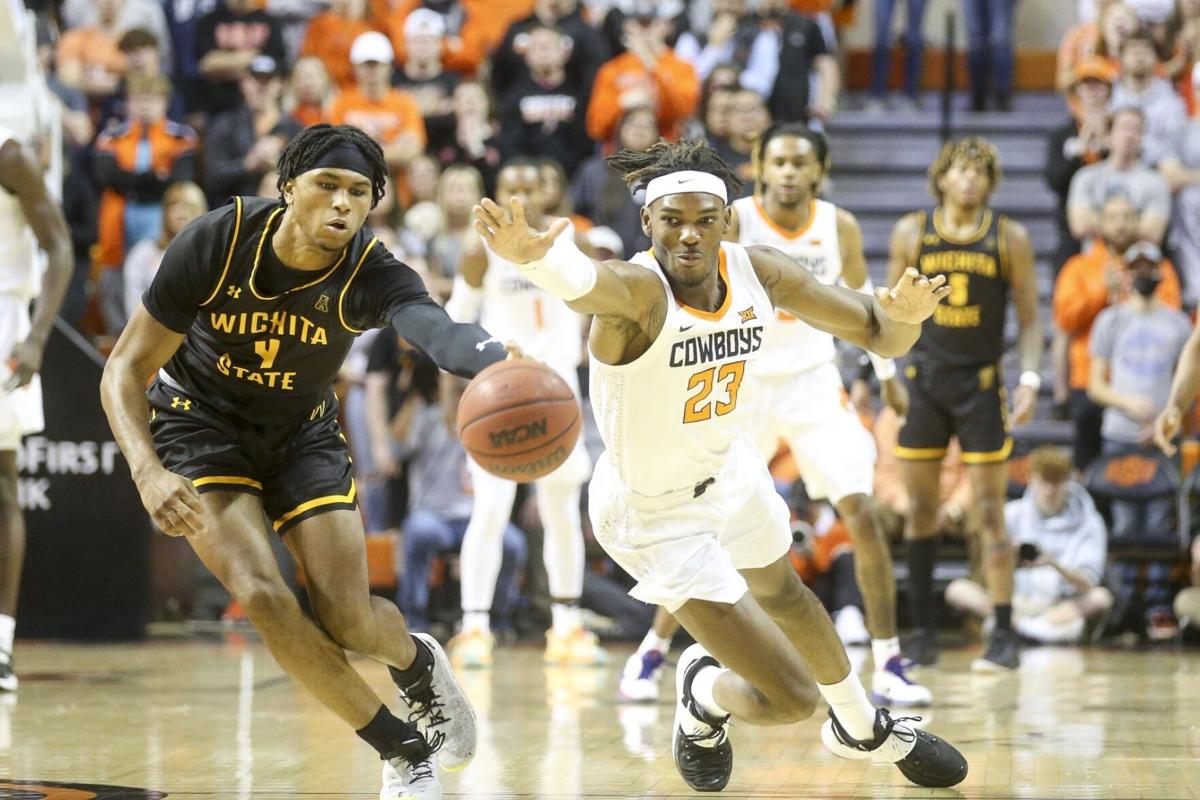 STILLWATER — Chris Beard had a specific plan for Tyreek Smith at Texas Tech. It's what the 6-foot-7 forward says pulled him to Lubbock, Texas, in 2019.
But when Beard bolted from the Red Raiders last April to take over at Texas, Smith opted for a change of scenery, too. And after making the decision to leave Texas Tech, Smith soon heard from a familiar voice in his initial recruitment: Oklahoma State coach Mike Boynton.
"Once I got into the portal he hopped on me very quick," Smith said last week. "So I just felt comfortable with him because I knew him for a very long time."
The path that brought Smith to Stillwater is as much a story about the modern transfer portal as it is the relationships the Cowboys' fifth-year coach builds and maintains on the recruiting trail.
Smith is averaging 3.4 points and 2.4 rebounds through the first 14 games of his OSU career. The redshirt sophomore is averaging 9.3 minutes per game since Big 12 play began on Jan. 4, swiping minutes from fellow forward Kalib Boone. And on Thursday, Smith will face his former team when the Cowboys tip off at Texas Tech at 6 p.m. on ESPN+.
As Smith prepares to return to United Supermarkets Arena, he's found a new home with the Cowboys on Boynton's second asking.
Oklahoma State will Remember The Ten when it hosts Oklahoma on Feb. 5. 
"He's somebody who's a joy to be around," Boynton said. "He loves the games. He loves to work at it. He enjoys being coached. He wants to be challenged. And he's somebody who I can see his role growing as we move forward."
A three-star recruit from the Dallas area, Smith fit the Cowboys' mold out of Trinity Christian High School. Boynton recalls him sharing a similar build with forwards Kalib and Keylan Boone before they arrived in Stillwater.
"He was a skinny, athletic guy," Boynton recalls of Smith. "You can tell that he really embraced changing his body when he got to Tech."
OSU missed out on Smith in 2019. He went to Texas Tech and Boynton inked a signing class that included the Boone twins and guard Avery Anderson. But when Smith hopped into the portal two years later, OSU and Boynton's recruiting imprint remained.
"We had a good relationship," Smith said.
Asked last week about re-recruiting Smith, Boynton rattled off a series of names he's whiffed on in the past.
Texas' Courtney Ramey. David McCormack and Ochai Agbaji at Kansas. Boynton relayed a story from Philadelphia 76ers teammates Tyrese Maxey and Tobias Harris, who bonded over their shared experiences of being recruited by Boynton, a coach they never played for but remain in touch with.
The latest testaments to Boynton's approach are Bryce Thompson and Moussa Cisse, the pair who transferred into the program last year after signing elsewhere the first time around.
"I'm just big on building bridges, not burning them," Boynton said. "So whether something goes the way I want it to in recruiting, I still talk to several guys that I recruited who never came here.
"It's not because I hope that they come back eventually. It's just because kids get to make the decision that they think is best for them. And my job, how close we were or not, is to wish them well and support them."
In Smith's case, Boynton had some help. When he entered the portal, Smith heard from Keylan Boone and fellow Texans Isaac Likekele, Chris Harris and Anderson.
Harris made the most compelling pitch.
"He said it's closer to home," Smith explained. "He said we play fast. He said I'd fit in well. I thought, 'that's my type of team.'"
Smith has settled in with the Cowboys and is setting himself as apart as he returns to Texas Tech. After Smith logged 11 minutes while Kalib Boone never left the bench in Saturday's win over Texas, Boynton explained why.
"Tyreek Smith has earned an opportunity to play," Boynton said. "It was less about Kalib and more about Tyreek."
Photos: OSU basketball at No. 19 Texas Tech
Oklahoma St Texas Tech Basketball
Oklahoma St Texas Tech Basketball
Oklahoma St Texas Tech Basketball
Oklahoma St Texas Tech Basketball
Oklahoma St Texas Tech Basketball
Oklahoma St Texas Tech Basketball
Oklahoma St Texas Tech Basketball
Oklahoma St Texas Tech Basketball
Oklahoma St Texas Tech Basketball
Oklahoma St Texas Tech Basketball
Oklahoma St Texas Tech Basketball
Oklahoma St Texas Tech Basketball
Oklahoma St Texas Tech Basketball
Oklahoma St Texas Tech Basketball
Oklahoma St Texas Tech Basketball
Oklahoma St Texas Tech Basketball
Oklahoma St Texas Tech Basketball
Oklahoma St Texas Tech Basketball
Oklahoma St Texas Tech Basketball
Check out our latest digital-only offer and subscribe now
HIDE VERTICAL GALLERY ASSET TITLES