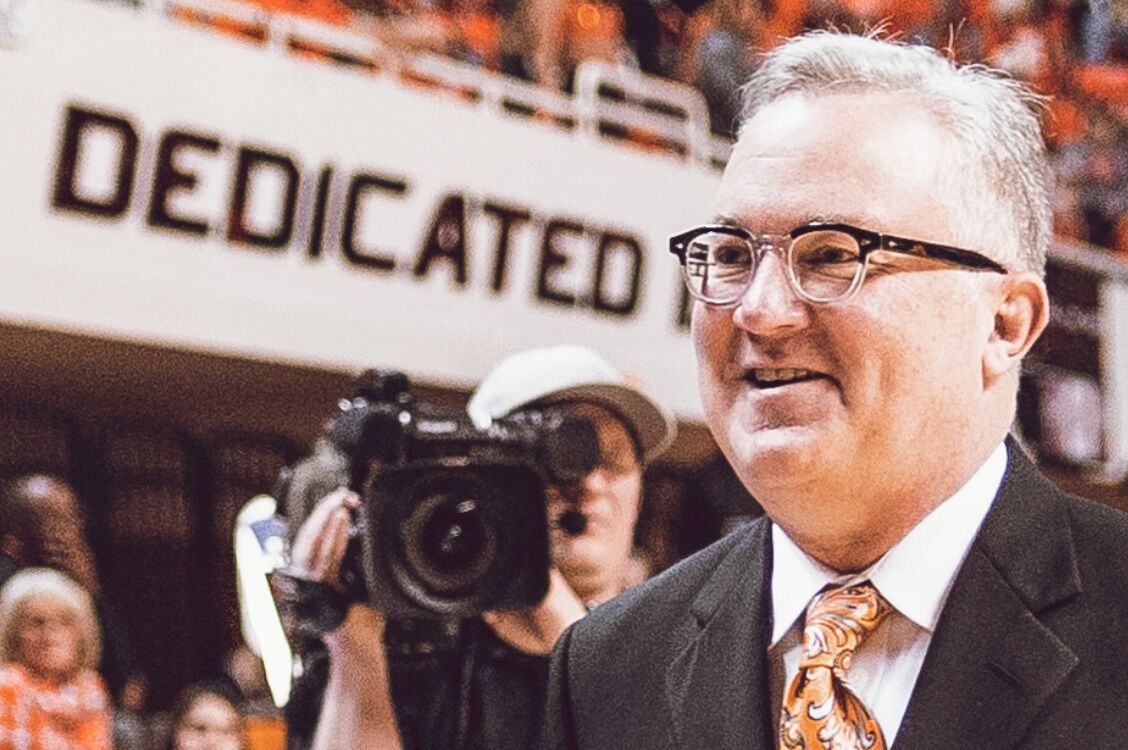 On Saturday, Barry Hinson did what he's been doing for most of the past 40 years: he was a participant in a basketball game.
From a baseline seat at Gallagher-Iba Arena, and every bit as invested as when he was the head coach at Bishop Kelley and Oral Roberts University, Hinson watched Oklahoma State defeat Kansas State 67-60.
A 1983 OSU graduate, Hinson is a second-year analyst on the staff of Cowboy coach Mike Boynton. Hinson's impact is immeasurably positive, Boynton says.
In an official sense, however, Hinson's job does not exist.
The expertise that comes with nearly 40 years of coaching — he currently is donating it and his time to his alma mater.
He's a 59-year-old who currently gets no paycheck and has no benefits, but he's in the gym for every practice and every game. He's in the room for every video-study session.
As part of the university's response to the coronavirus impact on athletic department finances, Hinson's job was eliminated several months ago.
When Hinson joined Boynton's staff in October 2019, it initially was on a volunteer basis. After a few months, Hinson became a paid member of the staff. However, when the pandemic forced OSU to examine cost-cutting measures, he was among those who were targeted for a salary reduction.
Hinson says he was told by athletic director Mike Holder that his cut might amount to 20% or 25%. Hinson says he countered by offering to take a 40% cut.
"If people can't recognize what's going on now, and they can't sacrifice, it comes down to this question: you're either a Cowboy or you're not. It's pretty simple," Hinson says. "So, that's what I told coach Holder: 'If you need 40%, then take 40%.' "
Several weeks later, as the impact of COVID-19 became more clearly defined and sobering, Hinson and his wife Angie were jarred by the outright elimination of Barry's job.
Hinson remembers his response to Holder: "Coach, if you'll let me, I just want to come to work every day. I don't want to go anywhere else."
The best-known line from OSU's school song is this: "Ever you'll find us, loyal and true. To our alma mater, OSU."
Boynton describes Hinson as "the personification of 'loyal and true.'"
"For him to stay with us, under the (financial) circumstances that we're in as a department — I'm not sure that I (know) five people who would do what he's doing," Boynton said. "He brings unbelievable energy every day. He's been a great asset to me.
"I didn't know Barry Hinson very well before I hired him, but I can't think of a better person just to have as a sounding board. I'm certainly thankful that he decided to do his job for as long as he can, considering the circumstances that went down back in the fall."
Because insurance is so essential, and because Hinson no longer has OSU-provided health coverage, I had to ask the question: What exactly are the Hinsons doing with regard to insurance?
"I'm paying for it, buddy, and it's expensive," Hinson replied. "My dad taught me this a long time ago: 'Son, you always put good tires on your car and you always have good insurance.'"
In an attempt to remain connected to OSU while bringing in some money, Hinson says he applied for a waiter's position at a Stillwater restaurant. There was a condition attached: he would need the flexibility to be with the Cowboys for basketball practice and games, but otherwise, he was ready to work.
Apparently not realizing that Hinson's personality would brighten its dining room by a thousand percent, the restaurant wasn't comfortable with those conditions. Hinson is an accomplished public speaker and ranks among the smarter and more dynamic people I've ever covered, and yet a restaurant denied his application.
"I wore a suit for my Zoom interview for that job," Hinson recalls. "Three days later, I got the standard email: 'We enjoyed your interview, but at this time, it's not going to work out.'
"This was the first time in my life that I didn't get a job that I actually interviewed for. I went home and showed my wife the letter. I'll be honest — I was emotional. I teared up. I'm getting ready to be 60 years old, and I can't get a waiter's job. It wasn't the restaurant's fault. My parameters were unique. I get it."
If you know Barry Hinson at all, then you're not surprised that he remains relentlessly upbeat.
"My whole life as a coach, I've said this to my players: 'What are you going to do when times get hard? Your true character is going to shine,' " he said. "So, I slapped myself around a little bit and told myself, 'Wake up, you little baby. Buck up and bow your neck.' My dad isn't alive to tell me that, but that's exactly what he would have told me.
"From that point on, I've been great. When the basketball season is over, I think I'm going to try to mow yards. I'm healthy. I like being outside. I like landscaping and mowing. I'll put out a flyer in my neighborhood and let everyone know that I want to mow their yard."
Hinson is a Marlow native who, in a 1989 state quarterfinal classic, coached Bishop Kelley to a shocking upset of previously unbeaten Star Spencer. He was a Bill Self assistant at ORU and the Golden Eagles' head coach in 1997-99. After ORU, he was the head coach at Missouri State (1999-2008) and Southern Illinois (2012-19). In 2008-12, he was an administrative assistant for Self at Kansas.
Part of Hinson's current OSU role is to provide written reports to Boynton. He shares opinions and suggestions, and they truly are "written" reports: handwritten on legal pads.
"I haven't typed since high school," confessed Hinson, who handwrites everything and always does it in neat cursive style.
In December, Hinson submitted to Boynton a 26-page, handwritten assessment of the 2020-21 Cowboys.
"Mike is from Brooklyn, New York. I'm from Marlow, Oklahoma," Hinson said. "We had nothing in common, and yet he once told me that I've been a blessing to him.
"As low as I felt when I got turned down to be a waiter, I was about a high as you can be when coach Boynton said that to me."
Hinson has circled August as the point by which he's got to have professional clarity. His overwhelming preference is to remain involved in college basketball. Preferably, Oklahoma State basketball.
He says he's been reassured by Holder and Boynton that his job and income will be restored "when everything gets going again," but it's impossible to know exactly when that might be.
"I do love my role now," Hinson said, "but, yeah, by August, I won't have a choice. I've got to have a job.
"Before I came back to OSU, I had an opportunity to do TV (as a basketball analyst). I'll do TV one day. My personality is set for TV, but I cannot begin to tell you how much enjoyment I get from being around basketball every day. For as long as I have the ability to stay in this game, that's what I want."
While I have maximum respect for his willingness to cut grass and serve restaurant patrons, Hinson is a basketball lifer. He belongs on a basketball staff.
You already had a million reasons to hope for the success of the vaccines and the recovery of the economy. Now that you're aware of the Barry Hinson story, you have a million and one reasons.