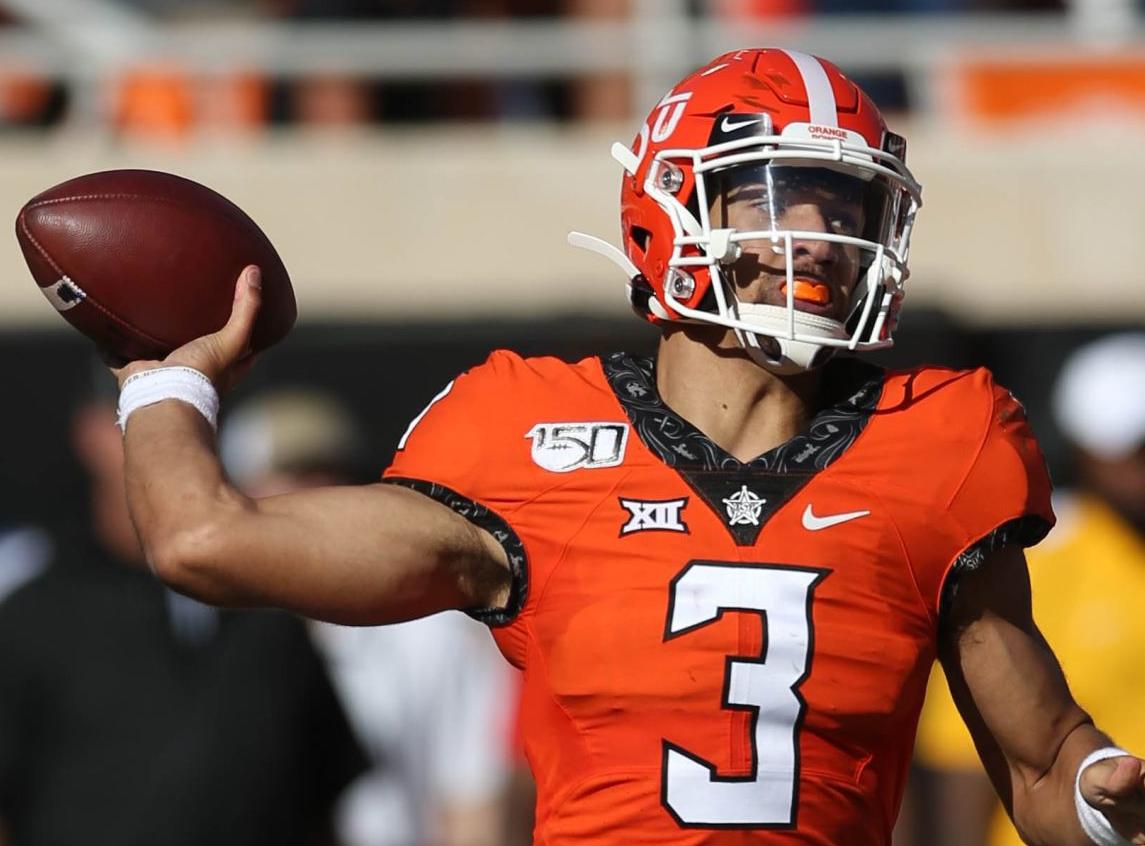 Oklahoma State has reserved much of its worst football for Baylor games.
The seventh-ranked Cowboys (3-0 overall, 2-0 in the Big 12) had an open date this weekend and time to examine the reasons for an extended slump in the Baylor series.
OSU's next assignment is a trip to Waco, Texas, for Saturday's clash with the Bears. As OU and Texas already have stumbled, Oklahoma State is positioned for a possibly special season and a shot at its first appearance in the Big 12 Championship game.
Mike Gundy and his players had to swim around a lot of debris during the summer and preseason. Today, as the program seems to have its best defense of the 16-season Gundy era, the Cowboys have a beautiful chance to be nationally relevant — but only if they can find a way to win at Baylor for the first time since 2009.
Before OSU-Baylor is played, there has to be a determination that it can be played. Last week, because of roster issues related to COVID-19, Baylor paused all football activities.
"We are taking all possible precautions," Baylor athletic director Mack Rhoades said, "and our focus remains playing the scheduled game with Oklahoma State on Oct. 17."
My takeaways from that quote: that Rhoades seems confident that Baylor can avoid another coronavirus disruption, along with the reminder that this game would be played in a venue in which OSU has never won.
Since McLane Stadium opened for business in 2014, it's been a house of futility for Oklahoma State. There were losses to the Art Briles-coached Bears, the Jim Grobe-coached Bears and the Matt Rhule-coached Bears.
In a 49-28 loss in 2014, in a steady rain and in Mason Rudolph's first start at QB, the Cowboys averaged only 2.7 yards per rush attempt. It's difficult to believe that the 2014 OSU offense had Tyreek Hill and still was so bad for most of that season. Baylor averaged nearly 7 yards per play and won easily.
In 2016, the Cowboys were armed with the belief that they were the better and more complete team, but there was a 35-24 setback. Against a Baylor team that eventually would have a six-game losing streak, OSU committed four turnovers (including a fourth-quarter fumble at the Bears' 1-yard line).
The 2018 game was defined by horrible penalties and a blown lead. With six minutes left to play, OSU had a 31-21 advantage. The Bears scored with seven seconds remaining and celebrated a 35-31 victory. There was for Tylan Wallace an eight-catch, 122-yard performance, but for OSU there also was a total of 12 penalties for 133 yards.
During Baylor's fourth-quarter drive for a touchdown that cut the OSU lead to three points, the Cowboy defense was flagged for two 15-yard infractions. During Baylor's drive for the winning TD, OSU was penalized 15 yards for pass interference.
Last year's game in Stillwater was another festival of Oklahoma State errors. At the nine-minute mark of the third period, OSU led 20-10. Baylor responded by outscoring the Cowboys 35-7 over a span of 19 minutes and winning 45-27.
Chuba Hubbard ran for 171 yards and LD Brown scored on a 68-yard dash, but their heroics were spoiled by OSU's defensive breakdowns. During the Bears' four touchdown possessions after halftime, they averaged a staggering 27.7 yards per play. There also was a 20-yard fumble return for a touchdown.
After having sustained an ankle injury during the Sept. 19 victory over Tulsa (a victory that looks better all the time, with the Golden Hurricane having prevailed last week at UCF), Cowboy redshirt freshman Spencer Sanders is expected to be back in the starting lineup for the Baylor game.
Apparently, Sanders could have started at Kansas last week and actually could have started against West Virginia on Sept. 26, but Gundy chose to go with freshman Shane Illingworth. The rookie was adequate against the Mountaineers and impressive against the woeful Jayhawks, but all indications from Stillwater point to a Sanders start at Baylor.
A healthy Sanders gives OSU an ability to extend plays and involve the QB in the run game. During the 2019 loss to Baylor, there were Sanders plays that were classically great and there were mistakes — like an end-zone interception just before halftime — that wound up being costly.
A healthy Sanders who takes care of the football — that's the quarterback situation that would give Gundy a clear path to a special season. The presence of Illingworth gives Gundy the security of having a capable Plan B.
In 2012-19, the Oklahoma State record against Baylor was a somewhat-hard-to-believe 2-6. Briles did have great offensive teams and Rhule had well-coached teams, but you'd think that any eight-game chunk of this series would be no worse than a .500 deal for OSU.
If OSU does defeat Baylor next week, the Cowboy program would be 4-0 for the fifth time in Gundy's 16 head-coaching seasons and 4-0 for only the 16th time in 120 seasons.
Four of Pat Jones' first five teams got off to 4-0 starts. The Jim Lookabaugh-coached Oklahoma A&M Aggies of 1944 and 1945 used 4-0 starts to generate momentum for a two-year record of 17-1. Jim Stanley (1975), Bob Simmons (1997) and Les Miles (2004) each had one 4-0 squad.
The Aggies of 1912 and 1914 also opened with 4-0 records. With all due respect to those players and their descendants, college football at that time barely resembled the sport it would become.
The 1914 Aggies got to 4-0 with wins over Phillips and Tonkawa Preparatory. In 1912, All-American halfback Jim Thorpe of Carlisle was coached by Pop Warner while leading the nation in scoring, total offense and rushing.
In 1912, the value of a college football touchdown was increased from five points to six. Most players wore a leather helmet, but not all. This is part of what I love about this job: research and discovery.
Before I started on this column, I never knew that helmets were not mandatory in college football until 1939 (and in the NFL until 1943). I found a 1940 photo of a helmetless NFL player trying to block a field goal. That's insane.
In its five most recent meetings with Texas A&M, OSU was 4-1. In its past 10 against Texas, OSU was 7-3. For the Cowboys, it's a great track record against schools with highest-level resources.
The Baylor series? It's been a much different story.
While the 2020 Cowboys are positioned for a run at a championship, they can't be 5-0 or 8-0 or 10-0 unless they first are 4-0, and they won't be 4-0 unless they solve their Waco problem.
Bill Haisten
918-581-8397
Twitter: @billhaisten
Be the first to know
Get local news delivered to your inbox!