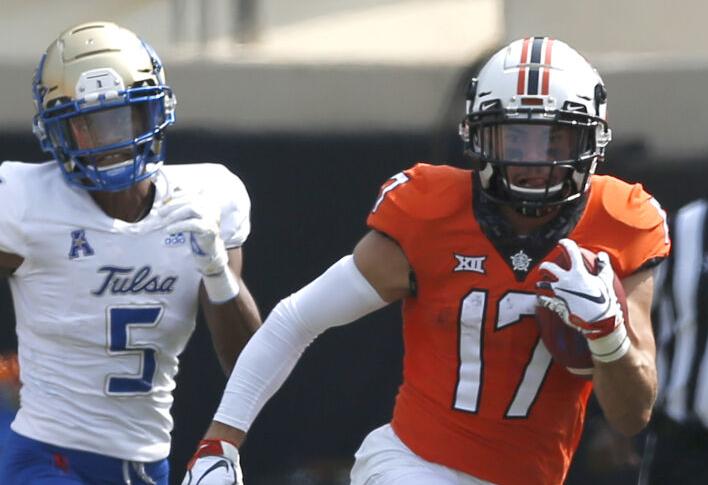 Most athletes don't experience even one time what Dillon Stoner has experienced during seven football seasons: to play a significant role in nine high-profile, high-stakes, televised rivalry games, and to do it in front of big crowds.
Stoner became a Jenks legend in part because of his brilliance in Oklahoma's No. 1 high school football series. As a Trojan and the 2015 Tulsa World State Player of the Year, he was 5-1 against Union. He graduated with three championship rings.
Since Stoner left for Oklahoma State, Jenks hasn't captured another title.
Since he joined the Cowboy football program, he's gotten three shots of Bedlam — but not yet a Bedlam victory.
"Both are special," Stoner said of the Jenks-Union and OSU-OU rivalries. "There are a lot of similarities.
"There's something different about this week. This means a lot to me, being born and raised in Oklahoma."
I expect the 6-foot, 200-pound Stoner to perform well during OSU's Pro Day event next spring, and I expect that he'll be on an NFL training-camp roster next summer.
Before Stoner focuses on his next step, however, the Cowboys' senior wide receiver prepares for his next game — his final Bedlam run.
On Saturday morning, ESPN's GameDay program originates from OU's Memorial Stadium.
On Saturday night, at 6:30 and on ABC television, there is a massively interesting clash of the 14th-ranked Cowboys and the No. 18 Sooners in Norman.
In each of Stoner's seasons as a Cowboy, there was for Oklahoma State a clearly defined superstar receiver who most frequently was targeted. In 2017, that superstar was James Washington. In 2018-20, the superstar distinction has been owned by Tylan Wallace.
Stoner always has been on the fringe of college stardom. He has reliable hands and the ability to do something special after the catch, but Wallace typically is the first option when Oklahoma State attempts to convert on bigger-yardage pass plays.
In a seriously quiet manner, though, Stoner has carved for himself an impressive position among the most productive pass-catchers in program history.
With 171, he is seventh on OSU's career receptions list. He needs 10 more catches to supplant Josh Stewart (2011-13) at the No. 6 spot, at which time OSU's all-time top six would be Rashaun Woods, Justin Blackmon, Washington, Hart Lee Dykes, Wallace and Stoner.
Before the Cowboys' Nov. 5 victory at Kansas State, it was reported that Wallace sustained "a mild muscle injury." It was the most vague injury report I've ever seen, but the status of Wallace is critically important for OSU. He is expected to play on Saturday.
Might Wallace be at or near 100%? That's impossible to know before Saturday, but this is a certainty: When he's on the field, he'll be the top priority for OU's coverage personnel.
If a second defender leans in Wallace's direction, Stoner, Landon Wolf, Braydon Johnson or Jelani Woods could run free and collect a game-changing pass from Spencer Sanders.
With Stoner in the Jenks program, the Trojans were 5-1 against Union. There were state-championship Trojan victories in 2013 (38-22 as Jenks completed a 14-0 season) and 2014 (21-14 as Stoner scored the game-winning touchdown with 2:55 left to play).
In a 2015 Class 6AI semifinal, Stoner's 42-yard TD reception was a highlight as Jenks prevailed 33-17 and captured its third consecutive state title.
As a senior in 2015, and in his final Backyard Bowl regular-season showdown, Stoner totaled nine catches for 171 yards. Jenks beat Union 45-27.
Considering his Jenks history of having been great in the Union series, it seems that Stoner is at his best on the biggest stages. It seems safe to presume that he'll want to close the Bedlam chapter of his football life with something memorable.
---
Be the first to know
Get local news delivered to your inbox!