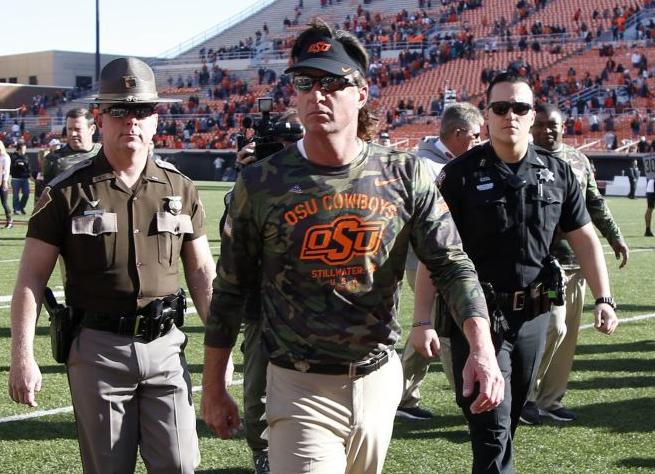 At the same time that Mike Gundy presided over the most extensive scrimmage of the Oklahoma State preseason, some of his conference brethren were cursed by opening-day debacles.
As Kansas State, Iowa State and Kansas were beaten at home by Sun Belt Conference opponents, the Big 12's first weekend of competition was an embarrassment for the conference.
While Oklahoma and Texas impressively handled their business, and while West Virginia showed signs of improvement, Texas Tech very nearly lost at home to Houston Baptist.
The Texas Tech defense gave up 600 yards against a Houston Baptist program that in last season's final game had only 389 total yards against Sam Houston State. As the Huskies failed on a two-point pass attempt, Texas Tech escaped with a 35-33 victory.
For the moment, though, Kansas State coach Chris Klieman, Iowa State's Matt Campbell and Kansas' Les Miles would happily trade situations with Texas Tech's Matt Wells.
Against Arkansas State, Klieman's Wildcats were favored by 10½ points. They were 1-of-11 on third down, misfired on two field goal attempts, rushed for only 91 yards and lost 35-31.
Against Louisiana, Campbell's Cyclones were favored by 12½ points. Keep in mind that Iowa State last season lost by one point at OU, scored 49 points against Gary Patterson's TCU defense and defeated Texas. Against Louisiana, the Cyclones gave up a punt-return touchdown, a kickoff-return touchdown, had a scoreless second half, finished minus-2 on turnovers and got thumped 31-14.
Against Coastal Carolina (located in Conway, South Carolina, if you're wondering), Miles' Jayhawks were five-point favorites. Matched with a Chanticleers program that didn't even exist until 2003, Kansas trailed 28-0 before halftime. The Jayhawks wound up minus-3 on turnovers and lost 38-23.
Coastal Carolina also recorded a road win over Kansas last season. Miles was a celebrated hire 22 months ago, and the Jayhawks are still this hapless? When you hear the term "broken program," think of KU.
Gundy is aware of the opening-day issues that doomed other Big 12 teams, and now – finally – he takes the 11th-ranked Cowboys into their season-opening game.
In an 11 a.m., ESPN-televised Saturday contest, Gundy is matched with the University of Tulsa for the 16th time in his 30 seasons of OSU football.
Oklahoma State has a new placekicker (Australian Alex Hale) and new personnel on the offensive line. Otherwise, the Cowboy two-deep could be the program's most solid since the Big 12 championship season of 2011.
OSU is a 22-point favorite over the Golden Hurricane, but mistakes can be a great equalizer. Klieman, Campbell and Miles probably didn't expect to feel miserable on Monday, but, obviously, their teams entered the season with problems.
As Tylan Wallace and Chuba Hubbard dash into what is presumed to be their final season of college football, Oklahoma State in this Tulsa opener has a decided advantage in playmaking weaponry. However, in a year during which there was no spring practice, there were COVID-19 disruptions and for a while there was uncertainty about the viability of a Big 12 season, nothing should be presumed.
"We've had more than enough (practice) reps," Gundy insists. "We should be more than ready to play on special teams."
OU, Oklahoma State and Texas were 1-2-3, respectively, in the Big 12's preseason poll. In a watered-down 2020 season that currently does not involve Big Ten teams and apparently will not involve Pac-12, Mountain West and MAC teams, the Cowboys are 11th in this week's Associated Press poll.
Only three other OSU teams had a better first-game ranking: the 2009 and 2011 Cowboys were ninth, while the 2017 squad was 10th.
As an OSU quarterback, assistant coach, offensive coordinator and now as the 16th-year head man, Gundy's personal record against Tulsa is 11-4. The expectation is that he'll be 12-4 by Saturday night. There also were first-game-victory expectations in Manhattan, Kansas, and in Ames, Iowa, and in Lawrence, Kansas, and you saw how that turned out.
Against a Tulsa team driven by a veteran quarterback and that overall is comparable to Arkansas State and Louisiana, Oklahoma State will need the type of on-point execution that K-State and Iowa State lacked on Saturday and that Kansas hasn't had for a long time.
Bill Haisten918-581-8397
Twitter: @billhaisten
Be the first to know
Get local news delivered to your inbox!