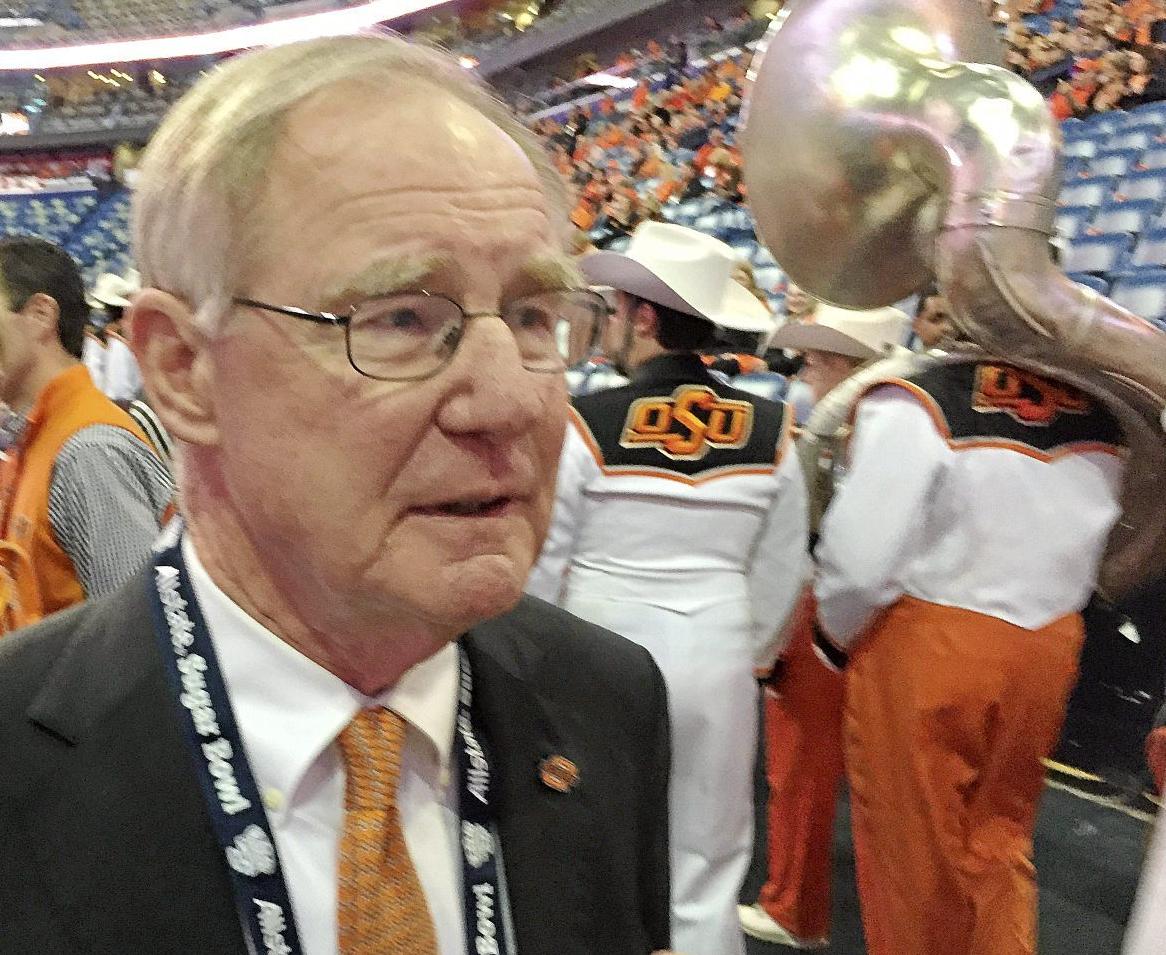 In the heavyweight division of college football, the Big Ten, Pac-12, ACC and SEC all have made schedule adjustments.
The members of each of those leagues will play at least one fewer game during the 2020 season. The Pac-12 and SEC have chosen to go with 10-game, conference-game only models.
Which leaves the Big 12 as the Undecided One in the Power Five.
While a 10-game approach would be the smart play during a pandemic, there is no universal preference within the circle of Big 12 decision-makers. CBS Sports reported that during a Friday meeting, Big 12 athletic directors were divided on their length-of-the-season opinions.
There are some in the league – including OSU athletic director Mike Holder, it is believed – who stand firm with a preference for a full, 12-game regular season.
As a member of the NCAA Division I Board of Directors, Oklahoma State University President Burns Hargis was involved in the historic March 12 teleconference that resulted in the cancellation of the NCAA Tournament.
"That was the big one," Hargis recalled. "The NBA was canceled, and then we canceled the Big 12 (basketball tournament). Canceling the NCAA Tournament was a half-billion-dollar decision that was done in about 24 hours.
"If we knew then what we know now, it wouldn't have taken us 10 minutes to make that decision."
On Monday, Hargis again is scheduled for participation in a heavy meeting as the Big 12 Board of Directors discusses three options: a 10-game football schedule (nine league games plus one nonconference contest) that would begin on Sept. 5 or Sept. 12, an 11-game schedule that would begin on Aug. 29, and a 12-game schedule that also would launch on Aug. 29.
It is expected that the 10- and 12-game models will get the greater consideration.
CBS Sports quoted an unidentified Big 12 official as having said, "I think we're probably headed down a pathway of nine plus one."
During a phone connection with the Tulsa World, Hargis was asked whether he prefers the 10-game model – the "nine plus one."
"There's just a whole realm of options," Hargis replied. "There's still a while to go before we get to the failsafe on this thing.
"I've got my ideas on the (length of the season), but I feel I owe it to my colleagues on the board to express them on Monday before I talk about it publicly. Hopefully, we'll have coordination with the other (Power Five) conferences on how championships will be determined and whether we end up going past the first of the year to finish the season."
"The (COVID-19) testing," Hargis added, "along with the social distancing and quarantining – it's all going to give us the best chance to have a season."
This might be a conversation topic on Monday: the possibility of a 10-game regular season with several open dates wedged into the schedule. Depending on the number of those open dates, it could push the end of the regular season into January. There already has been talk that the Big 12 Championship game might be pushed from Dec. 5 to Dec. 12 or Dec. 19.
More than anything, coaches are desperate for clarity. OU already is practicing. OSU is scheduled to start on Wednesday.
The Sooners had a beautiful nonconference schedule that included a home meeting with Tennessee, but that Sept. 12 game has been canceled. OU is scheduled to play at Army on Sept. 26, but there already has been the announcement that fans won't be allowed to attend.
OU-Army should be rescheduled for a year when Oklahomans can travel to New York for the full experience of a great football trip.
For the time being, OU is scheduled to open against Missouri State on Aug. 29 – nearly a full month before SEC teams start their season.
When the Pac-12 erased nonconference games from its plan, Oklahoma State lost its Sept. 3 opener against Oregon State.
Apparently, BYU is on standby as a possible Sept. 3 substitute for the Cowboys, and that Thursday game would be played in Stillwater.
If the Big 12 goes with a 10-game season for all 10 conference teams, it is presumed that the University of Tulsa would be the nonconference opponent on the Oklahoma State schedule. TU and OSU currently are scheduled to clash on Sept. 12 at Boone Pickens Stadium.
"I think a full (12-game) season is a real challenge. I really do," Hargis said. "There are so many protocols that you want to make sure are consistent with your team and your (opponents). I think it's important to have the season structured so that you give people time to quarantine and recover. You could be in a situation where your whole offensive line is quarantined. That wouldn't be very good for Chuba Hubbard."
If all of this isn't sufficiently maddening for Mike Gundy, Lincoln Riley, TU's Philip Montgomery and football-minded people throughout Oklahoma, there's a chance that a Big 12 schedule decision will not be announced on Monday.
Hargis and others on the Board of Directors will talk about myriad scenarios, but a plan may not be announced until several days after the meeting.
Bill Haisten 918-581-8397
Twitter: @billhaisten
Be the first to know
Get local news delivered to your inbox!