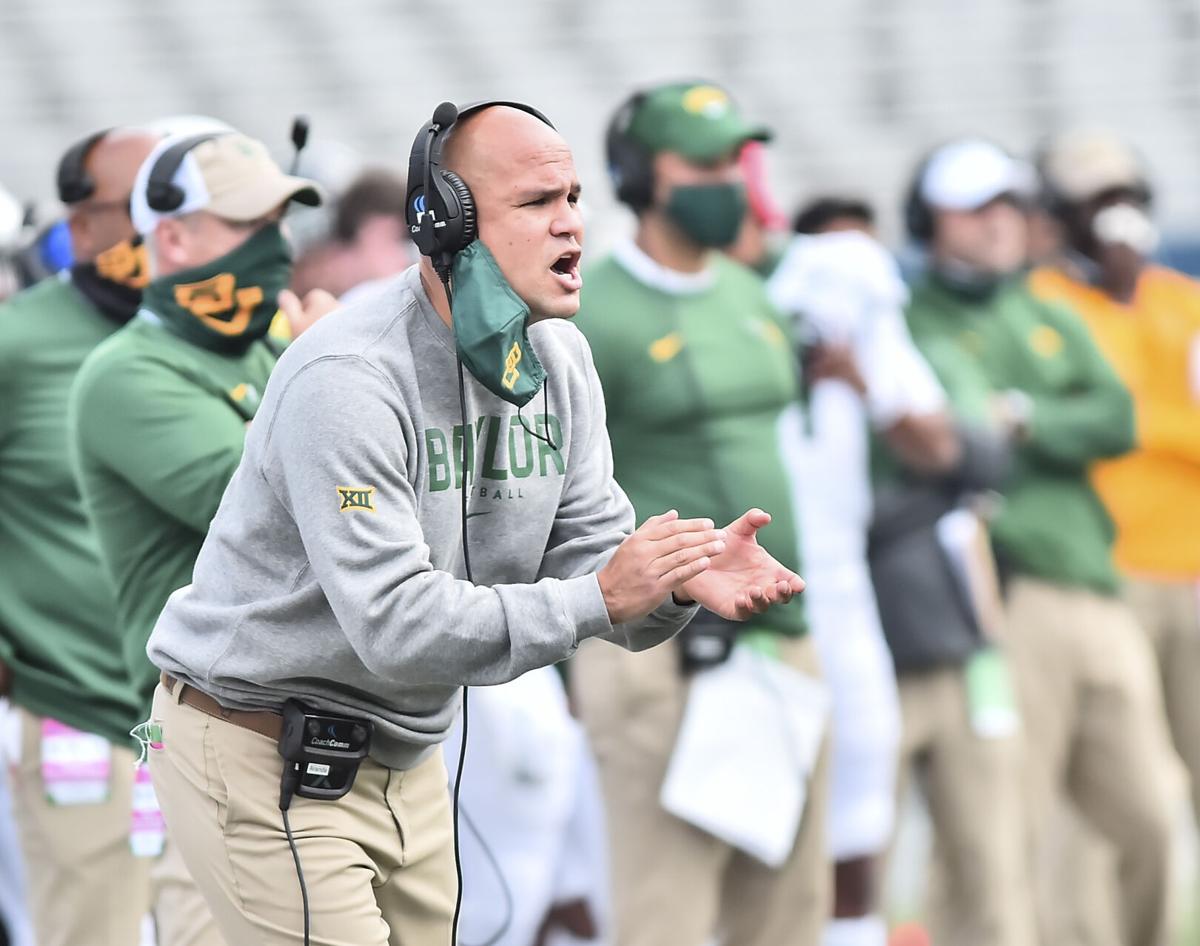 The Bears suspended activities "to allow for further evaluation of recent positive tests and the completion of close contact tracing."
Oklahoma State has an off week this week but is scheduled to play at Baylor on Oct. 17. Baylor, too, is scheduled off this week. The Bears are 1-1 having their season opener versus Houston called off.
"At this time and in the interest of our student-athletes, coaches, and staff, we have temporarily suspended all football-related activities. Their health and wellness will always be our top priority," Baylor Director of Athletics Mack B. Rhoades said in the statement. "We are taking all possible precautions and our focus remains playing the scheduled game with Oklahoma State at McLane Stadium on October 17."
---
No. 17 OSU 47, Kansas 7: Cowboys improve to 3-0 with easy win; Get all our coverage here
No. 17 OSU 47, Kansas 7: Cowboys improve to 3-0 with easy win; Get all our coverage here
LAWRENCE, Kan. — With Oklahoma and Texas already suffering upsets, No. 17 Oklahoma State's 3-0 start has ascended the Cowboys to the top of the Big 12.
Beating up on a struggling Kansas team with a 47-7 win on Saturday isn't a major indicator of future success. But the OSU offense was in desperate need of a solid showing after lackluster performances in the first two wins against Tulsa and West Virginia.
The defense continued to play solid, allowing just seven points, and the offense finally looked like the offense Cowboys fans are used to watching. OSU (3-0, 2-0 Big 12) entered the game with just three offensive touchdowns and no passing TDs. OSU had five touchdowns on Saturday.
"I feel better about our offense today than I did the last two weeks," OSU coach Mike Gundy said. "We didn't have to play musical chairs up front. The quarterback got a little more experience. He was much better today than he was in the last game. We hope that he would continue to make improvements based on experience."
Freshman quarterback Shane Illingworth, who received his second start with quarterback Spencer Sanders still out with an ankle injury, threw the first touchdown of his career on a 66-yard pass to Braydon Johnson that gave the Cowboys a 17-0 lead early in the second quarter.
He threw a 55-yard touchdown pass to a wide-open Tylan Wallace to give OSU a 24-0 lead less than five minutes later. Illingworth finished with 265 passing yards and three touchdowns on 17-of 23 passing. Transfer Ethan Bullock replaced him at quarterback midway through the third quarter when the Cowboys had the game out of reach.
Other OSU reserves on both sides of the ball got to see the field during the second half. Kansas scored it's only touchdown in the fourth quarter when most of OSU's defensive starters were on the sidelines. 
Oklahoma State is the last undefeated team in the Big 12 Conference after the other two unbeaten teams went down on Saturday. No. 9 Texas had a 33-31 loss to TCU after barely surviving Texas Tech in overtime last week. West Virginia handed Baylor its first loss with a 27-21 win in double overtime.
Being the only undefeated team left in the Big 12 is a good start for Oklahoma State but more importantly, the Cowboys found a way to get their offense rolling. OSU's next three-game stretch of Baylor, Iowa State and Texas is going to require more offense than what was shown in the first two games.
The offense took advantage of a Kansas (0-3, 0-2) team that is expected to finish at the bottom of the conference this year. The Cowboys combined for 626 total yards and 43 total points in the first two games and racked up 593 yards and 47 points against Kansas.
Gundy said the offense looked more like who the Cowboys have been for the last 13 or 14 years. Running back Chuba Hubbard put much of the blame from the first two games on himself.
"I put the first two games on me," Hubbard said. "A lot of these mistakes, a lot of things that we weren't able to do fall back on me. So I felt we've been pretty good these last three games but I just needed to step up."
After averaging less than four yards per carry in the first two games, Hubbard found his stride on Saturday. Last year's Heisman candidate rushed for 145 yards and two touchdowns with a 7.25 average against the Jayhawks. His two touchdowns in the first half helped the Cowboys jump out to a 31-0 halftime lead.
Much of the positive talk surrounding OSU's play in the first two games have been geared toward the defense, which held Kansas to 193 total yards and tallied a takeaway on a Devin Harper interception near the end of the first half. The defense played well for a third straight game and the OSU receiving corps had its best game thus far.
Wallace finished with nine catches for 148 yards and two touchdowns. Johnson had four catches for 74 yards and a touchdown. Wallace, Johnson, Dee Anderson, Dillon Stoner and running back LD Brown all had at least one catch of 11 yards or more. Freshman Rashod Owens, who caught two passes, also had 15-yard reception.
"They're doing a good job of bringing it along on the offensive side," offensive coordinator Kasey Dunn said. "Hopefully, we can get this thing to where we're matching what they're doing on the defensive side so maybe we can find ourselves into the big dance at the end of this thing. We've just got to keep plugging along. That's what we want. Try to get to that Big 12 Championship."
Oklahoma State's toughest games are still ahead of them and Gundy said the best way to build from Saturday is to keep things simple and continue to teach basic fundamentals. The Cowboys have an off week before they face Baylor on Oct. 17.
"I don't think any of us could forget that we can get hit with COVID at any time and could be playing guys that don't get as many reps," Gundy said. "So if we're complicated, essentially we're putting ourselves behind the eight ball. So we'll try to stay as simple as possible and get some good quality work this week. Let them have some time to regroup as a team."
— Frank Bonner, Tulsa World
---
Frank Bonner II
918-581-8387
Twitter: Frank_Bonner2
Be the first to know
Get local news delivered to your inbox!