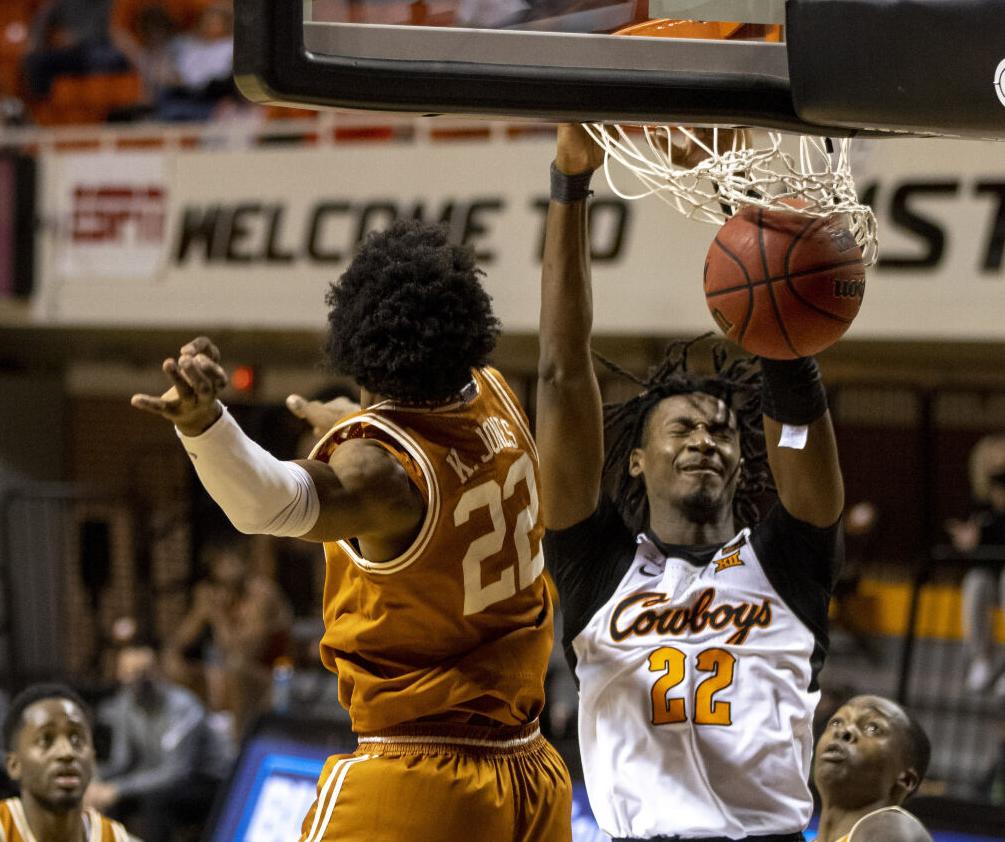 Oklahoma State has an abundance of talented guards, but sophomore Kalib Boone and freshman Matthew-Alexander Moncrieffe aren't letting people forget about the post players.
The combined 34 points between the two of them in the 76-58 win over Iowa State on Tuesday is just one of the most recent examples of how dangerous the Cowboys can be when both forwards are playing well.
OSU coach Mike Boynton put Boone and Moncrieffe on the floor together more frequently when Cade Cunningham missed a couple of games because of COVID-19 protocols. It worked for the Cowboys while Cunningham was gone, and it's continued to bode well for OSU now that Cunningham is back.
"I like it better with KB in the game," Moncrieffe said. "I get to play the 4 a little bit more, which I feel like I'm better at. So that's what it's done for me. For him, I feel like when Cade went out KB had to be a little more aggressive, which got him in his groove."
Moncrieffe and Boone have a combined average of 27 points, 15.7 rebounds and 2.8 blocks per game in the last six games, where both have played at least 10 minutes. The Cowboys don't have a lot of size in the post but that hasn't stopped them from being aggressive in the paint on both ends of the floor.
"A lot of people kind of sleep on us post players over here because we're not the biggest," Boone said. "But we are still bigs. (Moncrieffe) is a guy that can play the 4, 5 and 3 really. I'm a guy that can play the 5 and I'm built like a 4."
One of the most intriguing questions about this OSU team entering the season was how far this young roster could go. Fans are less than a month away from finding out the answer. No new information has surfaced about the NCAA postseason ban appeal, which would suggest the Cowboys will have the chance for a postseason run.
Boynton is confident in his team's chances against anybody when he gets quality production out of his bigs.
"When we get them all playing on the same page and screening and running the floor and rebounding like we did," Boynton said. "I think we've got a chance to be as good as anybody. And on any given day we can compete and beat any team in the country. How consistent can we do that remains the key question for us."
Having a strong inside presence creates more room for the OSU guards to make plays. Cunningham is on the top of each team's scouting report and is always the main focal point of defensive assignments. Forcing teams to add additional help inside will take pressure off of Cunningham and the rest of the guards to make plays.
"Especially with Kalib, they like to double him on the block," Moncrieffe said. "So that just gives us an advantage. We can kick it out and then we put teams in scramble mode and that's what our guards like. We've got quick guards who can get downhill and hit shots. So in that way, it works for us."
The Cowboys have been without one of their most experienced guards in Isaac Likekele, who missed the past two games nursing a foot injury. Freshman Rondel Walker has been playing well starting in his absence while Likekele works to get as close to 100% as possible.
Having a healthy Likekele back in the lineup while the bigs continue to play well could make OSU a dangerous team in the postseason.
"I don't think we've hit our peak," Boone said. "I think we're right there and that's the thing that's so scary about this team. Not everybody is in a groove and yet we put up a fight with basically every team in the Big 12."
---