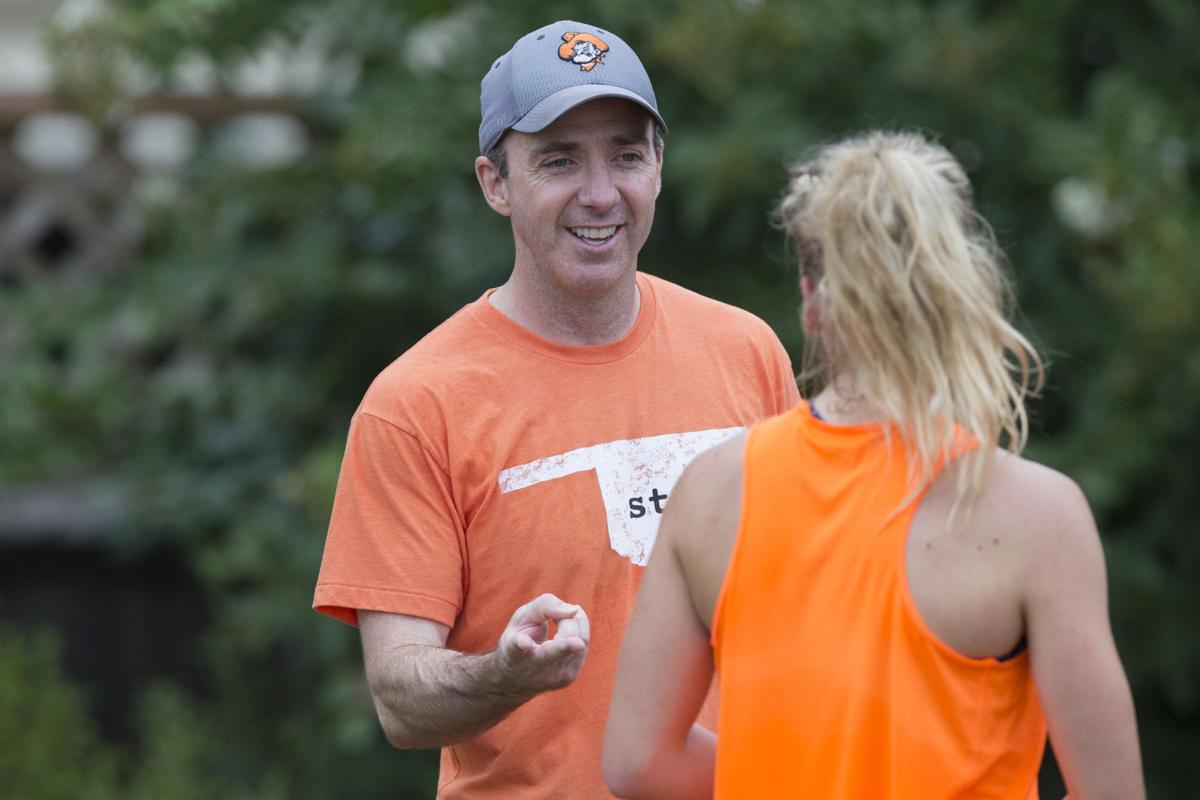 Oklahoma State will not be hosting the 2020 NCAA Cross Country Championships in November after NCAA President Mark Emmert announced the cancellation of all fall championships at this time. The decision does not affect FBS football.
OSU already missed out on its bid to host the 2020 Tennis Championships after all spring sports were canceled in March because of the COVID-19 pandemic. The Cowboys were hit with another blow with Thursday's announcement.
But cross country and track and field director Dave Smith informed media during Friday morning's Zoom call that OSU men's and women's teams will still race on that day.
"I've told them we are going to run a 10,000-meter race for the men and a 6,000-meter race for the women on our home course on Nov. 21, the date of the national championships," Smith said. "Whether it's just us or us and a couple of other schools in a scrimmage or in some limited season that does not burn eligibility, we're going to have some competitive opportunity on that date and hopefully some others to go along with it."
Smith said the NCAA decision to call off fall sports championships was disappointing but not unexpected after he realized a week ago that there needed to be at least 50% of schools participating in the sport. Smith said OSU has already been approached about the ability to host the championships in March 2021 if that were an option.
"I think the answer for OSU was yes," Smith said. "We could do that at any time because it is a dedicated course. But if we don't get to do that, hopefully in the next four-year cycle we get awarded another bid. We bid all four years, 2022-2025. I would hope we would get one of those."
Next year is the last season of the current bidding cycle, and Oklahoma State already had submitted its bid for the next four-year cycle that starts with the 2022 championships. Smith said the NCAA plans to stay on course with the cycle and give extra consideration to canceled host sites whose schools apply for the next bidding cycle. The outline is similar to what OSU heard when the tennis championships were canceled. The announcements for the next cycle would usually happen in late August or early September of this year, but Smith said the timeline could be pushed back because of current circumstances.
Smith was confident that OSU would get a bid for the next cycle even before the NCAA decision. He hopes to be awarded a bid for 2022 if OSU misses out on this season's championship. Smith said this year was supposed to be the first time an NCAA cross country championship was broadcast live on ESPN. That would have been a great opportunity for the Cowboys to show off their course.
"This sounds hyperbolic, but it's true. I think we've got the best cross country course in the entire world," Smith said. "Not the NCAA, not the U.S., but the entire world. … I'm so proud of it and (know) we've spent more money on cross country than any school in history."
The Big 12, SEC and ACC are the three Power 5 conferences that haven't postponed fall sports. Smith said several institutions from the SEC and ACC have already reached out about the possibility of OSU hosting some type of three-way conference championship this fall.
"Some have already written out structures and proposals defining what regions might be and all these other things we could do," Smith said. "Just in the 24 hours that we've heard this announcement, there's been a lot of discussion and interest about could we host."
Smith's primary concerns regarding the uncertainty of this year's fall sports are the health and safety of the athletes and protecting their eligibility. Smith said he would like for OSU to have the chance to compete in a few cross country meets this fall without burning an athlete's eligibility since there would be no championship.
"In our sport, the national championships are the most important thing," Smith said. "That's what we run for. A season without some kind of national championship doesn't feel like a season, and I wouldn't ask any of our athletes to participate in something that doesn't have the opportunity for a national championship at the end of it if it was going to burn their eligibility. And I don't think any of them would want to.
"Everybody kind of feels the way I do — at least the coaches I've spoken to — is that if we can do this and have some kind of competitive opportunity for our student-athletes without burning their eligibility, we want to do it whatever that ends up looking like."
Frank Bonner II
918-581-8387
Twitter: Frank_Bonner2
Be the first to know
Get local news delivered to your inbox!