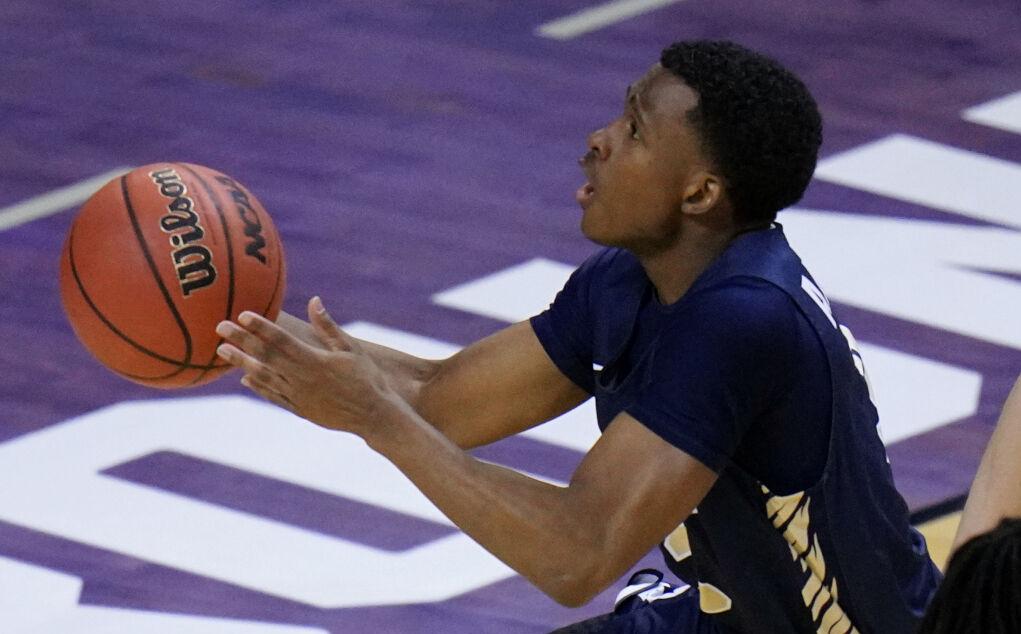 During Oral Roberts' storybook run in the NCAA Tournament, there was from the official ORU Basketball Twitter account a simple tweet with a photo of Kevin Obanor and a photo of Max Abmas.
The tweet: "Top duo in the nation."
Here's the crazy part: It's really not an outlandish claim.
Abmas is a sophomore guard and Obanor a junior forward, and it was their productivity and leadership that carried the 15th-seeded Golden Eagles to upsets of Ohio State and Florida. At the Sweet Sixteen level of the South Region last weekend, Arkansas edged ORU 72-70.
On Wednesday, during an interview in the Mabee Center office of ORU coach Paul Mills, this was the first question: Do you know absolutely that Max Abmas and Kevin Obanor will be on your 2021-22 roster? What about the transfer portal or the possibility of a jump by either — or both — to professional basketball?
"Portal? I'm not worried about that," Mills replied. "No. That ain't going to happen."
On the subject of pro basketball, however, there was an entirely different conversation.
Mills reported that Mills and Obanor are submitting paperwork to the NBA Draft Advisory Committee. Within two weeks, the Golden Eagle stars should be informed where they likely would be slotted if they were to make themselves eligible for the 2021 NBA draft.
Representatives of all 30 NBA teams were in Indianapolis for NCAA Tournament games. As Abmas averaged 26.6 points in the three games played at Indy, he is at a different place on the NBA radar than he was only a few weeks ago.
If Abmas is notified that he is a lock for the first round — and even if he's the final pick in the first round — Mills says he has to go.
"Here's my rule," Mills explained. "This is what we did at Baylor, and I thought it served the (players) well: If you're a first-round pick, you're not allowed to come back. I will kick you off the team. If you can go get four-year, guaranteed money, you have to go get it. Now, if you're a second-round pick — which is a non-guaranteed (contract) — that's different. Now, you've got a decision.
"But, yes, if Max is a first-round pick, he is not allowed to come back. I had this conversation with his parents last night."
In some years, Abmas probably would grade out at a first-round level. This year, the list of elite point guards is deep. This draft is loaded with strong, skilled guards who have a pronounced size advantage over the 6-1, 158-pound Abmas.
"Mind you," Mills said, "there are only three guys in the NBA who are under 165 pounds."
The 2022 draft class isn't expected to be as loaded with point guards, so the 20-year-old Abmas — if he does stay at ORU — would have had an additional year to master the position and become physically stronger.
As ORU finished 18-11, won the Summit League Tournament title and made its first NCAA Tournament appearance since 2008, Abmas was the conference Player of the Year while Obanor was voted a first-team member of the all-conference squad.
It wasn't until the NCAA Tournament that they became celebrated figures beyond the Summit League. Abmas was voted the conference Player of the Year while having been the Division I national scoring leader at 24.5 points per game.
With 18.7 points and 9.6 rebounds, the 6-foot-8 Obanor finished just a bit shy of a double-double average for the season.
Their productivity was even greater during the postseason. In three NCAA games, Abmas scored 29 points against Ohio State, 26 against Florida and 25 against Arkansas. Obanor averaged 23.3 points while totaling 11 rebounds in each contest.
On free throws, they were a combined 28-of-31. From the 3-point line, Obanor converted on 46% of his attempts and Abmas on 43%.
"I was on the phone (with a Utah Jazz executive) the other day, and Max walked in while it was going on," Mills said. "We've talked with 22 of the 30 NBA teams. They were all in Indianapolis. The great thing is, the NBA people saw all three of our games live. They have fresh takes. They have assessments."
There is a May 30 deadline by which a player must declare himself eligible for the NBA draft. The league's draft combine is conducted on June 21-27. If a player decides he would prefer another year of college basketball, he would have a July 19 deadline to withdraw from draft consideration.
"I think it's a great experience for a player, and even a player who is on the fringe," Mills said. "Learn how to interview. If you're fortunate enough and good enough, go through an NBA workout.
"If you don't encourage players in this type of process, I think they can have animosity toward their (college coach). You've got to be supportive. You go to school to study accounting and then become an accountant. Engineering students want to become engineers. Our guys want to be pros."
If Mills were to take the opposite position and attempt to block a professional move by one of his players, "it would hurt you in the future. It would be selfish, and it wouldn't help you get the next (significant recruit).
"If you can help your player achieve a dream of playing in the NBA, why would you hold him back?"