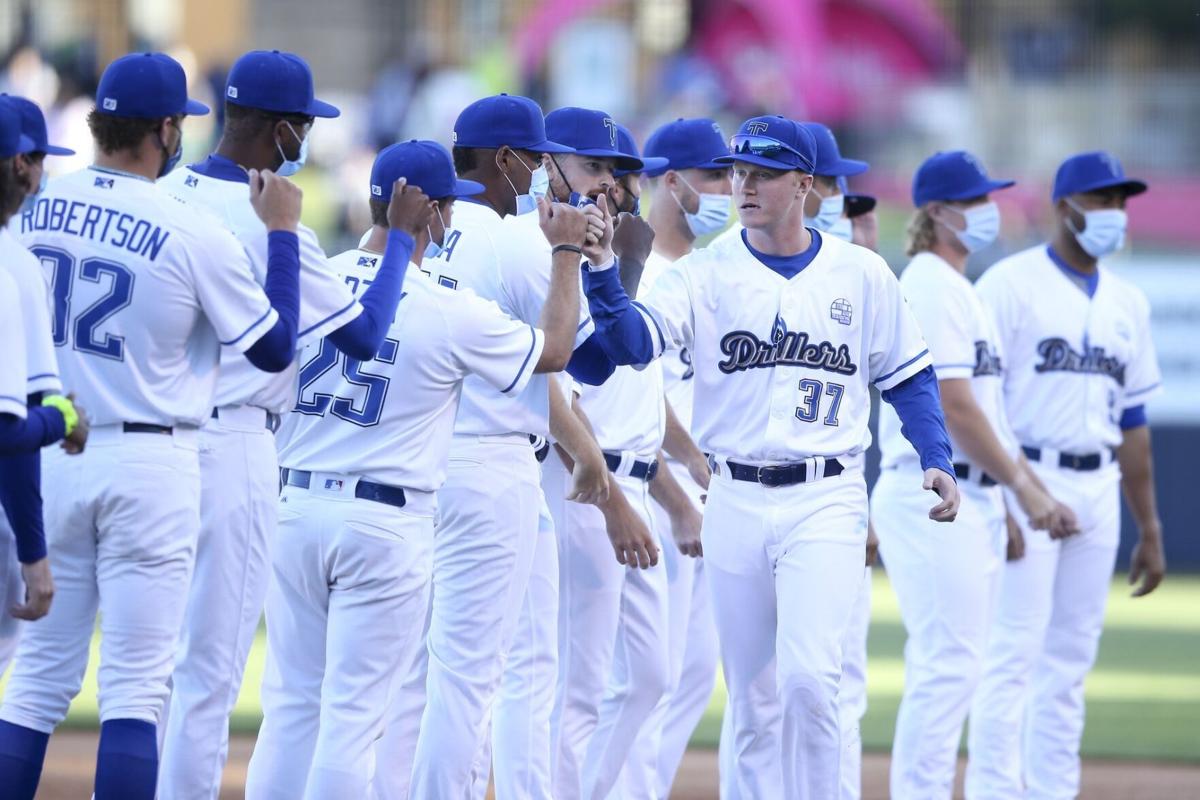 There were several interesting stories in the Tuesday, May 4, edition of the Tulsa World, but two really commanded my attention.
Bannered across the top of the front page was a big, bold headline: "State of emergency lifted."
Within Jacob Factor's report was a quote from Gov. Kevin Stitt: "Because Oklahomans used personal responsibility to protect themselves, their families and our most vulnerable, the data shows COVID-19 is no longer an emergency."
Exactly one year earlier, there was this World headline: "State COVID-19 total reaches 3,972."
At that time, 3,972 felt shocking.
The current total of Oklahoma coronavirus cases: nearly 450,000.
There has been such a recent and dramatic improvement on COVID-19 statistics, and now a "State of emergency lifted" headline. It's such a relief to see indicators that our previous lifestyle eventually should be restored.
The second of the attention-grabbing Tuesday stories was on the cover of the World sports section, and it was Barry Lewis' piece on the start of the Tulsa Drillers' Double-A Central baseball season (formerly the Texas League).
On Tuesday night, for the first time in 597 days, a professional baseball game was played in Tulsa. COVID-19 resulted in the cancellation of the 2020 Texas League season. For the first time since World War II, there was an entire calendar year of no pro baseball in a city with a rich tradition of minor-league ball.
"It feels like five years since we've been here," Drillers manager Scott Hennessey told Lewis.
At 7:04, speaking into a microphone connected to the stadium public-address speakers, a young boy proclaimed, "Play ball!" The boy's shining moment was followed by the "Let's Go-ooooo Tulsa!" soundbite that precedes the start of every Driller game. It's the voice of Andy Andrews, who in 1941-71 became a local celebrity by doing the "Let's Go-ooooo Tulsa!" call before games at the old Oiler Park.
At 7:05, there was the first pitch – fouled back into the seats behind the plate – and the start of a fresh Driller season.
In the fifth and deciding game of the 2019 Texas League championship series, the Drillers had a 3-1 lead in the ninth inning. Amarillo rallied for a stunning 8-3 victory.
On Tuesday, there was a Sod Poodles-Drillers reunion and a 4-3 Amarillo win. The game itself was a sidebar to the resumption of professional baseball at ONEOK Field. Tulsa's 60-game home schedule begins with a six-day run against Amarillo.
There was a makeshift 2020 season of sorts. It involved college athletes. There were 16 games at ONEOK Field. The Texas Collegiate League quality of play was good enough to justify a drive downtown for baseball and fresh air, but it was decidedly below the talent-and-execution levels of these Double-A athletes.
I feel great that the Driller players can resume their quest to one day score MLB employment on the roster of the Los Angeles Dodgers, the Drillers' parent club.
I feel infinitely more pleased, however, for the people who work for the Drillers organization — the people whose livelihoods depend on having games played at ONEOK Field. I'm happy also for downtown food-and-drink places that need baseball traffic to help with paying the rent.
Whether you love baseball or have no interest in the game whatsoever, you also should be relieved that this jewel of a ballpark — 11-year-old ONEOK Field — once again is open for business in a complete sense.
It's impossible to have a normal Tulsa without baseball.
It's impossible to have a normal downtown economy without a full Driller season.
Before the start of Tuesday's game, I dined on a Driller Dog. Best hot dog I've had in a long time. The first-pitch temperature was 63 degrees. By late in the game, the temperature dipped to 55, but it was a pleasant 55 because there wasn't any wind to speak of.
There still are traces of abnormality, though. As fans enter the park and roam the concourse, mask-wearing is required. The mascot Hornsby — he wears a mask.
Instead of a typical opening-night, nice-weather crowd of more than 8,000, Tuesday's attendance amounted to 5,004.
For the time being, ONEOK Field attendance is capped at about 5,000. For next Tuesday's Bedlam game, a limit of 5,000 is expected.
For the time being also, there aren't field-level promotional stunts involving fans. Fans aren't allowed on the field for any reason.
There were ceremonial first pitches tossed by seven first responders and essential workers, but that ceremony occurred on Monday and was show on the video board on Tuesday.
Honored with first-pitch responsibilities during an important night in Tulsa baseball history: EMSA first responder Kayla Stack, Tulsa Police officer Josh Metcalf, Reasor's co-manager Jason Carter, Oklahoma Blood Institute official Holly Landwersiek, United States Postal Service worker Karl Renk, Whataburger director of operations Judy Gambino and Restore Hope Ministries executive director Jeff Jaynes.
For so long, we all took Driller baseball for granted. In most seasons, you knew there would be 70 home games. You knew there would be a fireworks display after Friday games.
You knew the Drillers were an inexpensive entertainment option for yourself and your kids. If or when you wanted baseball, the Drillers were always here.
In 2020, however, they weren't here. An empty spring was followed by empty summer.
Now that I've returned to ONEOK Field for a two-hour, 58-minute reminder of the greatness of live baseball, I'll never again take the Drillers for granted. I'll be here on a frequent basis this season.