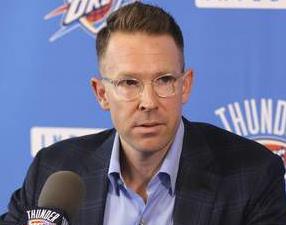 As the Oklahoma City Thunder organization has partnered with the Chicago Bulls to create the Black History Classroom Exchange, students in African American classes at two high schools — Tulsa's Booker T. Washington and Chicago's South Shore International — will participate in six virtual workshops.
Through the end of the ongoing school year, students will be given the opportunity to learn more about the Chicago Race Riot of 1919 and the 1921 Tulsa Race Massacre.
In the development of the curriculum, the Thunder and Bulls collaborated with the Obama Foundation, the Chicago Race Riot of 1919 Commemoration Project and the 1921 Tulsa Race Massacre Centennial Commission.
Teaching formats include lessons, various media resources, guest speakers and roundtable discussions.
"Black history is a vital component of the history of our state and our country," said Christine Berney, the Thunder's vice president of community relations. "Partnering with the Bulls for this classroom exchange gives us the chance to highlight these chapters of American history that were previously not discussed for decades in both Tulsa and Chicago.
"Launching this program just ahead of the centennial recognition of the 1921 Tulsa Race Massacre provides us with phenomenal resources to highlight the significance of Black Wall Street and the resilience of the Greenwood District in Tulsa."
During the NBA shutdown last year, as there were no games in Oklahoma City or involving the Thunder, OKC general manager Sam Presti used some of that free time for a drive to Tulsa and a tour of the Greenwood District.
"I was astounded when I was in Tulsa, learning about the (race massacre)," Presti said at the time. "...May 31, 2021, will mark the 100th anniversary of the Tulsa Race Massacre. It is time for us to come to terms with the devastation of this atrocity."
In July, the Thunder and CAA Sports (a division of the Creative Artists Agency) announced the launch of the Thunder Fellows Program.
A Thunder press release explained that the program is "designed to unlock new opportunities in sports, technology, and entertainment for Black students in the Tulsa area."
With the George Kaiser Family Foundation providing additional guidance, the program involves two groups of students: Fellows (Black students from regional colleges and universities) and Young Leaders (Black students from the eighth through 12th grades in Tulsa-area schools).
The Race Massacre Commission, the Thunder and CAA Sports were attempting to identify a Greenwood District location on which a Data & Analytics Center can be built.
Each year, a member of the Thunder basketball team will occupy a seat on the Thunder Fellows Program board.