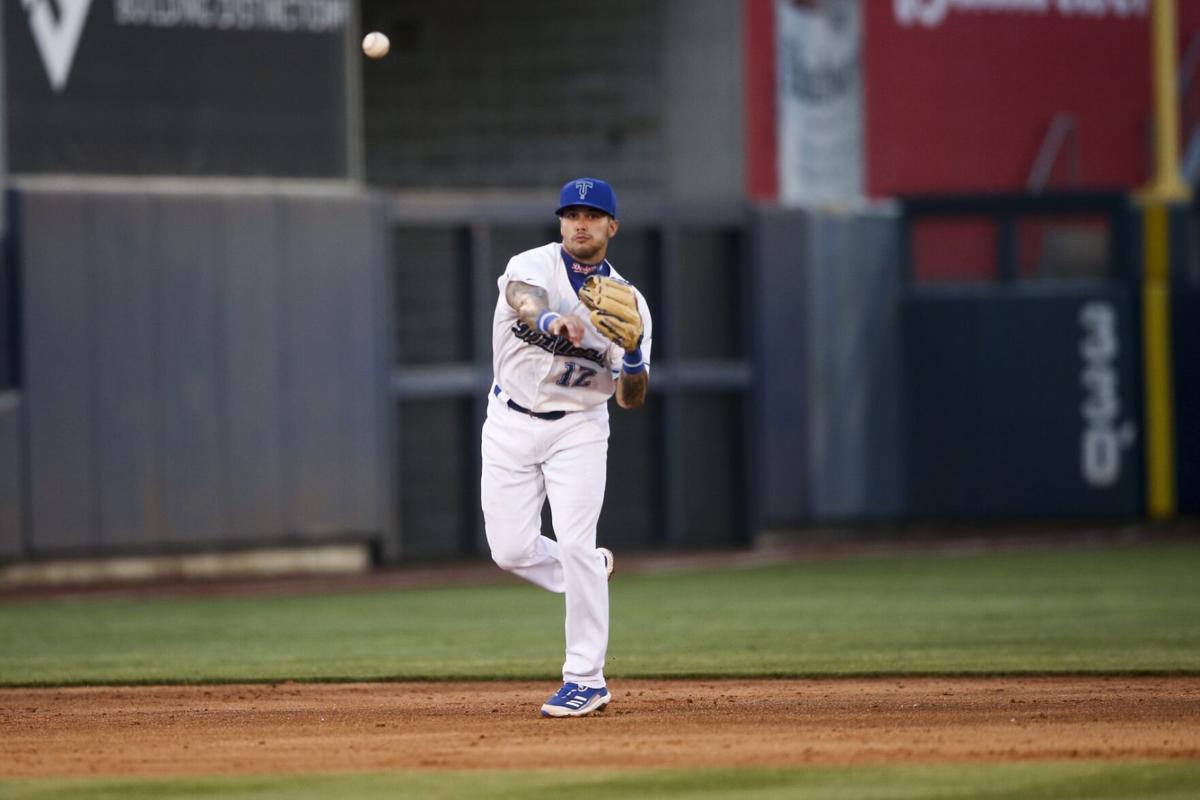 This year's edition of the Tulsa Drillers has plenty of exciting prospects, but is the least experienced in their six seasons as a Los Angeles Dodgers affiliate.
A typical Double-A Drillers team would have a few former major leaguers and several others with Triple-A experience. In 2019, the Drillers opened the season with six players who had been in the majors.
Veterans such as Chris Parmelee, Josh Thole, JD Martin, Layne Somsen and Justin De Fratus played key roles for that team that reached the Texas League Championship Series, helping mentor prospects. Martin was an innings-eater as a starting pitcher who could keep the bullpen from being overused.
Other former major leaguers who have made valuable contributions to the Drillers since 2015 include Peter O'Brien, Daniel Corcino, Colt Hynes, Lars Anderson, Jordan Schafer and Ryan Dennick.
But the 2021 Drillers don't have any former major leaguers, or even any players who have been in Triple-A. They only have a few who have even been in Double-A. Catcher Steve Berman, who played in 15 games for Tulsa in 2019, is the oldest player at age 26. The Drillers had six players older than that when they won the 2018 pennant.
The major leaguers in Double-A have been a luxury that the deep-pockets Dodgers could afford to have in the minors. However, with Major League Baseball's takeover of the minors, major league teams are limited to having 180 players in their farm systems. So that will result in fewer spots for veterans in the affiliated minors, especially below Triple-A.
So how does Drillers manager Scott Hennessey view leading a team without much pro experience?
"The challenges are we're going to have a lot of good nights, and a lot of bad nights, too, just because of the competition and experience level," Hennessey said. "There's going to be a lot of highs and a lot of lows. I told them in a meeting it's how we handle the lows that's going to define our season.
"We know that and I think other teams are going to have the same problem. It's going to look like Double-A baseball a lot of times, but some nights it's not going to look like Double-A baseball, but that's part of it. That's what we're dealt, that's the challenge of myself and our coaches, we've got to get these guys ready to play every night and I think they'll respond."
Cards' Hall adds Hernandez
In 50-plus years of watching pro baseball, the best defensive first baseman I've seen is Keith Hernandez, who also would be on my top-10 list of Tulsa players from the past half-century.
Hernandez won 11 consecutive National League Gold Gloves from 1978-88 — the longest streak ever for a first baseman. He also was an outstanding hitter who was the 1979 NL Most Valuable Player and batting champion, a five-time NL all-star and a key part of two World Series champions.
On Wednesday, it was announced that he had been elected into the St. Louis Cardinals Hall of Fame in their annual fan voting. The other candidates were former Tulsa lefty Steve Carlton, Matt Morris, Edgar Renteria and Lee Smith.
The honor was long overdue for Hernandez as some Cardinals fans probably didn't vote for him earlier because he helped their '80s rival New York Mets win the 1986 World Series. But without Hernandez, the Cardinals wouldn't have been the '82 World Series champions.
Hernandez, a longtime Mets TV announcer and a member of their Hall of Fame, played for the Cardinals from 1974-83. He made his Triple-A debut with Tulsa at age 18 in 1972 and played for the Oilers in four seasons, helping them win two pennants and he also won a batting title in '74.
His 2018 memoir, "I'm Keith Hernandez" was focused primarily on his journey from signing in pro baseball with the Cardinals to winning the MVP award. That included a good portion of the book providing an interesting look at Tulsa pro baseball from '72-75.
Plenty of non-baseball fans are familiar with Hernandez due to his guest-starring in the 1992 "Seinfeld" episode "The Boyfriend" — that is regarded as Jerry Seinfeld's favorite.
Around the minors
Washington Nationals top prospect Cade Cavalli, who played for Bixby and the University of Oklahoma, opened his pro career with five shutout innings for high Single-A Wilmington on Thursday as he allowed only two hits, one walk and struck out seven in a no-decision against Aberdeen. ...
Former Oklahoma State and Verdigris pitcher Blake Battenfield was the Opening Night winner for Double-A Birmingham (White Sox) with five shutout innings against Biloxi on Tuesday. Battenfield was 5-5 with a 4.52 ERA for Birmingham in 2019...
Frisco's Matt Whatley, in his first Double-A season, has five hits in his first 10 at-bats with two RBIs through Friday. Whatley is a former Oral Roberts and Claremore catcher.