Penny Carnino walked about 27 miles recently in Las Vegas.
Carnino, director of operations at Grigsby's Carpet, Tile & Hardwood, didn't get all those steps in on the Las Vegas Strip. She just returned from SURFACES, the largest North American floor covering, stone and tile industry event. Carnino is a regular at the annual summit and brings the industry's latest ideas, technology and knowledge back home to Tulsa.
"We just got back from market, so we've seen all the new introductions of hardwood, vinyl plank, carpet, tile and stone," Carnino said. Flooring, just like any other product, is subject to trends.
Carnino's trip to Las Vegas helps keep her in the loop with what is popular. She said right now, everything is still trending toward neutral colors like tans and browns.
The natural color trend has been around a few consecutive years.
"There are always wonderful new introductions that highlight style and design, but the trend where most people live are the neutral tones," she said. "Still the grays, tan to lighter brown color family is the most popular. We did notice more blue tones this time around."
"It seems to be that people are still going to things that are lighter and brighter," Carnino said. "And the natural colors all trend that way, so it makes sense that luxury vinyl and wood would all continue to trend that way."
Grigsby's has been in business since 1959. Almost every kind of flooring type imaginable has trended and at one point sold at the store.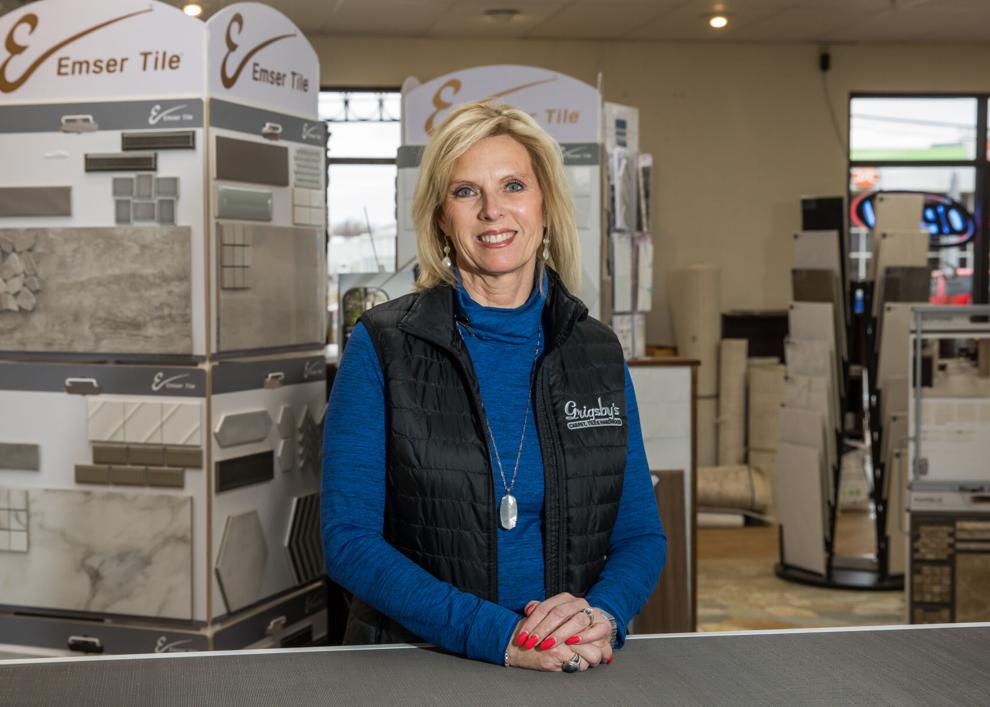 "In the early '80s mauve was big," Carnino said. "You don't see too much mauve anymore. At times, the colors have been a lot darker. The wood colors going to all the naturals is pretty different right now. It's been trending that way for the last couple of years, but in the past, it certainly hasn't been that way. Wood floors have all been darker and the luxury vinyl plank original trend was much darker than it is now."
It isn't too difficult for local business managers like Carnino to stay ahead of the constantly changing flooring trends. She said Grigsby's manages by staying in the neutral zone to match desires of local customers. Geography has something to do with it.
"The coasts seem to color-wise trend a little different," Carnino said. "The East Coast tends to be a little darker and the West Coast and Florida seems to be a little more pastel. And we've always been the beige Midwest, I hate to say."
Carnino added the Midwest trends can be colorful in some areas, but mostly stick with earthier flooring tones.
"It's not that we don't add our pop of color in other areas, we certainly do," Carnino said. "But wood colors and other flooring products have been darker in the past, known as an old world style, and now they've all tended to be lighter. We're still in a more beige, gray, greige tone. So, as far as the things that we stock, we stay in that color palette."
Technological advances are another reason flooring options can become trendy. Carnino used the example of polyester, a synthetic fiber that has been improved in the last decade.
"Years and years ago polyester was not a good fiber," Carnino said. "They've made huge improvements in that area and so whereas nylon is still the most resilient or certainly more resilient, there are lots of polyester fibers … that are really great now, but years ago they were terrible, back in the '70s and '80s."
Some flooring options available at Grigsby's are created with sustainability in mind.
"We have a lot of companies that produce products right now with recycled plastic bottles and there's some of them that do that with carpet," Carnino said. "It's still an evolution of product moving in that environmentally friendly way."
Cork and bamboo are some of the more environmentally friendly materials shoppers can elect to purchase.
"As our landfills continue to fill up with products that we change and get rid of, those are just some things that people want to think about," Carnino said. "I think our industry strives to get better about that all the time, but it's an ongoing process and that's something where the mills and our vendors continue to do research and continue to move forward in some of those directions."
Customers interesting in siding with the latest trends in flooring and tile will have options as soon as they walk through the Grigsby's doors. Samples are everywhere.
All the hard surface products like porcelain, ceramic and natural stone is on the right side of the store's showroom. The left side houses the soft surface products, mainly carpet, while the back of the store contains the luxury vinyl plank and hardwood.
"So, you just go through those elements and see what it is you really like," Carnino said. "You can talk with a salesperson and share what type of floor you're interested in, your lifestyle, if you've got kids and pets because you want to get something that's going to perform."
Carnino said Grigsby's tries to take the guess work out of making a large investment in a floor. All products are installed on the floor to give customers a chance to see what products look like in real life.
In addition to the physical displays, Grigsby's utilizes a digital tool called Roomvo to help customers see what a flooring option will look like in their homes.
"Lots and lots of the vendors offer tools like that and Roomvo has a lot of the vendors in the program that once you scan the QR code, you can upload a picture of your room. Then you can download any of those products in your room to see what it looks like," Carnino said.
"It takes the guess work out of what the flooring might look like. Some people can envision that, some people can't. For that reason, it's a really helpful tool."
For those customers who want to show their own personal style, Grigsby's has a lot of options to help them complete their design dreams.