Recycling is easy for Tulsa residents and it is important to know how the City of Tulsa residential curbside recycling works and what items you can properly recycle.
"The residents should look for four different categories or groups of items that are recyclable: plastic bottles and jugs; aluminum and steel cans; cardboard and paper; and glass bottles and jars. Items used in your kitchen, bathroom and laundry room are mostly recyclable. Items from your garage, yard and shed should not be placed in the blue recycling carts" according to Lehabim Escoto-Flores, Community Involvement Coordinator for the Refuse & Recycling Division with the City of Tulsa. "If it does not fit into these categories, do not place it into the blue recycling cart."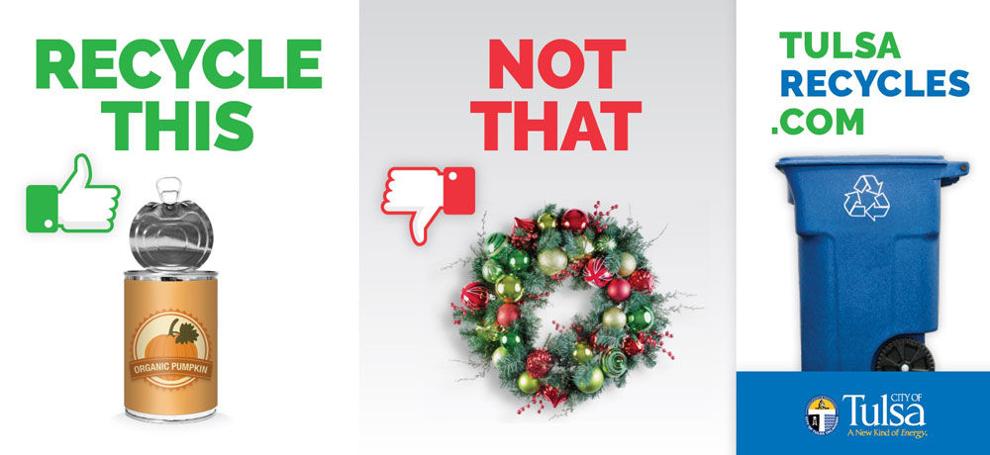 Holiday items that should not be placed in the blue recycling cart are foil, shiny or glitter wrapping paper, styrofoam, packing peanuts, flexible film plastics, bubble wrap, plastic bags, plastic strapping, ribbons, bows, tinsel, Christmas lights, decorations, bulbs, contaminated food packaging, ornaments, tree skirts, stockings, clothing, ceramics, electronics (anything with a cord, uses batteries or winds-up), and artificial or real Christmas trees.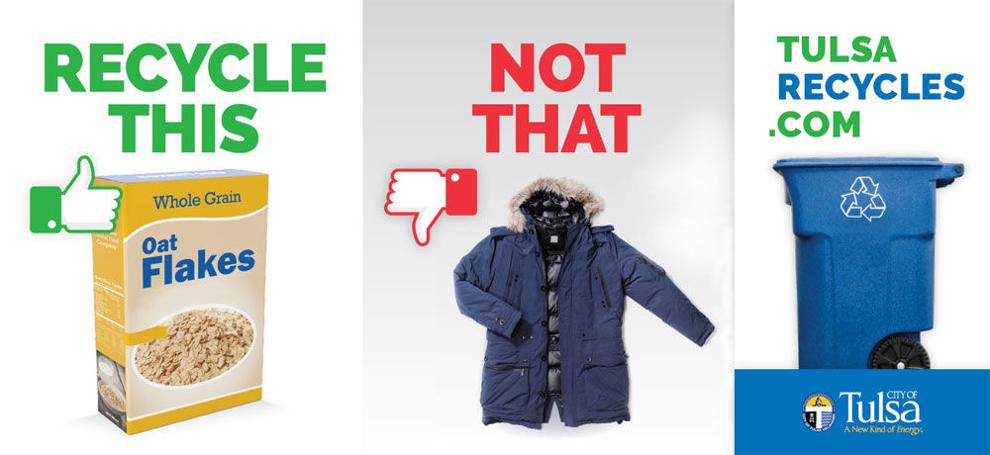 It is the perfect time to become a smarter recycler by knowing what you can and cannot put into the City of Tulsa's blue recycling carts. Escoto-Flores suggests if you are uncertain of what can be recycled, just remember the phrase, "When in doubt, check it out or throw it out!".
Recycling helps keep Tulsa one of the most sustainable cities in the country. Currently there are approximately 110,000 residential recycling accounts and around 20,000 tons of materials are recycled each year from the blue recycling carts. The city's collected recycling gets sorted and sold to companies that accept recyclables. These companies are located inside the United States and use the materials to make new items.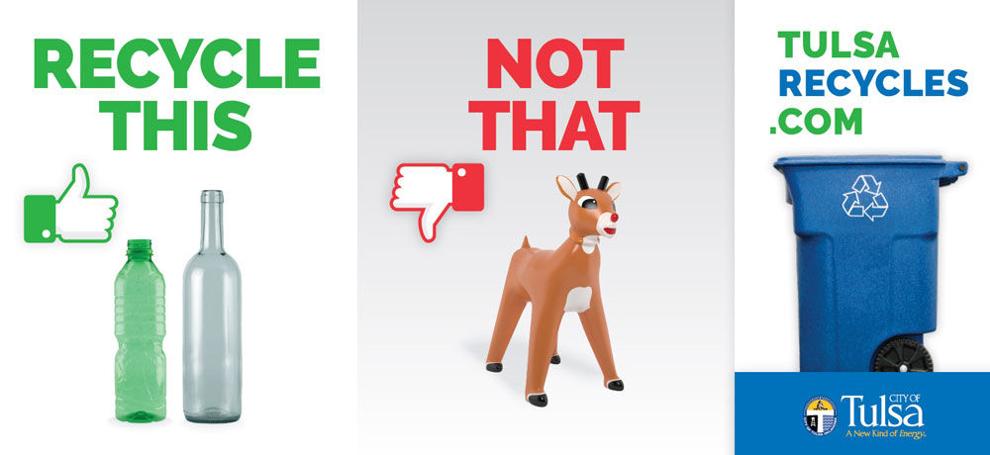 A common misconception is that all plastic materials are recyclable. It is important to note rigid plastics — such as plastic laundry jugs — are perfect for the blue recycling carts, but flexible plastics — like tarps or plastic wrapping — are not and can actually slow down the recycling process and damage the sorting equipment.
Reducing, reusing and recycling does more than help the environment, it can help your budget. According to the City of Tulsa's website: "More than 80 percent of your household waste is recyclable! The more you recycle, the less trash you throw out. The less trash you throw out, the smaller the gray trash cart you need. The smaller the gray trash cart, the less you pay for monthly collection service".
Tulsa's curbside residential program has obtained landfill free status for 7 of the last 8 years. This means that less than 5% of the household trash goes to a landfill. The majority of Tulsa's refuse goes to a waste for energy plant and the energy from the waste is generated into steam and electricity.
Christmas trees, either artificial or real, cannot be recycled in the curbside program, but the City of Tulsa offers a complimentary collection of live Christmas trees during December and January. Residents may place live Christmas trees at the curb on their primary collection day. The Christmas tree must be cut into lengths of four feet sections or smaller to fit into the hopper of the refuse truck. A live Christmas tree does not have to fit in the gray trash cart. Artificial trees outside the gray trash cart will need an extra refuse sticker.
Tulsa residents may also bring their live Christmas trees to be ground into mulch to the City's Mulch Site located at 2100 N. 145th East Ave. Trees brought to the site must have all decorations removed (lights, tinsel and ornaments). The mulch site is open 7 days a week year-round except for City designated holidays. The City of Tulsa also offers free mulch and firewood to anyone at the site. Residents dropping off free of charge only need to show a driver's license or current City of Tulsa utility bill for proof of residency. Non-residents may drop off for $0.55 for cubic yard. For more information on disposing of items at the mulch site, please visit www.cityoftulsa.org/government/departments/streets-and-stormwater/mulch-site or call 311.
For items that are too bulky to put in the gray trash cart, City of Tulsa utility customers may request a bulky waste pickup. These items will be scheduled for pick up and staff will dispose of them properly. Bulky waste can accept up to 4 tires, white goods, 4 televisions, 10 gallons of latex paint, furniture and many other items. Bulky waste charges $10 for 8 cubic yards of waste. This information may be accessed at www.cityoftulsa.org/government/departments/streets-and-stormwater/refuse-recycling/residential-services/bulky-waste-pick-up//or by calling 311. Most of these items are separated and recycled, avoiding landfilling them.