One of the most exciting things about life is that it often points us in surprising and unexpected directions, often leading to self discovery. That's exactly what happened to Adam Wilhelm and how he became an educator.
The EPIC Charter Schools 2019 Principal of The Year originally was a pure mathematics major with the possibility of going into business analytics and never had dreamed of being a teacher.
"But education found me," Wilhelm said. "I was in the right place at the right time. An opportunity presented itself to teach and then I was hooked. I've never looked back."
It's experiences like Wilhelm's that were the genesis of EPIC's newly launched and State Department of Education-approved UTeach program. The program aims to train degreed professionals - but not with education degrees - to become special education teachers via a unique, fast-track teacher certification program.
Oklahoma has a well-documented teacher shortage crisis. Special education positions are among the most difficult teaching slots to fill and the highest in demand. That is why forward-thinking districts must actively grow the number of teachers they need to serve their school systems. If not, one district's gain is going to be another's loss.
That's where UTeach will be beneficial for EPIC and the state, Wilhelm said.
"This program is going to help neighbors and people from within our students' communities become teachers and embark on a very fulfilling profession, growing the ranks of Oklahoma teachers," he said. "It's a win-win."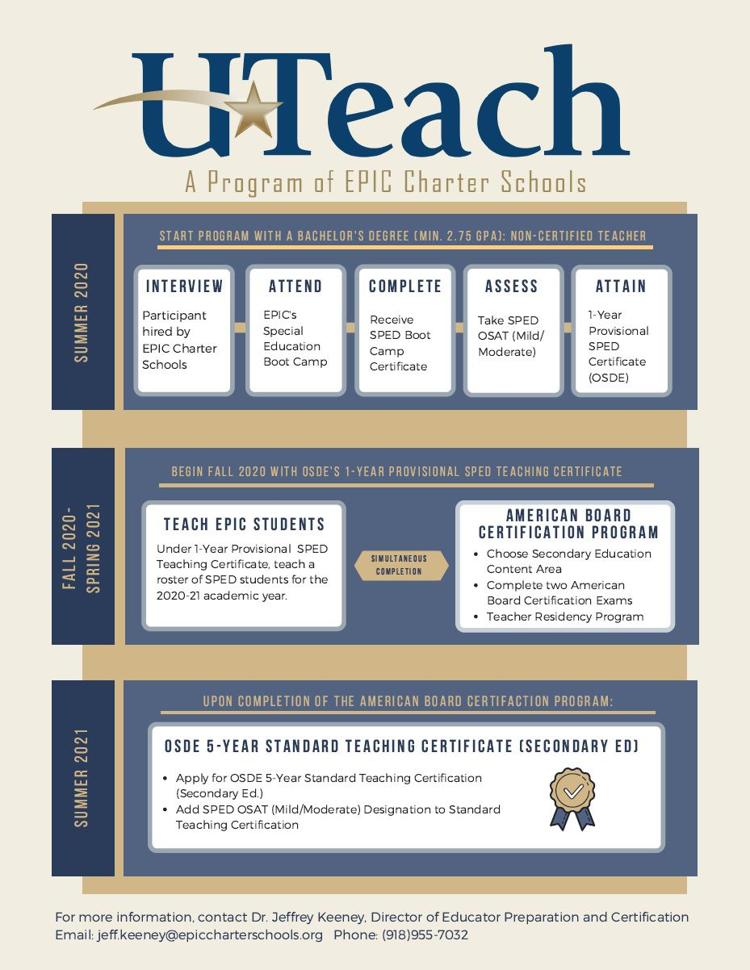 EPIC Superintendent Bart Banfield agrees.
"EPIC is all about innovation and, at a time when students with special needs are struggling because of a lack of qualified teachers to serve them, we decided it was time to do something about that," Banfield said. "By creating a more efficient path for those with a passion for teaching to go where they're needed most, everyone wins, but mostly the students we serve."
UTeach qualifying applicants must have a four-year degree in any major from an accredited college or university, earned a 2.75 cumulative GPA, and be able to pass a state criminal background check. They will begin training and employment on July 1, 2020 by participating in EPIC's state-approved Special Education Boot Camp.
UTeach involves five-and-a-half weeks of specialized training in the education of special needs students and is a mix of online, collaborative sessions and field experience.  Following completion of the Boot Camp, participants attain a one-year Provisional Special Education Certificate and will begin serving EPIC students with the support of an EPIC mentor. Simultaneously, participants will complete the American Board for Certification of Teacher Excellence program. Upon completion of the American Board Program, participants are eligible for a five-year Standard Teaching Certificate. Upon receiving their five-year Standard Teaching Certificate, participants will apply to have the SPED (mild/moderate) designation attached to their standard certificate. They will also be encouraged to continue learning by pursuing graduate level coursework in Special Education. 
While receiving training, participants will be paid a competitive salary, including fully paid health and retirement benefits and bonus potential. It is expected that UTeach participants will begin serving a roster of students when the 2020-2021 school year starts for EPIC in September.
"This program is one of a kind and is looking to tap into the passion and drive of those who genuinely want to make a difference in the lives of Oklahoma children," said EPIC's Director of Educator Preparation and Certification Dr. Jeffrey Keeney. "Conversely, we are offering the chance for talented people to embark on a life-changing career without having to go back to college to do it." 
Banfield said EPIC's non-traditional instructional model is a perfect fit for a modern way of approaching recruitment and retention of qualified educators.
"The most incredible thing about EPIC's UTeach Program is that it will grow a new crop of teachers without draining that talent from other parts of the state," Banfield said. "By executing inventive ways to bring new teachers into the fold, we are upholding our commitment to the children we are so fortunate to serve."
To apply for UTeach or to learn more, visit https://epiccharterschools.org/uteach.html.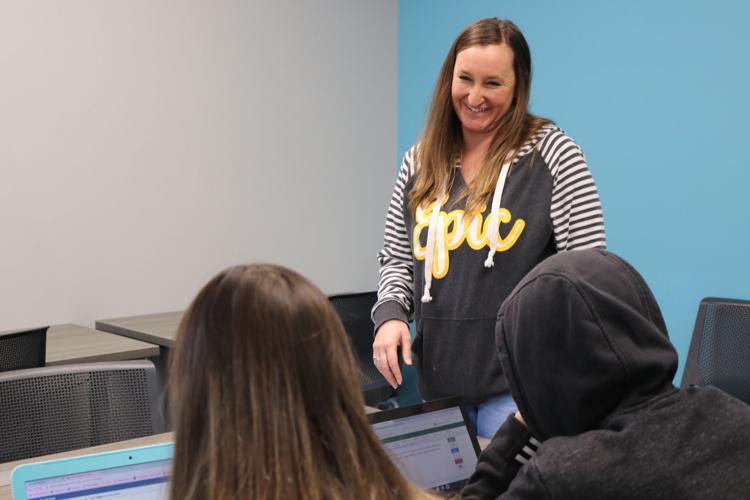 EPIC is the state's third-largest public school system. It serves approximately 30,000 students statewide in the 2019-2020 school year and currently employs more than 1,100 certified teachers and principals located in every county across the state.
https://epiccharterschools.org/