On the day he left his brick-and-mortar school and came to EPIC Charter Schools in 2012, "Thomas" was stabbed in the arm with a pencil after his assailant heard he was gay. The attack was the culmination of years of bullying, which included being slammed into lockers, being isolated in the lunchroom, having food thrown at him, being kicked between the legs and even being told, "Nobody loves you. Why are you even going to school here?"
"Thomas" asked to be referred by a name other than his legal name because not all of his relatives are aware he is gay.
"I went to school every day hoping that I wasn't going to get beaten up," he said. "Looking back, I was getting bullied because I was a flamboyant little kid, and I feel like that was just the gateway to these other kids, who were insecure in themselves, taking out their frustrations on me."
October is National LGBT History Month and has been a month designated to raise awareness that most people, whether they know it or not, have someone in their lives who is gay, lesbian, bisexual or transgender. A 2018 Gallup poll estimates that 4.5% of the U.S. population identifies as LGBTQ. LGBTQ students are also more likely to be bullied in school and have higher rates of suicide. In fact, suicide is the 2nd leading cause of death among young people ages 10 to 24 and national research suggests that LGBTQ youth contemplate suicide at almost three times the rate of heterosexual youth.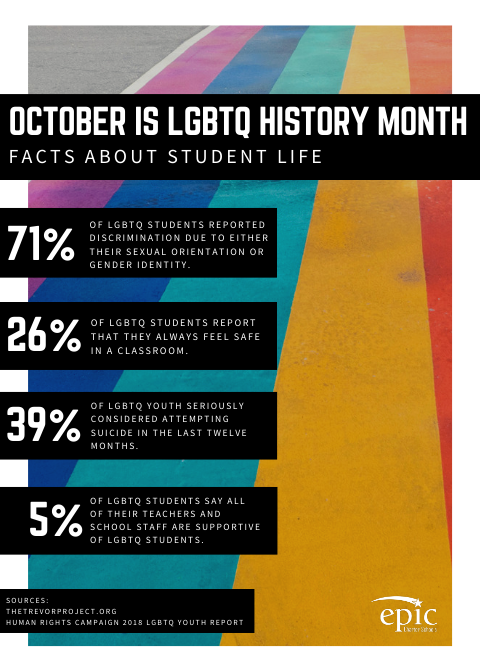 Thomas is a suicide survivor. Years of isolation, bullying and physical violence had taken their toll. He said the fact that he was overweight, wore braces and glasses, and had long hair made him a target for the neverending abuse he endured at his traditional school.
 "Any little thing that isn't 'normal,' those mean kids will find a way to bring that out in day-to-day conversation just to make you feel bad," he said.
 He came to EPIC in 2012. With the support and help of his mother, family and his EPIC teacher, he began to regain his confidence and excel academically.
"It was legitimately like being reborn," he said, noting that his EPIC teacher was able to make room for him on her roster quickly after hearing the severity of his situation. "All of my stress was just gone. My worries were gone. I could finally walk with pride and realize that I am a beautiful person. I didn't feel like my life was in danger every day when I had to walk through those doors."
The 19-year-old graduated from EPIC in June of 2018 and now attends a university out of state. He is active in his on-campus LGBTQ organization, says he's no longer suicidal and his self-esteem has grown by leaps and bounds. He credits his family's decision to enroll him at EPIC with saving his life.
According to 2018 data from the Human Rights Campaign, only 27% of LGBTQ youth can "definitely" be themselves in school, only 13% report hearing positive messages about being LGBTQ in school and only 26% report that they always feel safe in a classroom.
Thomas said he encourages anyone thinking about coming out to keep moving forward, to surround themselves with a support network and remember that change will come. Feeling safe in school is critical.
"Everyone tells you it gets better but in that moment, you can't see that light. You're not thinking about getting better. You're not thinking about the next day. You're thinking about the fact that someone just stabbed you with a pencil," he said. "The only advice I can give is to just keep moving forward."
The Trevor Project, largely recognized as one of the leading LGBTQ youth services organizations in the country, suggests taking time to understand yourself first and recognize that coming out is something that many people do more than once, as they share their identities with the people in their lives at different times. Thetrevorproject.org also devotes mental health resources and trained counselors to assist youth who need support.
Trained counselors are also available free of charge for all EPIC students via a partnership with YouthCare of Oklahoma and YCO Alliance, an initiative launched last month in recognition of National Suicide Prevention Awareness Month.
EPIC is the state's third-largest public school system. It serves approximately 29,000 students statewide in the 2019-2020 school year and currently employs more than 1,100 certified teachers and principals located in every county across the state. For more information, visit epiccharterschools.org