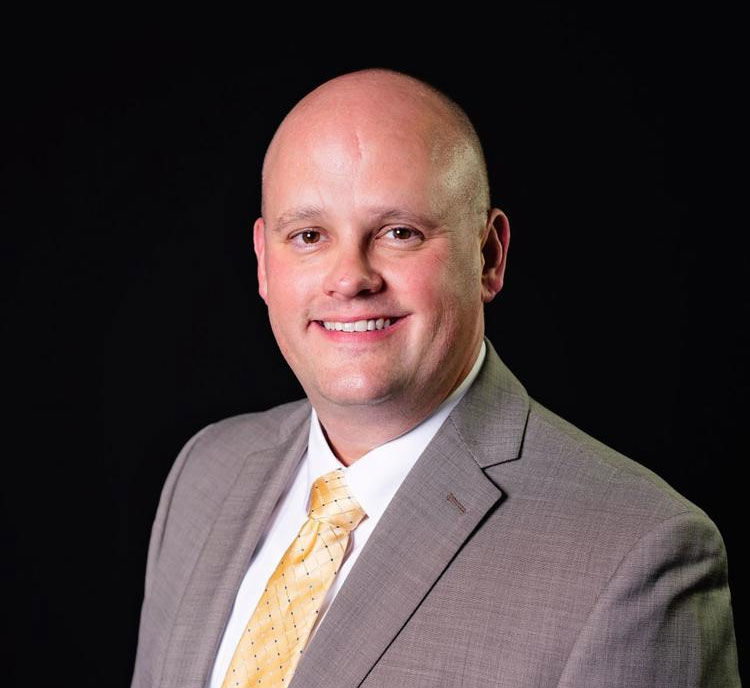 Bart Banfield begins his day at 5 a.m. He takes time to "sharpen his saw" by reading books, listening to podcasts and doing other things that enrich his personal development.
"I am feeding myself so I can feed others," he said.
And by all accounts, that's exactly what the new superintendent of EPIC Charter Schools does – he makes sure others' needs are met. Described by his colleagues and those who have known him his entire life as a "natural-born leader," the former EPIC assistant superintendent of instruction seems born for the role he assumed June 1 of this year with the state's fifth largest public school system.
EPIC's former superintendent and its first superintendent since being founded as a school in 2011 was David Chaney. EPIC's growth required Chaney to wear fewer hats to optimize his leadership contributions and focus more intently on continued innovation in other key areas of the school. Banfield was the ideal administrator to whom to pass the baton, Chaney said, because he had led EPIC's instructional department for five years and because of his unique 20 years of experience in Oklahoma public education, which includes being a teacher, principal, coach and brick-and-mortar superintendent.
Banfield also is the son of an educator. His father, Bob, spent 44 years as a basketball coach and teacher and it was the elder Banfield who inspired his son to become a public educator.
"I grew up with a basketball in my hand basically since I was born," Bart said, adding that the sport taught him about teamwork, discipline, work ethic and adversity. "These are lessons that, when you're going through them, can be painful at the time, but later on in life, you realize that becomes the foundation on which you live your life."
Banfield graduated from Shawnee High School in 1994, received his associate's degree from St. Gregory's (where he also played basketball) two years later and then transferred to the University of Central Oklahoma in Edmond, where he earned his bachelor's and met and married his educator wife, Jennifer. His first job in Oklahoma public education was at Eufaula High School, where he was a history teacher and girls' basketball coach.
After earning his master's degree in education administration in 2001 from East Central University in Ada, Bart set his sights on becoming the youngest school superintendent in the state. At 27, he achieved his goal and became the superintendent of the small rural district of Stidham.
One student he met at Stidham, Tiarra Deere, says Banfield changed her life. After she left the K-8 district of Stidham and matriculated to high school, she struggled. Depressed and lacking confidence, she went to visit Banfield and confided she was considering dropping out. Within five minutes of that conversation, she said, they were on their way to Hannah Public Schools, where she enrolled, thrived and ultimately graduated.
"That day will forever stick with me because if it weren't for him and his wife, I probably never would've graduated from high school," she said. "Whoever comes across him, I don't see how they couldn't be influenced by him."
It was at Stidham Bart decided one way to retain and engage students was through online learning and one-to-one initiatives. He put laptops in the hands of every student and, by 2008, the district had become the first in the state to offer online, fully accredited middle school instruction.
A few years later after giving a speech at an Oklahoma Vision 2020 conference, Banfield met EPIC co-founders Ben Harris and David Chaney through a mutual friend. The pair were interested in the work Banfield had been doing at Stidham and wanted to know more.
"Ben and David told me that if I wanted to do a partnership with my small rural school, they would do that but they were really interested in me coming to work for them. I was really drawn to their vision for a personalized learning public charter school and their passion for giving public school students options. I kept returning to that and knew in my heart this is what I was supposed to do," Banfield said, indicating he decided to join EPIC just one year after meeting with Harris and Chaney. And while Banfield may have joined the EPIC team with extensive brick-and-mortar experience, he said Chaney in particular has helped him to grow as a public school administrator.
Chaney is also the product of public educator parents and has a unique blend of professional business and education experience that has fueled EPIC's innovation.
"From the moment I joined the EPIC leadership team, David Chaney took me under his wing," Bart said. "The foundation of leadership and growth he laid eight years ago is a tremendous legacy to inherit and I am humbled by the opportunity to continue his pioneering work."
He added: "The truth is I have some very big shoes to fill. I understand for many that EPIC is an enigma. There is nothing in Oklahoma public school history like it. There has never been the type of sustained growth rate that we've seen with EPIC. It is a credit to David [Chaney] and his vision that school can be different, that every child learns differently and education must meet every child where they are."
As Banfield picks up the mantle of EPIC's success, perhaps it's the first educator in his life, his father, who described best why his son is the right superintendent and leader for EPIC at this point in its history.
"He loves his job and puts everything he can into it," Bob Banfield said. "He's a good family man. He's loyal and he always sets his goals extremely high. I know he is going to do great things for EPIC students and families. He was born for this job."
Be the first to know
Get local news delivered to your inbox!