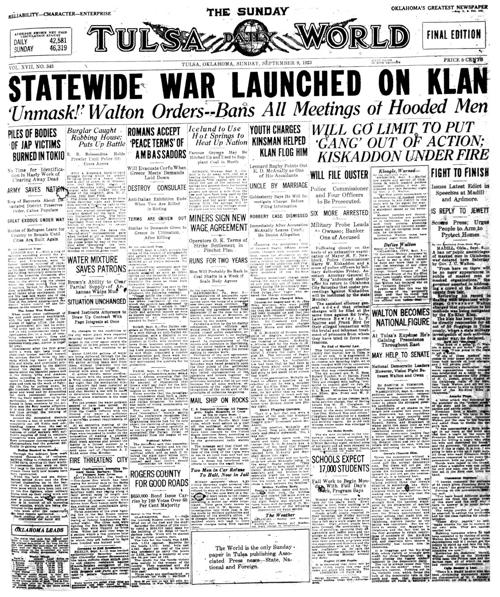 September 9, 1923 — Gov. Walton begins war against Ku Klux Klan
Gov. Jack Walton, who was impeached and removed from office a few weeks later, launched a war against the Ku Klux Klan.
The first battle in the war was imposing martial law on the entire state, an action that banned all meetings of hooded men, Walton announced in a speech at the Marshall County free fair in Madill.
Walton said the Klan was responsible for 48 of 50 floggings in Tulsa County where a state military investigation was under way and where martial law had been declared five weeks earlier.
"This kind of gang J.C. Walton is going to put down," the governor said. "I'm going to the limit to put it down.
"If one of these masked men comes to your house after you, turn loose both barrels of your shotgun and I will pardon you," he told the fair-goers.
While at the fair, Walton also commuted to two years the 99-year prison term of a black man for killing a man who had stolen his wife.
"All those who want Premium Reid's sentence to be commuted to two years, hold up your hands," he instructed and a large number of hands were raised. Only one (one of the jurors at the trial) was raised when he asked for a no vote.