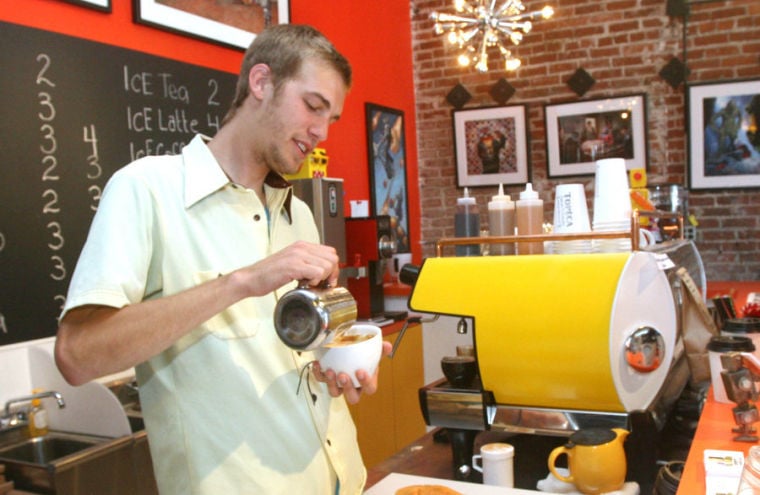 Area retailers, restaurants and other venues are raising money and taking donations for Oklahoma tornado victims.
If you are looking for a way to help, this list is one way to start.
Woodland Hills Mall will be a Salvation Army donation collection site for much-needed items to aid in disaster relief efforts. Shoppers are encouraged to drop off bottled water, diapers, baby wipes, individually wrapped snacks, hand sanitizer and personal hygiene products, as well as make monetary contributions between 1 and 5 p.m. Friday on the mall's lower level in front of JCPenney.
The Glass Slipper women's shoe boutique at Utica Square is donating shoes to tornado victims, as well as collecting gently used shoes from customers to donate to the Red Cross. If you have a donation, come by the store 10 a.m.-5:30 p.m. through Friday or 10 a.m.-5 p.m. Saturday.
Livin' Green Thrift Store and Art Gallery is accepting donations of water, blankets and nonperishable items at its store located at 617 N. Mission St., Sapulpa. For more: tulsaworld.com/pricelivingreen
The Dolphin Fine Linens at Utica Square is collecting items for the Red Cross including water, blankets, batteries, dog food, flashlights, nonperishable food, diapers, baby formula, baby food, feminine products, aspirin, bandages, soap, toothbrushes, deodorant, underwear and socks. Drop off items between 10 a.m. and 5 p.m. this week.
Must Stash, 3724 S. Peoria Ave., is taking donations including water, nonperishable food, trash bags, toiletries, gloves, new underwear and socks, diapers, shoes, and dog and cat food. Must Stash hours are 10 a.m.-7 p.m. Monday-Saturday and 1-5 p.m. Sunday.
Kathleen's Kids is accepting bottled water, nonperishable food items, paper towels, toiletries, clothing, infant/baby clothing and supplies at its location at 8212 S. Harvard Ave. through 5:30 p.m. Friday. They will be delivered to Moore on Saturday.
Celebrity Attractions announced that Disney Theatricals will donate a portion of this week's ticket sales for the Tulsa run of "The Lion King" to the American Red Cross Disaster Relief.
Boomtown Tees, 114 S. Elgin Ave., is donating 10 percent of all its apparel sales to the American Red Cross.
Tulsa-based VintagePearl.com will donate 100 percent of proceeds from the sale of its "Love for Oklahoma" necklace to the American Red Cross.
Both Nielsen's Exclusive Gifts locations will make a donation equal to 10 percent of its customers' purchases to the American Red Cross Disaster Relief Fund.
RadioShack customers nationwide can make donations to the American Red Cross when they check out at the register. Customers have the option of donating $1, $5 or $10 to directly benefit tornado victims in Oklahoma and Texas. Donations can be made at any RadioShack location and will help cover the cost of shelter, food, recovery and other assistance to families affected by the storms. For more: tulsaworld.com/radioshack
Loops, with yarn boutiques at Utica Square and 8287 S. Memorial Drive, has launched the Loops of Love for Tornado Victims initiative. The stores will gather hand-knit and hand-crocheted blankets for victims of the Moore and Shawnee tornadoes. If you have a shop or guild and would like to participate, watch Loops' Facebook wall posts for details or email owner Shelley Brander at shelley@loopsknitting.com. For more, tulsaworld.com/fbloops
Broken Arrow's Kristin Chenoweth and her charity, Maddie's Corner, are raising funds for animals and people affected by the May 19 and 20 tornadoes in Oklahoma. Money raised will be used to support animals in need and groups working on their behalf in Oklahoma, according to the website. Maddie's Corner is selling T-shirts with the emblem "Maddie's Corner: Lending a Helping Paw," featuring a cat, a dog and a paw print - $25 each with a $3.50 shipping charge per total order. All profit from the shirts will be donated. T-shirts will arrive within two weeks of the closing date of the fundraiser, June 13. For more, including a sizing guide, tulsaworld.com/maddieshirts
Restaurants and food
Local Texas Roadhouse restaurants will be accepting water and battery donations at 11111 E. 71st St. in Tulsa and 2000 N. Perkins Road in Stillwater. McNellie's
is donating 100 percent of proceeds from its sales of all Oklahoma beers for the rest of the month.
Yokozuna will donate 100 percent of sales for the "Red Cross Roll" through Saturday.
Smoke on Cherry Street is donating $1 to the relief fund for every pint of COOP Ale purchased through Sunday night.
Joebot's Coffee at Dwelling Spaces will donate 100 percent of proceeds from the sale of its Bigfoot Lattes to Oklahoma tornado relief efforts through the Red Cross. Buy here or at the Oklahoma City store through Sunday. In Tulsa: 309 S. Detroit Ave. In Oklahoma City: 25 NW Ninth St. For more: tulsaworld.com/dwellingspaces
Various locations of Cherry Berry Yogurt Bar are donating a percent of sales to relief efforts.
Raising Cane's Chicken Fingers is donating $10,000 to the Red Cross and taking donations through Sunday at its 150 participating restaurants nationwide.
If there are other restaurants raising funds for tornado relief, please post that information to tulsaworld.com/scenefb
Original Print Headline: Retail groups organize donations for victims