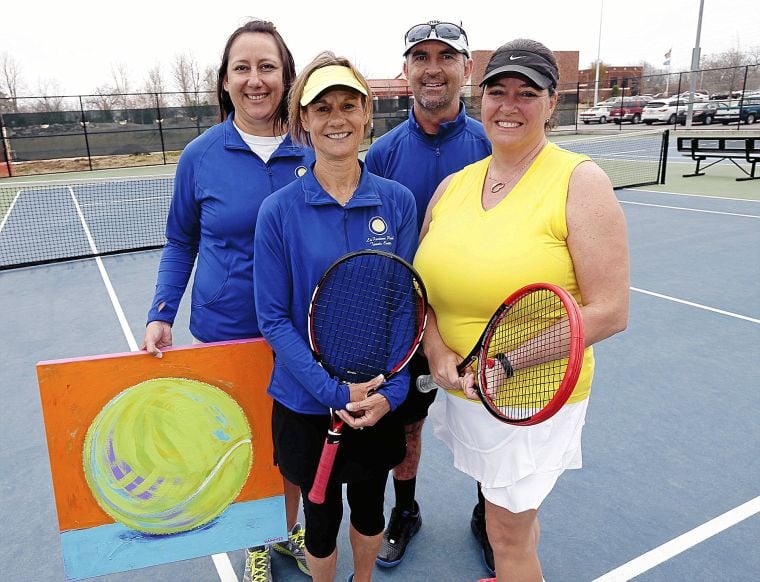 "A Smashing Good Time" is the theme for this second-annual event, which will include an exhibition match featuring world-famous tennis player Mats Wilander, as well as a silent auction, cocktails, delicious dinner and live music by Tulsa's own Mid-Life Crisis Band. Also, a live auction will include a weekend package for two at the La Jolla Beach & Tennis Club. New this year is Wilander on Wheels, in which tennis fans of all ages can participate in 90-minute group clinics with Wilander. He will attend a reception for adult players the evening before the big party.
Proceeds benefit continuous improvements and additions to the LaFortune Park Tennis Complex, the only full-service public tennis facility in Tulsa County. It serves more than 20,000 players a year and provides youth program scholarships, free public school tennis instruction, and shoes and racquets to underserved kids.
Event details, ball: Saturday, May 10 — 6 p.m. gates open, 6:15-7:30 p.m. cocktails, 6:15-9 p.m. silent auction, 6:30-7:30 p.m. exhibition match — LaFortune Park Tennis Center, 5302 S. Hudson Ave.
Event details, clinics: Friday and Saturday, May 9-10
Event details, reception: 6:30-9:30 p.m. Friday, May 9, Fairways Restaurant, LaFortune Park Golf Clubhouse, 5501 S. Yale Ave.
Attire, ball: Traditional Wimbledon white suggested, soft-soled or tennis shoes required
Newsmakers Awards Luncheon
This year's honorees include Eileen Bradshaw, executive director of the Community Food Bank of Eastern Oklahoma; State Rep. Jeannie McDaniel; Wendy Thomas, executive director of Leadership Tulsa; and retired Tulsa World editorial writer Janet Pearson, this year's Saidie Lifetime Achievement Award recipient. LeAnne Taylor will emcee.
"We pick our Newsmakers and Saidie Award winners with a lot of care, so participants can expect to be inspired and touched by the contributions these women have made to Tulsa," said Molly Jarvis, president of the Association of Women in Communications (AWC).
Proceeds benefit the AWC.
Event details: 11 a.m. Wednesday, May 7, Southern Hills Country Club, 2636 E. 61st St.
Sponsors: Leadership Tulsa, Cherokee Nation Businesses, Friends of the Food Bank, Indian Health Care Resource Center of Tulsa Inc., Ruth K. Nelson, Tulsa Community College Foundation, Tulsa World Media Co., Williams, Nancy McDonald, Charles and Lynn Schusterman Family Foundation, Susan Savage, Kathy Taylor, TulsaKids, TK Publishing, The University of Tulsa
Tickets: $45 members, $55 nonmembers
Rhinestone Cowboy
Saddle up for a virtual trip to the Old West via this fancy shindig, which starts with refreshments, a happy hour, silent auction and wine pull. That's followed by dinner, a live auction and Western music. Some of the auction items include One Republic concert tickets at the BOK Center, dinner for two at Dalesandro's, rounds of golf and ONEOK Field suite tickets. Guest speaker will be former Stanford basketball star Orlando Ward, now executive director of external affairs at Volunteers of America (VOA) Greater Los Angeles.
Proceeds benefit VOA Oklahoma, a ministry or service that includes more than 450 paid, professional employees dedicated to helping those in need rebuild their lives and reach their full potential.
Event details: 6 p.m. Thursday, May 22, Renaissance Tulsa Hotel & Convention Center, 6808 S. 107th East Ave.
Attire: Rhinestone glamorous/business
Sponsors: Michael & Betty Graves, George Kaiser Family Foundation, The Anne & Henry Zarrow Foundation, The Maxine & Jack Zarrow Family Foundation, Cyclonic Valve Co., Rooney Insurance Agency Inc., Cherokee Nation, Nadel & Gussman, Pam & Fred Richardson, J.A. Mathis, Williams Cos. Inc., Bank of Oklahoma, Ruth K. Nelson Revocable Trust, Greater Tulsa Reporter Newspapers, A.J. Galleger.
DIG: Day In the Garden
The Tulsa Botanic Garden's second-annual family-friendly event will offer old-fashioned games, face-painting and pony rides. Children can decorate and plant a pot for Mother's Day. Other highlights include a garden railroad display from the Tulsa Garden Railroad Club, beverages, picnic-style food from The Alley restaurant served next to the garden's seven-acre lake, and music by Paul Benjaman Band and klondike5 string band.
Proceeds will benefit the garden's future Children's Discovery Garden, which is currently being designed. The garden is taking root on 170 acres eight miles northwest of downtown Tulsa, with a three-quarter mile trail around the lake and a 1.5-mile hiking trail winding through native Cross Timbers forest and prairie.
Event details: 4-7 p.m. Saturday, May 10, Tulsa Botanic Garden (directions at tulsabotanic.org, click "garden location")
Co-chairs: Trey and Kendall Barrow, Sara and Chris Fisher
Patrons: Garden Tiller — Etta May Avery, Cherry and Jim Bost; Garden Spade — Mr. and Mrs. Carroll Hunt, Ruth Nelson, Barbara and Jim Sturdivant, TulsaPeople
Tickets: $50 one adult, $75 for two; children free with paid adult; garden member discount tickets $25-$40 (918-289-0330)
The White Party
"Havana Nights" is the theme for this seventh-annual, all-white dance-party gala. The event highlights the art of luxury craft cocktails and will spotlight and honor Tulsa's top cocktail venues, including their creativity and originality as it relates to mixology. Several local mixologists will be honored in the event's featured Tulsa Nightlife Awards. Following the awards, the dance party will commence with featured sounds of Latin music to highlight the event's theme, plus dance music from top local DJs.
Proceeds benefit Family & Children's Services, which promotes, supports, enhances and strengthens the development of family life, and the well-being and mental health of families, children and individuals in the Tulsa area.
Event details: 7 p.m.-2 a.m. Friday, May 2, The Vault, 620 S. Cincinnati Ave.
Sponsors: Premier — Foster Auto Center; Supporting — Murray Land Service, Cimarex, Valley National Bank, Smolen Smolen & Roytman, State Farm, Reagan Smith Energy Solutions, QEP Resources, Family & Children's Services
Havana Nights
Expect a tropical vibe at this annual soiree, which will include dancing to salsa rhythms of the Ed Garza and Mezclave band.
Other highlights include Cuban-themed cuisine, and performances from the Tulsa School of Arts and Sciences jazz bands and choir. A happy hour will include a salsa demonstration by Tulsa Salsaleros dancers, followed by dinner, music, and silent and live auctions.
Proceeds benefit Tulsa School of Arts and Sciences, one of the largest charter schools in Oklahoma. Serving grades nine through 12, it offers liberal arts college preparatory education.
Event details: 6 p.m. Saturday, May 3, Rucker Warehouse, 1227 S. Detroit Ave.
Attire: Cuban-themed (think fedora)
Honorary chair: Dr. George Schnetzer
Tickets: $100 individual, $175 couple (RSVP by April 23, 918-828-7727)
Pathfinder Gala
Rodger Randle's life of public service has included serving as Tulsa's mayor for two terms, as an Oklahoma State representative and senator, and as an educator, as in his current job as director of the Center for Studies in Democracy and Culture at University of Oklahoma-Tulsa.
The League of Women Voters of Metropolitan Tulsa will award Randle its Pathfinder Award at the group's 11th annual Pathfinder Gala on Tuesday at Tulsa Country Club.
Event details: 5:30 p.m. reception, 6:30 p.m. dinner at Tulsa Country Club, 701 N. Union Ave.
Sponsors: Kathleen Kastelic and Michael Stephens, George Krumme and Aldean Newcomb-Krumme, Ruth K. Nelson, Anne and Henry Zarrow Foundation, Maxine and Jack Zarrow Family Foundation
Tickets: $75 individual tickets. $250-$5,000 sponsorships. To reserve: 918-747-7933, lwvtulsa.org
Dine out to benefit H.O.P.E.
If you're not planning on dining out this Thursday, change your plans. And if you are planning on patronizing a local restaurant, know that 30 of the city's most popular eateries will be taking part in Dining Out For Life, to raise funds to support Health Outreach Prevention Education, Inc. (H.O.P.E.).
This is the eighth year for this event, which benefits the work H.O.P.E. does as a leading provider of public health services, specializing in HIV/AIDS, STD and hepatitis C (HCV) prevention, serving the Tulsa community and 25 counties in northeastern Oklahoma.
Participating restaurants will donate 25 percent of proceeds from Thursday sales to H.O.P.E.
Restaurants taking part during their dinner service are: Baxter's Interurban Grill; Chimera; Cosmo Café & Bar; Dalesandro's; Elote Café; El Guapo's Cantina; Hey Mambo; Infuzion Ultra Lounge and Bistro; James E. McNellie's Public House; James E. McNellie's Public House South; Joe Momma's; Laffa Medi-Eastern Restaurant and Bar; Mod's Coffee & Crepes; Tallgrass Prairie Table; The Phoenix; The Tavern; The Vault; The White Lion; White Flag; Yokozuna; Yokozuna South.
Restaurants participating for the lunch service only are: Andolini's on Cherry Street; Caz's Chowhouse; Dilly Deli; India Palace; Keo Brookside; Keo South; Trenchers Delicatessen.
Joebot's Coffee Bar and the Shades of Brown Coffeehouse will donate a portion of their entire day's proceeds to H.O.P.E.
Tatas & Tinis
It's time once again to think — and drink — pink, as the Peggy V. Helmerich Women's Health Center at Hillcrest hosts its third annual Tatas & Tinis fundraiser Thursday at The Vault, to benefit Oklahoma Project Woman.
Proceeds from the event will help to provide breast cancer prevention and treatment service, including mammograms, diagnostic testing and surgery, for Oklahomans regardless of their ability to pay.
Thursday's event will feature a martini bar and appetizers, silent auction, live music, a wine and vodka pull, a photobooth and pink nail and hair embellishments courtesy of Ihloff Salon & Day Spa.
To get into the "spirit" of Tatas & Tinis, the Vault is serving a special "Project Pink" chocolate raspberry martini through Thursday. A portion of sales of this drink will go to Oklahoma Project Woman.
Event Details: 7-10 p.m. Thursday at The Vault, 620 S. Cincinnati Ave.
Sponsors: The Peggy V. Helmerich Women's Health Center at Hillcrest, The Helmerich Foundation, Osteopathic Founders Foundation, Diane Heaton & Joshua Garren, 918 Coffee, Adult Gastroenterology Associates, Newborn Specialists of Tulsa, Magellan Midstream Partners, Samson Resources, The Massey Family and The Edmundson Family.