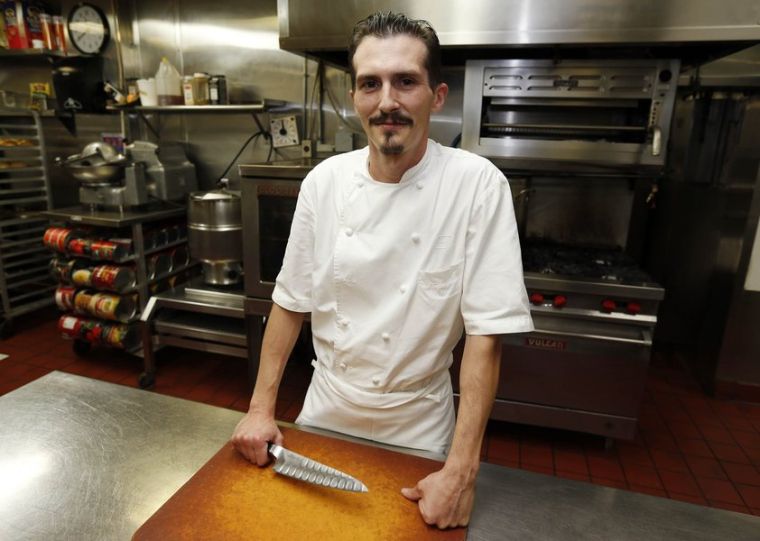 Pretend you are a young, up-and-coming chef and you have three career options:
One, go to New York City where you already have a nice resume and should have no problem finding rewarding work. Two, take that job offer at the French Laundry, commonly considered one of the top five restaurants in the country, in California. Three, accept the executive chef position at the Polo Grill in Tulsa.
Those were the choices chef Justin Donaldson said he had when his contract expired as a restaurant consultant in Minneapolis.
"I chose here," he said during an interview in the wine cellar at the Polo Grill in Utica Square. "Actually, I was on my way to California when I stopped here for the interview and decided to stay. I've been here a little more than three months.
"I just saw it as a great opportunity. I spent my childhood in Mustang, so it's kind of like returning to my roots, too."
He describes his cooking style as progressive French and said he has been given leeway to rework menu items, add specials and plan wine dinners with chef-proprietor Robert Merrifield.
"He is doing some amazing things," Merrifield said. "Some of his special items are just off the charts.
"I've had people who functioned as executive chefs here before, but I've never actually given anyone that title until Justin."
Donaldson has a solid background in fine dining. Two New York City restaurants on his resume have closed, but both enjoyed tremendous success.
Donaldson said he was sous chef at Gilt, a former two-star Michelin restaurant in the New York Palace Hotel, and chef de cuisine for four years at Café Gray. Café Gray closed its New York location about the same time it opened a restaurant in Hong Kong.
He also had stops at Tru, an award-winning progressive French restaurant in Chicago, and the Mansion on Turtle Creek in Dallas.
The Polo Grill has been a fine-dining fixture in Utica Square Shopping Center since 1983.
Hours are 11 a.m. to 10 p.m. Monday-Thursday, 11 a.m. to 11 p.m. Friday-Saturday and 10:30 a.m. to 9 p.m. Sunday. The phone number for reservations is 918-744-4280.
---
Scott Cherry 918-581-8463
Original Print Headline: Polo Grill's top chef has solid history
Be the first to know
Get local news delivered to your inbox!