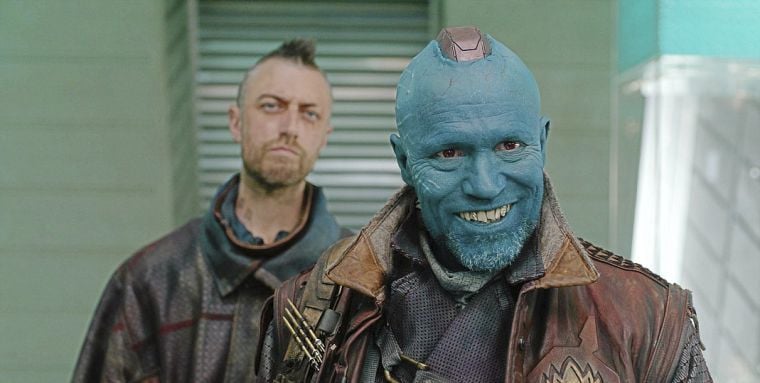 A phone conversation with Tulsa-bound actor Sean Gunn lasted 22 minutes. Post-chat opinion: You can trust him to keep a secret.
You can assume Gunn knows all kinds of juicy secrets that, if unleashed, would send fanboys and fangirls into a tizzy.
"I know all of them," he said. "I know all the secrets."
But he is spilling none of them.
"I don't want to be hit in the neck with a poison dart from the Russo Brothers' assassins that they have, making sure nobody talks," he said.
Anthony and Joe Russo directed "Avengers: Infinity War," and they're directing a yet-to-be-titled follow-up film that is, for now, being called "Avengers 4."
"Avengers: Infinity War" ended with a shock (spoiler alert: the bad guy won, many heroes bit the dust). Next? Gunn knows because he worked in both movies.
You can try to pry details from Gunn when he's among celebrity guests at the second annual Tulsa Pop Culture Expo, scheduled Nov. 2-4 at the Renaissance Tulsa Hotel & Convention Center.
"I can tell you this," he said. "I can tell you that the movie is going to be really excellent. We shot them originally pretty much back-to-back with a short break ... and I like ('Avengers 4') even more than 'Infinity War,' at least from the script and from shooting it, and I was really happy with 'Infinity War.' So I'm very hopeful that it's going to be a great movie."
Gunn could be privy to secrets regarding other franchises, too. He played Kirk in the TV series "Gilmore Girls" and, hey, did you see how the 2016 revival ("Gilmore Girls: A Year in the Life") ended? Rory revealed she is pregnant. Fans were left wondering about the identity of the baby's daddy.
Gunn was asked who it might be and said this: "Since I've been doing all these comic cons, I will have to go with the Wookiee. ... If you don't watch that show, you must be like, 'What the heck are you talking about?' Ask your 'Gilmore Girls' friends. They will fill you in."
Not everything is a secret. Gunn was at liberty to talk about whether viewers have seen the last of "Gilmore Girls."
"There are no plans as of right now to do any more," he said, indicating that series creator Amy Sherman-Palladino is happy with her current job (she won Emmys for her work on "The Marvelous Mrs. Maisel") and a lot of the "Gilmore Girls" actors are happy with where they are in life.
"I think it would be tricky to get everybody back again, but never say never. The way that content is now, it's not like we have to get back together right now and do it. Maybe five to 10 years down the road, we might check in again. ... I would never close the book on it because you just never know what's going to happen in your career."
Now, let's get back to superhero stuff and see if we can find out any intel about another Marvel movie property: "Guardians of the Galaxy."
Gunn played Kraglin, Yondu's Ravager pal, in the first two films. Did you know this? Gunn also played a role in bringing Rocket (don't call him a raccoon) to life.
Bradley Cooper voices the character, but Gunn is the on-set Rocket, squatting (ouch!) close to the ground to simulate Rocket's height. That gives the other actors a person to interact with instead of, for instance, a tennis ball on a stick. Gunn's movements (primarily face and hands) are used by the special effects crew to create the animated Rocket.
"We really just kind of stumbled into that process from the first movie," Gunn said. "We weren't sure how we were going to create that character, but it turns out that's what worked, so we stuck with it and we are now four movies deep working in that process."
The four movies include Rocket appearances in "Infinity War" and, because he survived that one, "Avengers 4." Will Rocket return in a third "Guardians" movie? Will there be a third "Guardians" movie? It was put on hold after James Gunn, Sean's brother and the writer-director of the first two films, was released due to long-ago social media activity.
Said Sean Gunn: "I don't really know yet what's going on with 'Guardians 3.' I know that Disney still wants to make the movie. I know that they have every intention of using the script that my brother wrote. Obviously, that was a very unfortunate situation for everybody, most of all him, but I am also somebody who had been preparing to spend half a year making that movie and now that's up in the air.
"Obviously, I think it's a tricky proposition for them to find another director to step in — and also the scheduling of a lot of other actors who are incredibly busy can't be easy. But I know that they plan on making the movie. I had not been contacted at all for a while, but I was recently contacted by Marvel saying, 'Yeah, we do plan to make this movie. We're just not sure when yet.' "
The "Guardians" movies are infinitely more fun than too-grim (we won't mention titles) comic book movies at the other end of the spectrum. It would be a shame if the "Guardians" franchise grinded to a halt. Gunn loves the "Guardians" films.
"Honestly, that's really what I cared about more than anything with all of this," he said. "I don't want the fans to be deprived of something that they really love and really want. I go and I do these conventions and a really striking thing to me ... is fans are basically split into two camps. There is one group that is super supportive of my brother and range from sad to angry about what happened. And then the other half are people who don't know and don't care. They just want to see the movie."
Gunn said he was touched by post-firing support for his brother, and he knows his brother appreciates it, too. Gunn was especially touched by statements of support from "Guardians" cast mate Dave Bautista, who plays Drax.
"Dave wears his heart on his sleeve and has shown that he was really angry about everything that went down," Gunn said. "I love that about him. He is a no-nonsense guy. That's who he is."
Earlier in the conversation, another attempt was made to squeeze a secret out of Gunn. (And, really, wouldn't you rather be surprised?) Here goes anyway: People who saw "Infinity War" had no way of knowing if Kraglin was dead or alive.
"I think I can say this: I don't think Kraglin's story is finished yet. I think the fans will, at least, get to know what happens with Kraglin, even though I can't share that right now."
Jimmie Tramel 918-581-8389
Twitter: @JimmieTramel