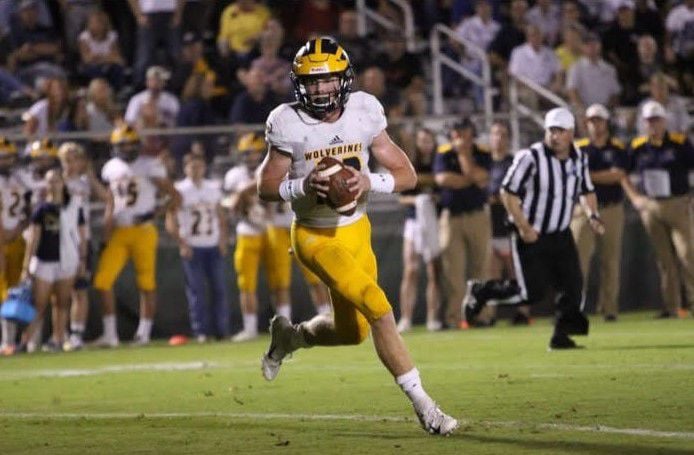 The new year didn't bring good news to the Oklahoma football program.
Brock Vandagriff, a five-star quarterback from Bogart, Georgia, announced Wednesday he was decommitting from the Sooners' 2021 recruiting class.
"These last couple of months have brought to my attention how hard it is going to be for me to attend college so far away from home," Vandagriff said on Twitter. "I would like to thank Coach (Lincoln) Riley, Coach (Shane) Beamer, Coach (Drew) Hill and the rest of the football staff at Oklahoma for the opportunity."
OU celebrated on June 20 when the nation's top quarterback recruit in the 2021 class pledged to join Riley's roster. He is ranked the fourth overall prospect in the recruiting cycle by Rivals.
The Sooners have two scholarship quarterbacks on their roster — redshirt sophomore Tanner Mordecai and redshirt freshman Spencer Rattler.
OU hasn't recruited a 2020 quarterback, but Riley said Sunday that he's still actively recruiting a QB.
"For depth purposes, for the future, all that, no question we'd like to get somebody," Riley said. "But here, it's not as simple as that because those two guys are pretty good and I could bring in some random guy to add depth, what does that accomplish other than adding another body? We want to make sure it's the right guy, too."
One name to watch is Chandler Morris, a dual-threat quarterback from Dallas who is also the son of former Arkansas head coach and ex-Tulsa offensive coordinator Chad Morris. Chandler Morris was recruited by OU prior to his commitment to Arkansas. When Chad Morris was dismissed, Chandler Morris reopened his recruitment.
Eric Bailey
918-581-8391
Twitter: @ericbaileyTW