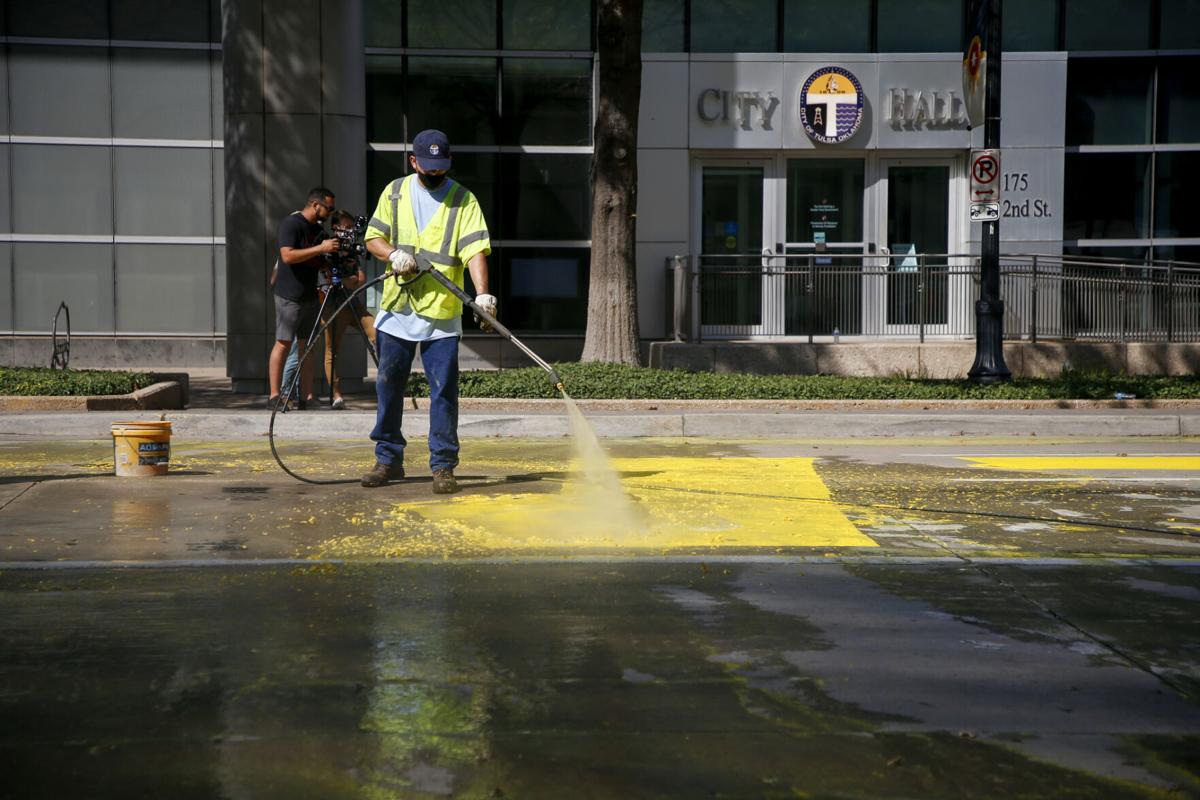 Instead of worrying about who's painting their pavement, Tulsa's city leaders should be considering how they have managed to paint themselves into a corner.
A tense situation last Saturday morning had four distinct groups converging on downtown Tulsa, including a group of well-armed out-of-towners in camouflage who said they were there to "keep the peace."
Oklahoma's permissive gun laws allow such euphemistic peace-keeping, which doesn't make it right, safe or socially acceptable.
If it all seems to rhyme with the name Kyle Rittenhouse to you, you're not alone. Earlier this year, Rittenhouse, 17, allegedly shot three people, killing two, at a Black Lives Matter protest in Kenosha, Wisconsin. He had driven from Illinois with his AR-15-style rifle, no doubt determined to keep the peace.
As far as we're concerned, if your mission is keeping the peace, you should start by leaving your guns at home.
Amid Saturday's confusion, some folks painted the letters BLM – a reference to Black lives matter – in front of City Hall.
Walking the streets dressed and armed like cosplaying commandos is legal in Oklahoma. But painting your political thoughts on the streets is not, and the city is being creatively aggressive in its attempts to prosecute the alleged malicious property injurers. One of the alleged miscreants is also accused of jaywalking, a misdemeanor whose enforcement rightly got the city in hot water earlier this year.
Leaving the failings of our laws aside, the city's aggressive response — powerwashing the asphalt and putting out the electronic equivalent of a 10 Most Wanted poster for the miscreants — puts Tulsa in an untenable position.
We don't think the city or its leaders believe that Black lives don't matter, but they have mishandled the optics of the situation to such an extent that they have lost control of what message is being communicated.
The city has drawn a ridiculous line in the sand, setting up a situation that rewards defiance with attention.
Scores of other cities have had similar messages painted in their streets, and have somehow nuanced the situation without resorting to pavement grinding or water hoses. They've managed to do that without creating the public forum city attorneys direly warn of.
Do we need to remind anyone of the history of Tulsa?
In 1921, the city showed how much it thought Black lives mattered. It allowed a racist mob to kill and burn for days without interference of law.
A hundred years later, men walk the streets of Tulsa with rifles slung over their backs without the police raising an eyebrow.
But reach for a can of paint....
---
Catch the latest in Opinion
Get opinion pieces, letters and editorials sent directly to your inbox weekly!