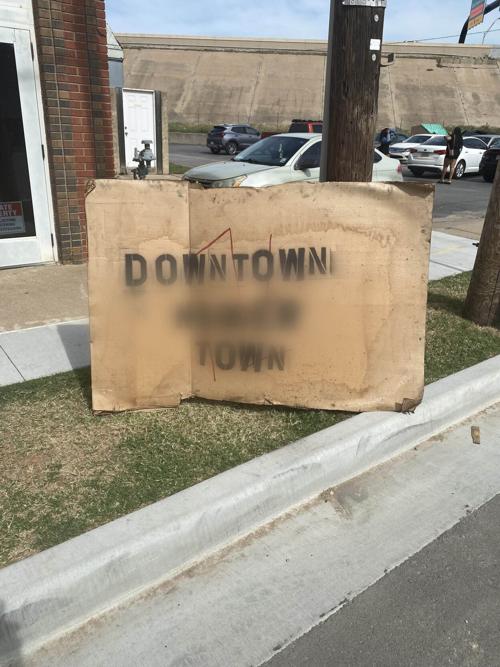 An appalling sign planted in the heart of the Greenwood District last week ought to wake up Tulsans that hate lurks in the hearts of others and racism is alive.
The cardboard sign had a stencil-painted "Downtown N—r Town" with a hand-drawn swastika. It was put outside the Greenwood Chamber of Commerce visitor's center, across Archer Street from the Greenwood Rising history center; a symbolic choice of location.
These are not indications of a spur-of-the-moment action. The making and placing of this sign was planned and purposeful.
It happened in a year when our city commemorated the 100-year marker of the 1921 Tulsa Race Massacre, Tulsa's shameful destruction of the Greenwood Business District when it was known as America's Black Wall Street.
It happened within months of the city's efforts to find unmarked mass graves of victims of that century-old massacre.
It happened the same week an analysis found that white residents are no longer the majority in Tulsa. This demographic shift turns around a declining city population to become known as a thriving and growing city. That change is credited to the increases among ethnic and racial minority communities.
For all the progress made, this sign represents that small, hateful group resisting equality and equity for all people. Too many residents think these racist attitudes are gone. They are not, and they are dangerously corrosive.
We were initially unsure whether to give people capable of this venomous act attention. But by not condemning it, such hateful acts go unnoticed and allowed to flourish.
That cannot happen. Everyone has a role in stopping this kind of behavior and changing attitudes to inclusivity.
Words and conversations heard in public and behind closed doors affects others. We must speak up and condemn hateful, stereotypical, anti-Semitic and racist language.
Sadly, many Black Tulsans were not surprised or shocked.
"What people who do these things don't understand is it only gives us energy. It shows we still have work to do," said Phil Armstrong, interim executive director of Greenwood Rising.
That work falls on everyone and starts by standing up to hate.