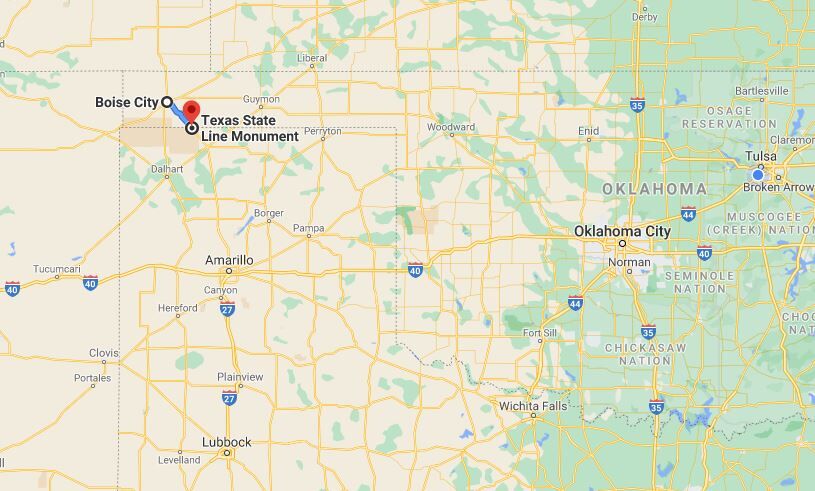 Gov. Kevin Stitt has signed legislation to name a dusty 20-mile stretch of U.S. 287 in the Oklahoma Panhandle in honor of former President Donald Trump.
Henceforth, the road from Boise City to the Texas line is the President Donald J. Trump Highway. Trump had no particular connection to that part of the state, except that he was popular there.
It isn't the first time American legislators have named roads after Trump, but it is the first for Oklahoma and may be the first time a highway has received his name.
The same bill named a number of other bits of roads after others, including the interchange of Interstate 40 and Douglas Boulevard in Midwest City, which is now the U.S. Senator James Inhofe Interchange.
In order to honor Trump and Inhofe, the Legislature had to strike out law that requires that honorees be dead for at least three years first unless they are members of the military, law enforcement or fire services who died in the line of duty or a living recipient of the Medal of Honor. That rule was unique to Oklahoma and was put in place to make sure pieces of road weren't named after living people who later turned out to be less than worthy. Other places have other rules. A toll road in Dallas is named after former President George W. Bush. Another Dallas toll road was named for former President George H.W. Bush while he was still alive.
We don't have any problem with honoring Inhofe while he is still living. Inhofe is a transportation hero. The fifth and sixth lanes of Interstate 44 in Tulsa are a testament to the senator's clout and his willingness to use it for his hometown.
The expensive I-44 project never would have happened except for Inhofe's efforts as a senior member of the U.S. Senate Environment and Public Works Committee, but that road is already named for someone else, W.G. Skelly. Choosing a road close to Tinker Field is appropriate, too. As a member, chairman and ranking member of the Senate Armed Services Committee, Inhofe has always been a champion of the American military.
Naming a piece of Oklahoma highway after Trump accomplished its primary intent, which was to provoke Democrats and others whose blood pressures rise at the thought of Trump. It was an alpha dog legislative tactic meant to "own" the liberals, and gauging from the reaction it has received, it worked. The road will probably get more letters to the editor than it gets traffic.
Trump is a crass, provocative man who bears a heavy responsibility for what he did and didn't do on Jan. 6. Naming a lonely piece of road in his honor is peculiar and relatively pointless, other than as an act of political dominance. Those who see red when they hear "Trump" should remember that it is a deserted stretch of meaningless road that practically no one drives, which makes the honor modest at best.