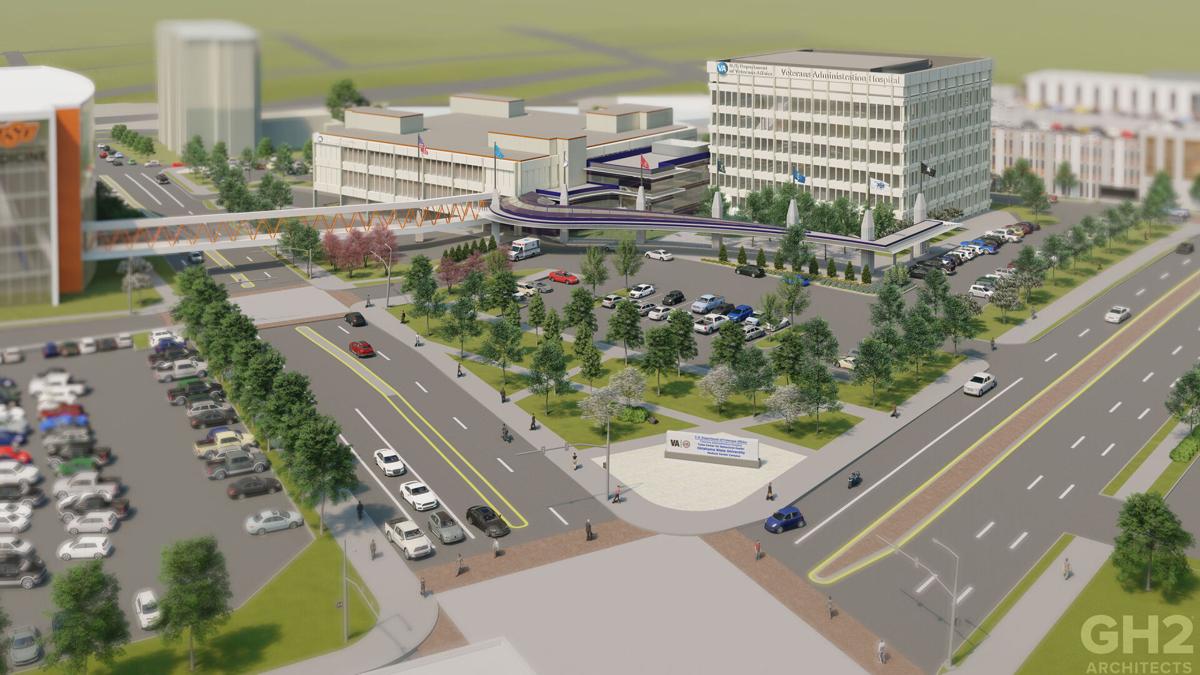 Through collaboration on a single mission, Tulsa's downtown will be home to a transformative Veterans Affairs hospital.
Last week, officials gathered for a symbolic groundbreaking near Fourth Street and Houston Avenue, noting how mountains moved in a short time to secure the $193 million project under the CHIP-IN Act. The 2016 legislation allows nonfederal funders to partner with the VA for facilities.
U.S. Sen. Jim Inhofe did quite a bit of heavy lifting to secure the $120 million in federal funds to make the project happen. His chief of staff, Luke Holland, said it usually takes 20 years to coordinate a hospital of this magnitude. This took a fraction of that.
Buy-in was necessary from every sector. Federal, state and local governments worked with Oklahoma State University Medical Center and its affiliated Center for Health Sciences, and private donors gave $26 million to fund the project.
Leading the philanthropic effort is the The Anne and Henry Zarrow Foundation with a contribution of $10 million to the project plus $1 million for services such as planning and design. The foundation also created the corporate entity VHiT LLC as a project manager.
A physical groundbreaking will be held during the winter months with hospital completion in late 2024. Leo A. Daly of Dallas and Omaha and Tulsa's GH2 Architecture have been chosen as the design team.
The new complex will feature a 58-bed VA hospital, located on the current site of the Kerr and Edmondson state office buildings. New construction includes a psychiatric hospital owned by OSU and operated by the state of Oklahoma and a 436-bed parking garage owned and managed by the city of Tulsa.
It is one of the first VA facilities in the U.S. to combine federal, state, local and private financing and is part of a larger VA reorganization in eastern Oklahoma. That includes $28 million in renovations at the Jack. C. Montgomery Hospital in Muskogee as an in-patient mental health and substance abuse facility.
The Tulsa complex is an opportunity to expand health care for veterans and mental health services for everyone.
Oklahoma fares poorly in mental health services to residents.
For subsets of the population, such as children, LGBTQ residents and certain ethnic and racial groups, the mental health needs and outcomes are worse.
Elected officials, university faculty and philanthropic leaders have shown that working together can make great change. We thank those involved and look forward to the opening of this much-needed complex.