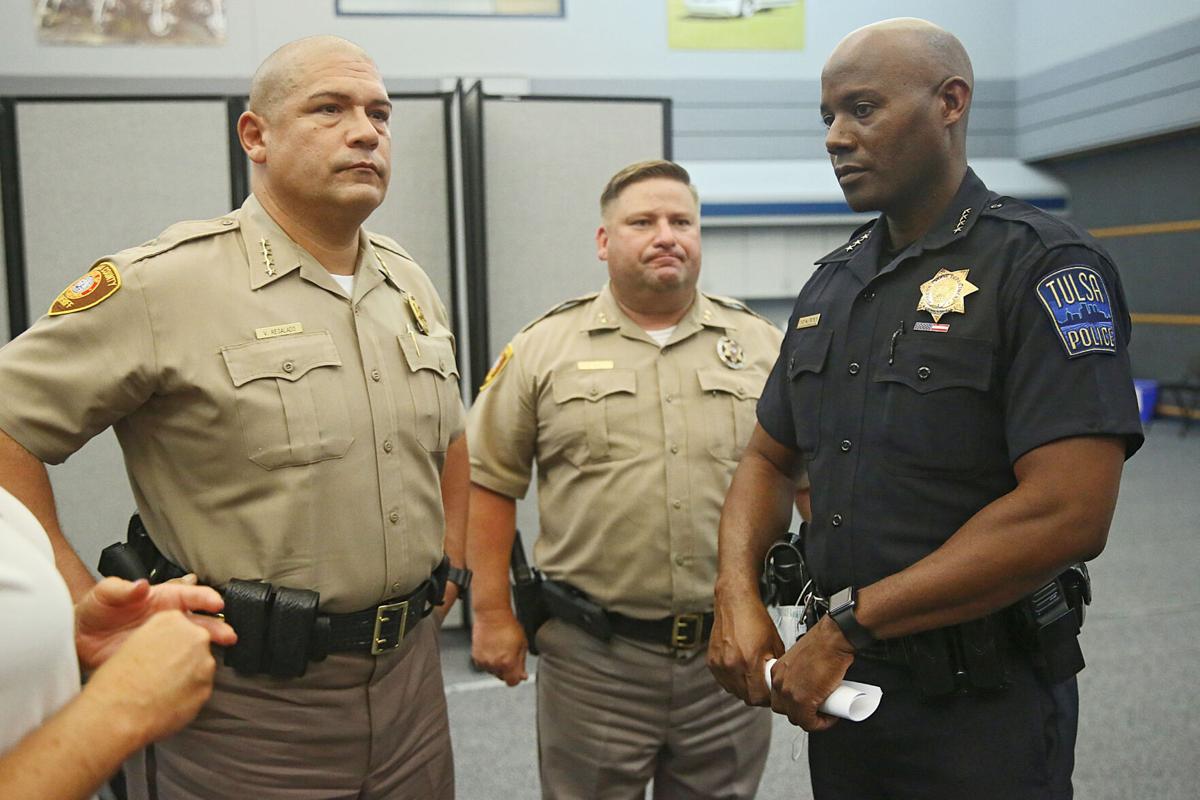 Senate Bill 631 would declare Oklahoma a Second Amendment sanctuary state and preempt any local legislation concerning the right to keep and bear arms. It declares any local, state or federal effort to buy-back, confiscate or surrender guns, accessories or ammunition to infringe on the Second Amendment.
The bill has passed the state Senate and a House committee. It is awaiting consideration by the full House.
Regalado says the bill doesn't go far enough. He called for an amendment authorizing state sheriffs to arrest federal law enforcement officials who are violating the Second Amendment.
"I support it, but I also want legislation that has bite," he said.
"I will stand there, and I will defend your rights, but give me the powers to do it correctly," Regalado said.
In an email, I asked what Regalado had in mind. He referred to Newton County Missouri's Second Amendment Preservation Act, which authorizes the local sheriff to arrest any federal agents who attempt to track, tax or register guns in any way that would have a chilling effect on gun ownership or confiscate weapons from law-abiding citizens. The act also proports to nullify any act of Congress or presidential order that infringes on the people's right to keep and bear arms.
In an email, Regalado said he is working with Sen. Nathan Dahm, R-Broken Arrow, to authorize similar powers for local sheriffs in Oklahoma.
"As the elected sheriff of Tulsa County, my first allegiance is to my oath to support, obey and defend the Constitution of the United States, and the Constitution of State of Oklahoma," Regalado said in an email. "If the state of Oklahoma decides legislation is needed to protect its citizenry from federal government overreach then I will enforce the law."
SB 631 says its preemption includes any regulation of arms pursuant to the National Firearms Act of 1934 and the Gun Control Act of 1968. The National Firearms Act strongly taxes and regulates sawed-off shotguns, machine guns and silencers. I asked Regalado if he supported the law and if he would interfere with federal agents enforcing it.
"To be clear, I never mentioned the NFA, which as you know is federal legislation," he said in an email "Any changes to it would have to be handled at the federal level."
In his speech, the sheriff said he has many friends among rank-and-file federal law enforcement officers, and that he doesn't think they would violate the Constitution, but said he wasn't as confident about national leadership.
Ten years ago, as a police officer, Regalado said he wouldn't have thought federal confiscation of guns was a possibility, but now he sees things otherwise.
"Folks, I can't tell you with a straight face any more that that's not going to happen," he said. "And that saddens me."
In a stem-winding, 30-minute speech that repeatedly called out the national media, Regalado also endorsed Senate Bill 486 and Senate Bill 18. Neither made it out of legislative committees this year, but could be considered next year.
SB 486 is similar to SB 631, but also includes measures preventing budget cuts to sheriff's offices or police departments for making any county or city a Second Amendment sanctuary community.
Senate Bill 18 would ban confiscations of guns, accessories or ammunition by local, county, state or federal officials in the state. It also would make it the duty of courts and police in the state to defend Second Amendment rights and prohibit city police or county sheriff budget cuts in retaliation for defending Second Amendment rights.
Word of the week: Farrago — a confused mixture. The word was suggested by a reader who first saw it in an essay about poet Stevie Smith in "Synthesizing Gravity," by former U.S. Poet Laureate Kay Ryan. Ryan writes: "The middle chapters of the biography, dedicated to Stevie Smith's maturity, are the farrago of anecdote and commentary that seems difficult to avoid in documenting such a fixed character."