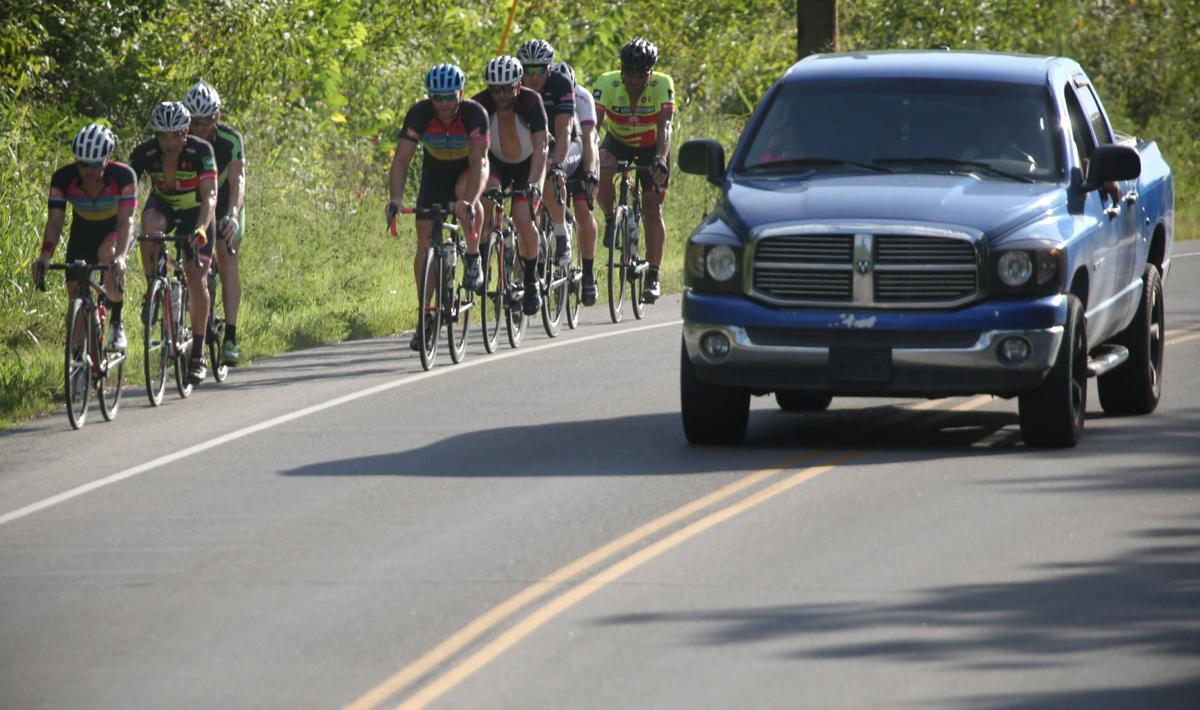 Let's take a break from the relatively modest state Capitol storms over insults to the vice president, who should manage the state's Medicaid program and who can play on which basketball team and take up an issue that really will get people going: Should bicycle riders have to come to a full and complete stop at every stop sign?
In truth, very few issues I've dealt with in my career have drawn as much reader pushback as the tension between bicyclists and motorists on public roads. The last time I did it, I think I swore to myself that it would be the last time, but here I go again. Suffice to say, there's a lot of frustration on both sides.
Rep. Carol Bush is pushing legislation, House Bill 1770, that would legally resolve the stop sign issue (and its cousin, the stoplight issue) and, hopefully, make the world a little safer for people on bikes … and a little easier for people in cars.
Senate Bill 1770 has three big provisions:
1. Bicyclists may go through stop signs without stopping if they slow down, examine the situation carefully and determine that the intersection is safe and they won't be impeding traffic.
2. Bicyclists must stop at red lights. They must yield to opposing traffic, but then can proceed against the light if the intersection is safe.
3. Car and truck drivers may not honk their horns while passing bicyclists (or people on horses or people in buggies) unless there is a legitimate reason to honk.
Bush had wanted a fourth provision creating a misdemeanor for people who harass, taunt or throw things at bicyclists, but the Oklahoma Department of Public Safety objected that it would be too hard to parse what was and wasn't taunting on the side of a road, and the issue threatened the bill's future.
The proposal passed the House in March in a form that ensured it would have to come back for a second vote. The taunting issue threatened its progress in the Senate, and Bush agreed to take out that provision in order to save the bill. It passed the Senate. Another House vote on the amended bill could send it to Gov. Kevin Stitt.
Rep. Mike Dobrinski, who is carrying the bill for Bush, said he thinks the votes are there to pass the bill.
Now, let's be honest: The part about the stop sign is putting in law what almost all bicyclists are already doing.
I'm not much of a bicyclist anymore, but I once road an 18-speed bicycle from Duncan to the Kansas state line on FreeWheel, back when the cross-state bike ride was a Tulsa World project.
The experience was humbling. I learned to hate camping on high school football fields and gnats, saw a lot of dead armadillos and one live tarantula, and became too intimately familiar with my bicycle seat.
The only stop sign I remember stopping at was at the end of a long, steep downhill blacktop that suddenly turned to gravel at the intersection. I didn't stop so much as I wiped out in the gravel, removing a layer of skin from one knee.
At all other stop signs, I made what my driver's ed teacher use to call a "Hollywood stop," which is to say I slowed down a bit, looked both ways and cranked on.
If you've ever peddled a bicycle across the state, you know that the thing you really don't want to do is stop before you reach the border. Momentum is everything. Stopping means getting your feet out of the peddle clips and then getting them back in while trying to get the whole thing moving again. Why are stop signs always located at the bottom of a hill?
Slowing to inspect the intersection for oncoming traffic was never a big issue for me, since I wasn't moving fast enough not to examine any intersection thoroughly anyway. Thoroughly, as in, I could draw you a decent diagram and still not have reached the intersection.
There's a legitimate public safety issue served in letting bicyclists stop and then move through red lights, and it's in the interest of the people in cars, too. Bikes aren't heavy enough to activate automatic traffic control devices that make some traffic signals cycle. If you stop in the middle of the lane — because the law says bicyclists have a right to an entire lane — and a car pulls up behind you, everyone can wait a long time for the traffic signal to cycle back to green.
I've been honked at for no particular purpose. Not a friendly toot to let you know there's someone coming up from behind, but a sustained, blaring cacophony intended to startle. It has always felt like an act of meanness, and it's dangerous. Startle a bicyclist from behind, and he's going to look over his shoulder to see why you're honking. In my experience, the bike goes in the direction that that eyes look, so if you want a bike to swerve in front of you, lay on the horn.
Bush is a long-time dedicated bicyclist. She's been a racer, and now enjoys triple-digit long-distance treks. She's been harassed and taunted, had things thrown at her and worse. In this case, she knows whereof she legislates.
At the risk of provoking the wrath of a dozen angry drivers, I'm going to say HB 1770 makes sense. It is built on the goal of making roads safer for the people on bicycles and reducing the frustrations of everyone else.
Now, let's talk about Medicaid management.
Word of the week: antimacassar — a doily or similar ornamental cloth placed on the back of Victorian furnishings to prevent stains. Its name comes from macassar oil, which was popular with 18th and 19th century men.